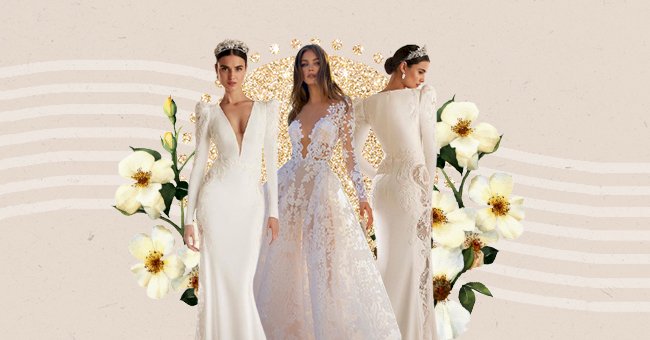 The Top Bridal Trends for Spring 2022
We might be far away from 2022, even if you already wish this year would end, but one bright side is that we have the spring 2022 trends starting to trickle in already. It might not be much, but every cloud, right?
While it is a little early to start reporting on general fashion trends for spring and summer next year, we can definitely start looking at all of the bridal and wedding trends that will be happening for brides-to-be reading this.
Here is what you can expect to see from the wedding scene in the spring of next year.
Puffed Sleeves
This year we saw the bishop sleeve dominating the wedding scene, but next year we are in for a much fun version of this trend. The puffed sleeve is here to help you make a statement with your wedding dress!
The trend is for the more edgy bride looking to make even more of a statement with her wedding gown than simply wearing the wedding gown itself. We will see this trend down aisles all across the world.
Capes
Feeling like a superhero at any time in your life is an amazing feeling, but having this feeling on your wedding day is sure to have you feeling next-level important. It's far more elegant than it sounds, trust me.
A cape is a beautiful addition to any dress because it makes for an accessory to the dress that is equal parts elegant and edgy. By wearing this trend, you will be showing that you are fashion-forward and deserve all the attention a dress like this can bring.
Color
There have been women here and there that have worn colorful dresses over the years and have pulled it off amazingly (we're looking at you, Christine Quinn). However, it hasn't been much of a trend.
Next year you can expect to see colorful wedding dresses all over the place. If you want to try this trend out but don't want your dress to be too loud, you can try soft pastels that have the hint of color you're looking for.
Minis
Your grandmother will probably want to sew some extra tulle on the bottom of your dress if you choose to follow this trend, but mini wedding dresses are coming into fashion, and there is no stopping them.
If you have the budget for it, you can wear a traditional wedding dress for the ceremony and then a mini dress for the reception. However, if you want to be extra edgy, simply wear the mini dress the entire time.
Bigger Is Better
Remember back in the day when everybody's wedding dress was so big that they looked like a cupcake? Yeah, that trend is on its way back. The bigger the dress, the happier the bride and the dresses are going to get huge.
If you've always dreamed of a princess dress, now is your time! The trend is back and better than ever. We will be seeing this trend with puffed sleeves and the simple sweetheart neckline that we all know and love.
Florals
Nothing says wedding day like a couple of flowers, and the best way to incorporate flowers into your wedding day is on your dress! You can have flowers embroidered onto your dress, sewn on as extra tulle, or simply have a dress that has some sort of floral print.
It can be quite pricey to incorporate fresh flowers into your wedding day, so adding them to your dress will be an excellent way to have all your floral fantasies fulfilled without having to spend any extra money.
Pants Suits
If there's one thing I love, it's a good pants suit. However, you don't see them often on a wedding day. That is all going to change in the spring of next year, though they become trendy for weddings.
You can wear a traditional pants suit or a more feminine set if you can find something that you feel beautiful in. The most important thing to remember is that you have to be comfortable, so make sure that your suit fits well.
Silhouette
Calling every bride who just wants to look sexy on her wedding day, the silhouette dress trend is the perfect trend for you. The silhouette trend allows you to be sexy and classy at the same time and be the envy of every other bride.
You can wear this trend with a silhouette filled with embellishments like rhinestones and pearls, or you can simply have your silhouette filled with lace. Either way, the dress will look incredible!