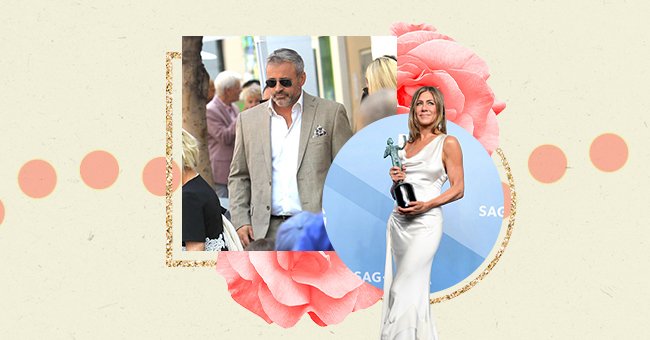 Throwback: The 'Friends' Cast Then & Now
Ahead of the reunion special that's just around the corner, we're taking a look at our favorite characters from the 90's classic and what they're getting up to.
For many of the core actors from "Friends," the program was a launching pad for what would become skyrocketing careers as writers, directors, actors, presenters, and more.
The hit show premiered in September 1994 and focused on the lives of six characters. Twenty-seven years later, fans are in for another treat from the cast. Here's where they are now:
Jennifer Anniston
Since her appearance in "Friends" as Rachel Green, Jennifer Anniston has gone on to have an illustrious career. The Holywood star has gone on to star in films like "Rumor Has It" and "Just Go With It." Recently, Aniston starred in "The Morning Show" with Reese Witherspoon. Subsequently, she won a SAG Award for her performance.
Courteney Cox
While Anniston was little known of when she first appeared in "Friends," Courteney Cox had held several roles before playing Monica in the show and was a relatively known name. After the show, Cox appeared in "Cougar Town," which ran from 2009 to 2015.
David Schwimmer
After the 90's classic, Schwimmer dabbled in directing and theatre. He was later nominated for an Emmy for his portrayal of Robert Kardashian in "The People v. O. J. Simpson" in 2016. More recently, he stars in the sitcom "Intelligence."
Lisa Kudrow
After playing Phoebe Buffay, Kudrow has been starred in "P.S. I Love You," "Easy A," and "The Girl on the Train." She also voiced characters on "BoJack Horseman" and "The Boss Baby." She, Aniston, and Cox are reportedly still friends.
Matt LeBlanc
Formerly the pizza-loving womanizer, Joey, Matt LeBlanc was the only character to get a spinoff from "Friends." He's since landed himself a Golden Globe for his appearance on Kudrow's "Web Therapy." He also co-hosted "Top Gear" till 2019
Paul Rudd
Paul Rudd played Mike Hannigan, Phoebe's husband in "Friends." After that. Rudd has since featured in "The Perks of Being a Wallflower" and the 2013 "Anchorman" sequel. He's also landed a role as the Ant-Man, appearing in several MCU films, including his own stand-alone, "Ant-Man," in 2015.
Maggie Wheeler
Maggie Wheeler played Janice in "Friends." After that, the actor appeared in "Californication," "How I Met Your Mother," and "Shameless."
Matthew Perry
Much to fans' delight, In February 2020, Perry became the last of the six main "Friends" cast members to join Instagram. Perry was also in "17 Again and also has a role in the 2021 film, "Don't Look Up."