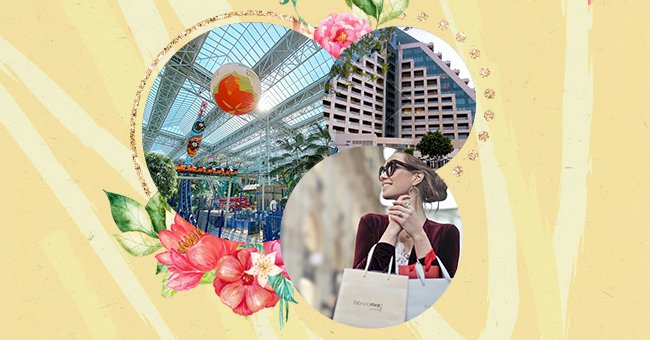 Top 10 Most Jaw-Dropping Malls Around The World
We all love the mall, there's a store for everyone, and we all get what we need! Of course, you can find everything you need at the local mall, but for some, their local mall has just about everything, including entertainment!
Whether you love shopping, window shopping, or just tagging along for snacks, the mall is the best place to do it all! Even though we love our local malls, we admit that the playground some people have at their leisure is absolutely extraordinary!
These malls are so amazing that some people travel to visit them! Here are the top ten most jaw-dropping malls around the world.
1. West Edmonton Mall, Canada
The West Edmonton Mall has an indoor amusement park, waterpark, and an Ice Palace! So while you're out hanging around an empty lot, West Edmonton kids were enjoying adventure-filled weekends!
2. Mall of Asia, Philippines
Mall Of Asia has an Olympic-sized ice-rink and the first IMAX theater in the Philippines. It also has an open sea-facing music hall where concerts and other events take place.
3. Istanbul Cevahir, Turkey
There are over 300 shops in the Istanbul Cevahir, and when you get hungry, there are 34 fast-food restaurants. You can also sit down at one of the 14 fine dining restaurants after a long day of shopping!
4. Dubai Mall, Dubai
With an aquarium, 5-star hotel, ice-rink, and a SEGA game center Dubai Mall is almost the same size as West Edmonton! You can shop till you drop and you still wouldn't get through all 1200 shops in a day!
5. Berjaya Times Square, Malaysia
The Barjaya Times Square mall has 1000 stores and is well-known for its musical staircase. While you're shopping around, you can take a break to enjoy the theme park and get your adrenaline pumping.
6. Mall of America, Minnesota, USA
You can visit the aquarium, have a virtual tour of America, or even enjoy a ride at the indoor theme park before you even think about shopping! It once even had its own school!
7. CentralWorld, Bangkok
The CentralWorld mall is one of the largest malls in Thailand for the middle-class. It's bigger than Siam Paragon, but you'll find more stores aimed at a modest pocket!
8. Wafi Mall, Dubai, UAE
If you want to visit a bit of Egypt while in Dubai, the Wafi Mall is themed like the pyramids. You can also sleep at the 5-star hotel in the mall too!
9. The Trafford Centre, Manchester, England
The Trafford Centre in Manchester is a beautiful mall that will have you marvel at its beauty. The Orient food court is a cute place to hang around and eat food from all around the world!
10. Siam Paragon, Thailand
If you have the money while you're in Thailand, you need to visit Siam Paragon. You can find just about anything at this mall, even an aquarium!
These malls have so many features that you'll enjoy whether you're there to shop or even just there for fun. They're certainly worth visiting when you're in town!