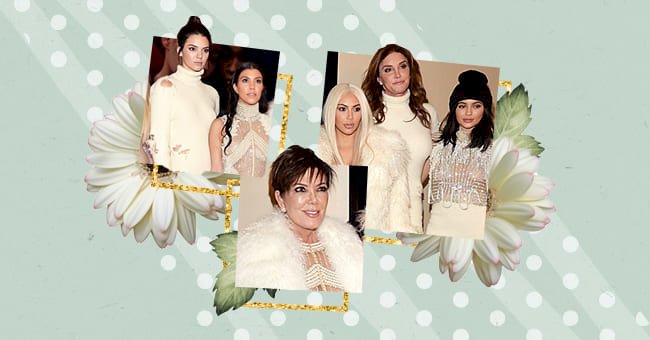 Unpacking How Much Each Of The Kardashians Is Worth
The Kardashians are a family that is talked about more often than not in the media. Whether it's baby news, divorce news, or new businesses being announced, they have become a household name.
That much fame does not come without its fair share of trials and tribulations, but the one thing that could make up for all of that is the revenue that comes from everybody knowing your name and your brands.
There's no doubt that the Kardashian-Jenners are one of the wealthiest families around, and we're here to tell you how much each of them is worth.
Rob Kardashian
Rob Kardashian is the Kardashian that we have seen the least of. Rob prefers to stay lowkey and has been pretty quiet since his very public breakup with Blac Chyna. Rob is worth $10 million, mainly made up of money he made from being on "Keeping Up With The Kardashians" and "Rob and Chyna."
Rob also has a sock brand, Arthur George, who has collaborated with his family in the past. However, not much of his money comes from there.
Scott Disick
While Scott Disick isn't technically a Kardashian-Jenner, he was many people's favorite part of "KUWTK" and has snuck into the hearts of many with his sarcastic comments and witty banter.
Disick is worth $40 million, which comes from both his earnings from "KUWTK" and his reality show on E! called "Flip It Like Disick." Disick's reality show follows him flipping houses to resell.
Caitlyn Jenner
Caitlyn has had a controversial past and has shocked many people during her time on "KUWTK." Her transition from male to female was astounding, but ultimately most people were supportive.
Caitlyn is worth $100 million, which comes from many different sources of revenue. Caitlyn's money comes from her appearances on "KUWTK" and her E! Show called "I Am Cait." Caitlyn also published a book called "The Secrets of My Life," in which she details her journey to become a woman.
Kendall Jenner
Kendall Jenner is the supermodel of the family. She is beautiful and sassy and loved by many for her straightforward nature and ability to mediate situations without taking sides.
Kendall is worth $45 million, which is partly thanks to the fact that she was the highest-paid model in both 2017 and 2018. Some of her money also comes from her appearances on "KUWTK."
Kourtney Kardashian
Kourtney Kardashian is the oldest Kardashian sibling and has stolen the hearts of many with her straight-talking and funny comments that she says to her siblings on their reality TV show.
Kourtney is also worth $45 million, like her younger sister Kendall. Kourtney's money was made through their reality TV show and her lifestyle brand, Poosh, which she launched in April 2019.
Khloe Kardashian
Khloe is the youngest of the Kardashian sisters (not including Kendall and Kylie Jenner, of course) and is the sister that always brings fun and excitement to a room. She is also the sister that everybody knows that they can turn to in times of trouble.
Khloe is worth $50 million, earned from her appearances on "KUWTK" and "Revenge Body With Khloe Kardashian" on E!, but Khloe has also made money from her brand Good American.
Kris Jenner
Everybody's favorite momager, Kris Jenner, is an icon in her rite. Managing six kids and their careers cannot be easy, but Kris Jenner does it with style and grace. She is the original sass queen.
Kris is worth $190 million. Kris earns her money from her appearances on "KUWTK" and is an executive producer. Kris also makes money by acting as a manager for her children and getting 10% of anything they do.
Kylie Jenner
The youngest member of the Kardashian-Jenner clan is miss Kylie Jenner. Kylie has built an empire with her makeup business and has ensured that everybody knows her name and associates it with success.
Kylie is worth a whopping $700 million. That is a lot of money for a 24-year-old. Kylie earns her money mostly from her makeup empire. She gained some money from "KUWTK," but not much as she didn't appear very often.
Kim Kardashian
Kim Kardashian is quite possibly the most famous Kardashian. After all, when "KUWTK" first aired, she narrated the first episode. Kim shot to fame rather quickly and hasn't stopped rising since.
Kim is worth $780 million. Most of this was earned from "KUWTK" Kim was seen in almost every episode multiple times, and she has many other sources of money, such as her many business ventures.
Kanye West
While Kanye West is no longer an official member of the family, we felt it only right to include him as he spent so much time being part of the crazy life that they lived and contributed in various ways to their fame.
Kanye is worth $6.6 billion. Kanye did not appear on "KUWTK" very often, but he has his fashion line, Yeezy, which he owns 100%. This brand has brought him the bulk of his revenue, with his music contributing to it too.