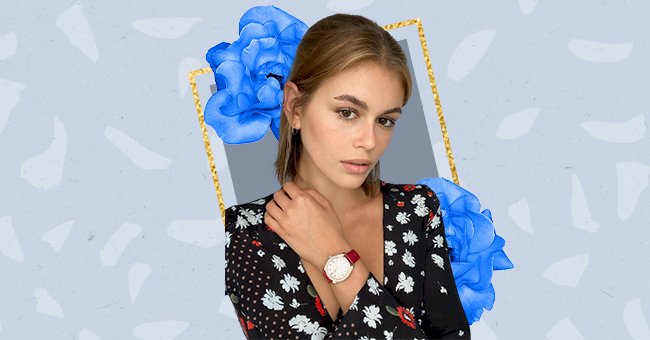 Unpacking Kaia Gerber's Face Sculpting & Sun-Kissed Makeup Routine
Kaia Gerber reveals her skincare and makeup secrets to natural and minimalistic beauty.
The 19-year-old supermodel shared with Vogue that glowy and good-looking skin isn't just a privilege of her age. After feeling the loneliness in hotel rooms while traveling the world for work, she started to take care of her skin and created her own beauty routine.
Her routine is a mix of things she learned from makeup artists and her mom, Cindy Crawford. The result? You can see on her Instagram pics — beautiful and glowy skin. Let's unpack her beauty secrets.
Gerber kicks off her beauty routine by cleaning her face, using Youth to the People Superfood Cleanser, a cleanser that helps fight acne.
The second step is to use a liquid exfoliator toner. She chooses Paula's Choice Liquid Exfoliator, applied with a cotton swab on the T-zone area.
She swears that niacinamide is one of her fave ingredients — she uses a niacinamide serum, also from Paula's Choice. During winter and an intensive sequence of Fashion shows, her skin tends to break out quickly, so she relies on niacinamide to prevent that.
Then, she rolls on an eye repair oil under her eyes, and she massages and rubs her face with two sculpting tools, which she stores in the fridge.
The first is a gua sha stone that she charges in full moons and sunshine. She massages under her eyes and cheeks. This is followed by a smaller face roller while explaining that having a skincare routine helped her feel more comfortable while traveling the world as a supermodel.
Now, it's time to moisturize. Her fave moisturizer is another Youth To The People's product, followed by sunscreen. She uses Supergoop's Unseen Sunscreen. Before starting the makeup, she uses a lip mask and Caudalie face spray.
She applies minimal quantities of foundation on her face, as she prefers a "no-makeup" look. Gerber starts by using YSL's Touche Éclat foundation, followed by the brand's Touche Éclat concealer.
Then, some other YSL products to her makeup routine — YSL's Rouse Volupté Shine lipstick balm, beige YSL eyeshadow, and curls her lashes with Yves Saint Laurent's mascara and eyeliner.