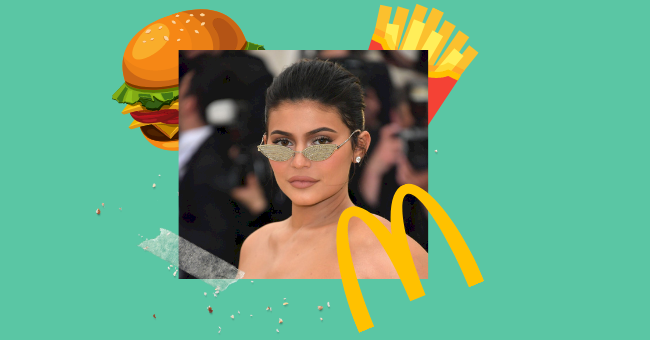 Unpacking Kylie Jenner's McDonald's Order
In case you missed it, Kylie just ate McDonalds for the first time since before Stormi was born! The makeup mogul took to her IG story recently to show us how she went through the drive thru to grab a bite after filming a drunken 'Get Ready With Me' YouTube video with Kendall at the Kylie Cosmetics headquarters.
After taking shots of Kendall's new 818 Tequila, the model's very own tequila brand that she launched earlier this year, it's no surprise that Stormi's mom wanted some greasy junk food to end her night. Kylie and Stassie Karanikolaou found the closest Mickey D's to satisfy the reality star's cravings.
From the passenger seat of her Lamborghini Urus, a drunken Kylie told us all about how the last time she had McDonalds was two weeks before Stormi was born. As a self-proclaimed McDonald's lover, Kylie even rated each item from her order for all 218 Million of her followers.
1) French Fries
Did you even go to McDonalds if you didn't buy french fries? Kylie picked up a large portion of McD's famous french fries and rated them 10/10
2) Spicy Chicken McNuggets
While Kylie forgot to give us an actual rating out of 10 for her 10 piece nuggets, she did say they were very interesting.
3) Cinnamon Rolls
These delicious looking rolls of cinnamon goodness scored a 9/10 from the reality star.
4) Fountain Sodas
Kylie didn't share what kind of sodas they got but she did post a pic of their soda cups to her story.
5) Fillet-O-Fish
I think she ate this before she remembered she was supposed to rate it for us because we heard her ordering it but we didn't actually see it.