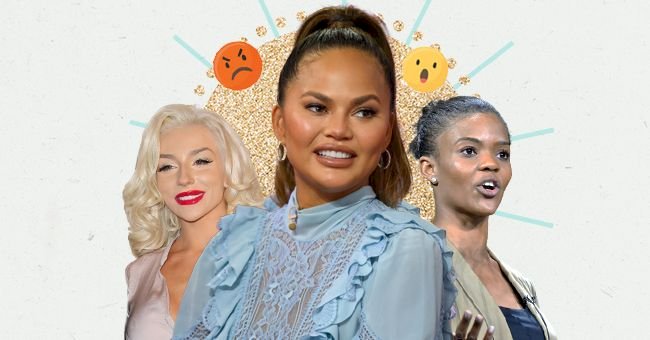 Unpacking The Chrissy Teigen CyberBullying Saga
We all know Chrissy Teigen as the clap back queen of the Twittersphere that always defends what is right and stands up for people when they can't or won't stand up for themselves, and we love her for it.
However, recently it has been revealed that this champion of anti-bullying has participated in some bullying herself. It has been a whirlwind of information since this was revealed, and many famous voices have weighed in.
We're dissecting and condensing the drama so that you can find all of the information in one place.
Courtney vs. Chrissy
Courtney Stodden revealed recently that Chrissy Teigen sent them messages urging them to kill themselves back in 2011. The drama began when Stodden married Doug Hutchison, who was 50 at the time, and they were only 16.
While Stodden called out Teigen in an interview, Teigen apologized in a series of tweets on her Twitter page. Stodden has said that they accept Teigen's apology but never received a private apology from Teigen. Teigen has since blocked Stodden on social media.
The fact that Stodden has never received a personal apology has made them question the sincerity of Teigen's apology. Stodden said that many other celebrities also bullied them for the situation that they were in.
Backlash
Shortly after the bullying was revealed, Stodden said that they believed that all of Teigen's lucrative partnerships should be immediately suspended and said that it was good that we all have a choice as to where we spend our money.
Following that statement, Teigen did indeed begin to lose many deals that she had with brands. Her cooking range was pulled from Target. Teigen's partnership with Macy's has also come to an end. Many fans of both Stodden and Teigen have expressed their disgust at the bullying.
Many fans have brought up instances of cyberbullying that Teigen has committed over the years and asked for her to apologize or be held accountable for her actions, regardless of how long ago they happened.
Candace Owens
While many people have come to Stodden's defense, the voice that has possibly been the loudest has been that of Candace Owens. She has launched a Twitter attack against Teigen that has garnered a lot of attention.
Owens began by speaking out about the Stodden saga but has since taken a deeper dive into Teigen's Twitter to expose all of the cyberbullying tweets that Teigen has made over the years that she has not been held accountable for.
In doing this, Owens has uncovered what she calls a 'pattern' where she 'finds young, vulnerable women who are struggling in the public eye' and uses them as targets to her cyberbullying tweets. Owens has since launched the #SurvivingChrissyTeigen hashtag.
The drama unfolds more every day, and there is sure to be much more backlash to come. However, we can hope that Teigen will learn from this and do better in the future.