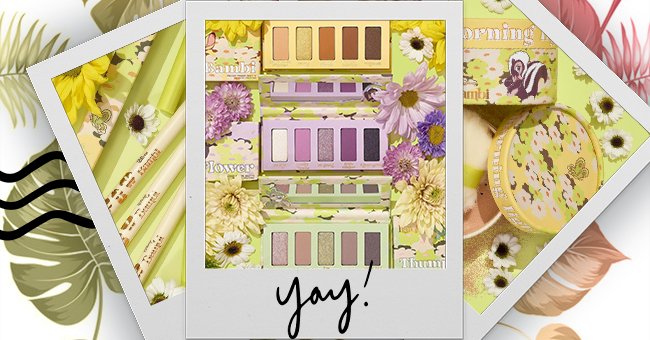 Unpacking The Colourpop X Bambi Collection
This is for every little girl who spent her days dreaming about wearing makeup while watching Disney movies. Disney has collaborated with ColourPop Cosmetics to bring you your fantasy.
Disney fan favorite Bambi has been used as inspiration for a range of eyeshadow palettes, lip glosses, eyeliner and eyelashes. It was released on February 25th.
This is the second Disney collab that ColourPop has done. They also did collaborations inspired by Mulan, Frozen, and Baby Yoda before.
There are three palettes, made up of five colors each. The palettes have both mattes and glitter in them, making them the perfect addition to any makeup bag. The palettes are also ideal for starter makeup bags as they have just the right amount of colors.
Two of the palettes are more neutral colors with golden brown and orange undertones, while the last is made up of beautiful purples perfect for a night-time look! The palettes are named after characters in the movie.
The eyeliners in this collection are a rich, creamy formula so that they have a long-lasting finish. The eyeliners are perfect to wear traditionally or to draw new and exciting shapes over your eyeshadow.
Each of the eyeliner shades matches beautifully with the eyeshadow palettes. One of the eyeliners is a soft nude, making it perfect for an inner eye corner highlight or a waterline brightener.
There are three lip glosses in the collection, keeping the theme of two neutral tones and one beautiful purple tone. The lip glosses can be used on their own or paired with the lip pencils in this collection.
The glosses are also named after characters and objects in the movie. It would be any little (or big) girl's dream to wear her favorite character's gloss, and this collection makes that possible.
This adorable highlighter comes with its powder puff applicator, reminiscent of Thumper's little tail. The highlighter is a beautiful golden hue that will accentuate your cheek and brow bones perfectly.
The powder puff makes the highlighter perfect for a traveling makeup bag because it asks as an applicator, perfect for the girl-on-the-move that needs a touchup.
No makeup bag would be complete without a set of lashes, and this wispy wonder is the perfect set to have. These lashes are subtle but dramatic, wispy, and just long enough to make someone stare.
The lashes are the perfect addition to a starter collection of lashes as they offer day and night-time usability. Their versatility makes them ideal for every kind of makeup user.
The collection was released on the Colourpop website on February 25 and available from Ulta.com on March 14th.