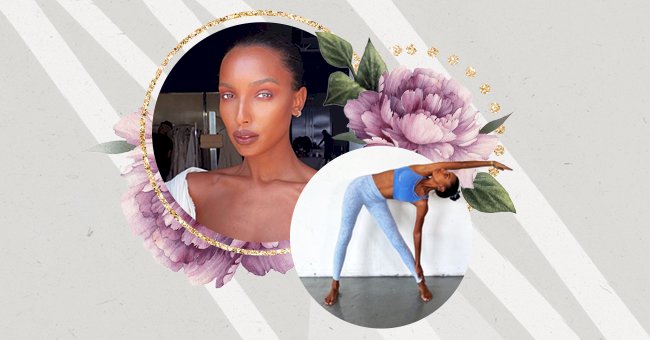 Victoria Secret Model Jasmine Tooke's Reveals How She Stays Motivated To Workout
Just like many of us, sometimes Jasmine is tempted to blow it all off but she found some ways to stay motivated and keep on track with her health and fitness routine.
Jasmine Tooke is known — even among her Angels friends — as the beauty junkie. She is not only careful with her skincare routine but with her fitness regimen too. The Victoria Secret's model often shares her workout routines on JoJa, a fitness IG profile Jasmine and her friend and model Josephine Skriver have together.
When you see JoJa's account filled with motivational quotes, vids and photos of their routines, you can't imagine that Jasmine struggles with motivation.
"I try to get up early, work out in the morning, and get it over and done with. If I wait for the evening, it's not going to happen."

tells Jasmine to The Cult.
The Victoria's Secret Angel reveals how hard it is for her to work out on the weekends. So, she counts on her friends Josephine Skriver or Romee Strijd to sign her up for activities.
When she's traveling, she takes a little travel workout pack with some ankle weights to keep the momentum and train what she can while in a hotel room.
Tooke's fitness routine is quite diverse as she likes to mix up. She does barre classes (Physique 57) once a week, Pilates, and weight lifting training.
Jasmine also reveals that she avoids doing cardio because of her metabolism. She believes that blending high-intensity workouts such as weight lifting with light workouts such as Pilates is the perfect combination for a ripped physique.
What about her diet? Tooke starts her day with a protein shake made of banana, chocolate whey powder, peanut butter, strawberries, and almond milk. Then for breakfast, two hard-boiled eggs with spinach. She loves to eat foods that are high in protein and high carbs.
She tries to eat clean and healthy as much as she can, but she falls for hot chicken wings and French fries when she's alone — just like any other human being, right?