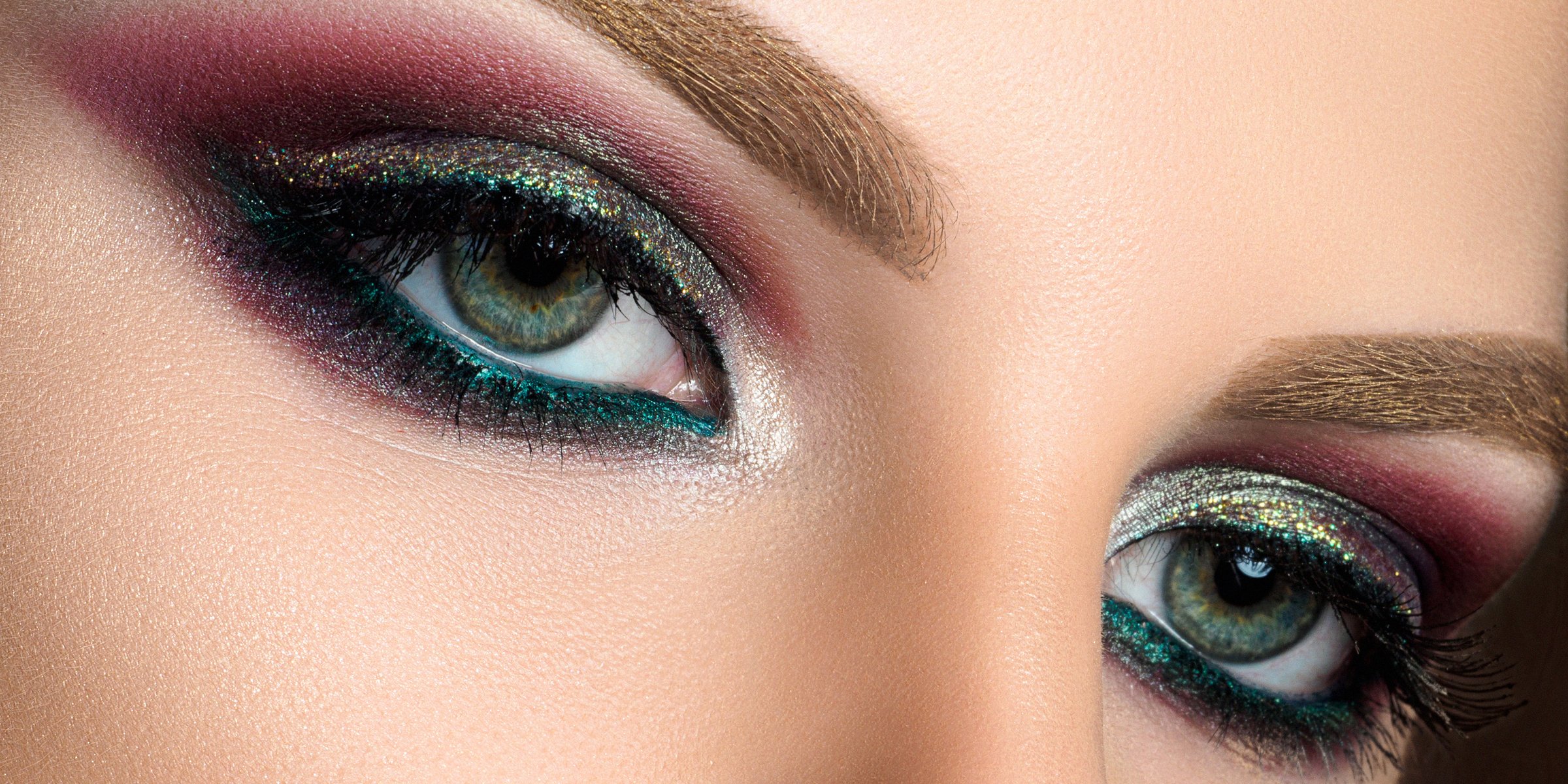 Eyeshadow for green eyes | Source: Shutterstock
What Color of Eyeshadow Is Best for Green Eyes? 4 Options to Consider

Eyeshadow can emphasize the color of the eyes, primarily when used with the correct colors. For makeup enthusiasts with green eyes, four specific eyeshadow shades can help your eyes stand out.
There are endless shades of different colors that cosmetic companies have made available for eyeshadow. Naturally, selecting from the many options can take longer.
Finding the right color palette for one's eyes can boil down to many factors, including outfits, eyes shape, and skin tone. However, one general rule must be followed for eye colors to pop.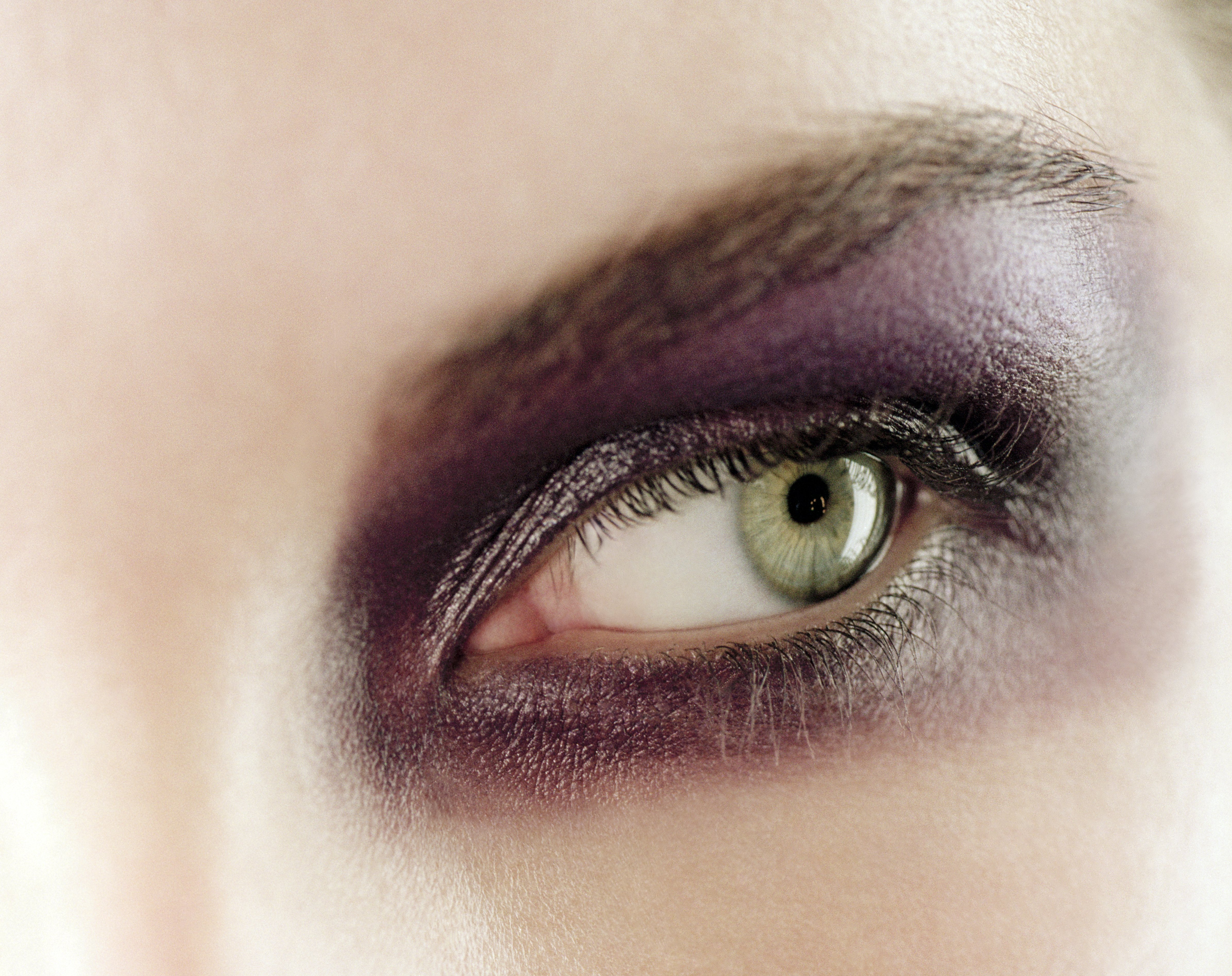 Young green-eyed woman wearing purple eyeshadow. | Source: Getty Images
The rule of thumb is to choose options on the color wheel that oppose one's eye color. The interaction between opposing hues allows two contrasting shades to complement each other. Specifically, green eyes pop out when matched with warmer tones as they are contrasts in the color wheel.
There's no denying that green eyes are whimsical yet striking. While not many have them, those with emerald-green peepers would be glad to know the four best eyeshadow color options to consider for their next glam session.
Four Eyeshadow Colors to Make Your Green Eyes Stand Out
1. Warmer eyeshadow colors with red undertones, including dark pink, coral-orange, rose gold, and maroon, sit right across the color green on the color wheel.
These particular hues emphasize green eyes and instantly add contrast to the eyes. A gold shade can also sparkle to the eyes for that extra glamorous look.
2. Shades of purple are also close to red undertones and accentuate gold flecks in some eyes. Those attending an evening event would look dazzling in darker purple hues, including magenta, plum, and violet.
Meanwhile, those who want to try purple shares during the daytime can opt for lilac and lavender for a subtle makeup look.
3. Bronze and copper eyeshadow palettes also complement green eyes. Light copper hues are best used during the daytime, while gold eyeshadow with shimmer is often chosen for evening looks.
4. Silver tones are also an option for green eyes with naturally cool tones. Matte hues are flattering during the day, while shimmering silver eyeshadow can add sparkle to any evening event.
How to Create a Perfect Eyeshadow Look for Green Eyes
Master Class suggests four easy steps to achieve the perfect eye makeup for green eyes that will exude elegance and beauty.
1. Preparation is always a must for anyone applying makeup. Before blending in the eyeshadow, prep the area with eye cream, concealer, and primer. The primer, which can be the lightest shadow, will help keep the makeup intact for hours.
2. Applying the eyeshadow is the most important in the process. Start by filling the base layer across the eyelid using a light brown eyeshadow. Blend into a darker shade of brown as the line moves toward the outer corner of the eye.
For those using shimmer hues, incorporate the shimmer to the deeper crease of the outer eye. Blend it with your finger for a smokey look.
3. Apply dark eyeliner following the natural shape of the eyes. This will highlight the green color of the eyes even more.
4. Add the finishing touches, including shimmer and glitter, at the inner corner of the eyes. A winged eyeliner may also be added to the outer corner of the eyes, depending on one's preference.
5. Use a setting spray to keep the makeup intact throughout the daytime or evening. This will help in lessening the reapplication process.
More Tips to Make Your Green Eyes Pop
A pro tip to emphasize green eyes is to use brown eyeliner. For those who would rather have a subtle winged eyeliner, kitten eyeliner is a great option.
Other options are adding a bright silver shimmer to the eyes' inner corner or mascara on the upper and lower lashes.