Kayla Gardner | Source: tiktok.com/kayla.nicole.g
Woman Checks Live Camera Feed, Catches Her Boyfriend Cheating with Another Woman That Minute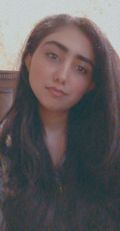 A woman was on a cruise ship getaway with her partner, hoping to have a memorable time. Everything was going perfectly well until her boyfriend excused himself to grab some food. Moments later, she spotted him on the ship's top deck in a live camera feed, but he wasn't alone.
Life isn't short of surprises and drama; anything can happen in seconds, toppling over our seemingly happy worlds. As is often the case, the most uninvited and heart-shattering scenarios ambush us when we least expect it, and the woman in today's story experienced the same.
Kayla Gardner's story begins on a lovely note, only to take endless twists and turns later. One day, she and her lover were enjoying their dreamy cruise ship vacation when things suddenly went awry. Here's the whole story!
According to Gardner, she and her partner were having a wonderful time when he told her he wanted to have some food and left. But she realized the real reason behind his disappearance much later after successfully connecting the dots.
Per the clip, there was a fire on the ship, and a rescue boat with firefighters was seen sailing next to it.
Watching the Live Feed
While waiting for her boyfriend, Gardner was inside their cabin with one of her friends when she discovered something. Her friend was casually flipping through the television when she landed on a channel broadcasting live feed from the ship's deck.
At first, Gardner asked her friend why the cruise needed CCTV cameras while the TV screen behind her showed a broader view of the deck. But soon after, the social media influencer was dumbfounded when she spotted her lover; to her dismay, he wasn't alone.
Catching Her Boyfriend on Camera
With her hands to her mouth, Gardner couldn't restrain herself as she watched her boyfriend with another woman. Squinting at the footage which captured the cruise's pool deck area, she asked her friend if she knew the woman on the screen.
Shortly after Gardner's seemingly rhetorical question, she and her friend tried to confirm whether the man was actually her boyfriend. Not much was left to the imagination as another camera angle zoomed in and ended their brief debate, ruling out all doubts.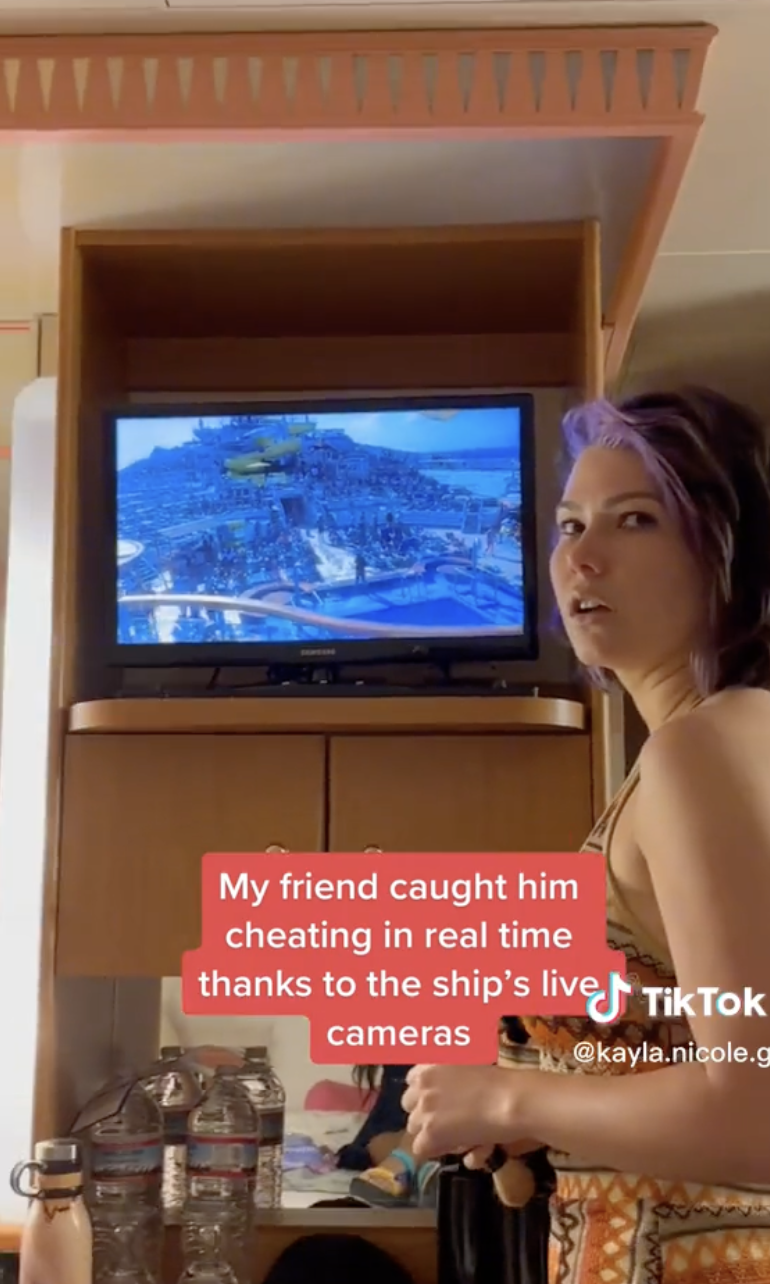 Kayla Gardner is pictured standing next to television on the cruise ship's cabin. | Source: tiktok.com/@kayla.nicole.g
The Shocking Footage
Gardner's friend recorded the startling scene on camera, and she posted it to her TikTok. The in-lay text read, "My friend caught him cheating in real time thanks to the ship's live cameras."
The video, which has since garnered millions of views, is titled, "Exposing cruise cheater." It was shared in response to a netizen's comment, which said, "On [today's] episode of 'I'm stupid, and I got caught...'"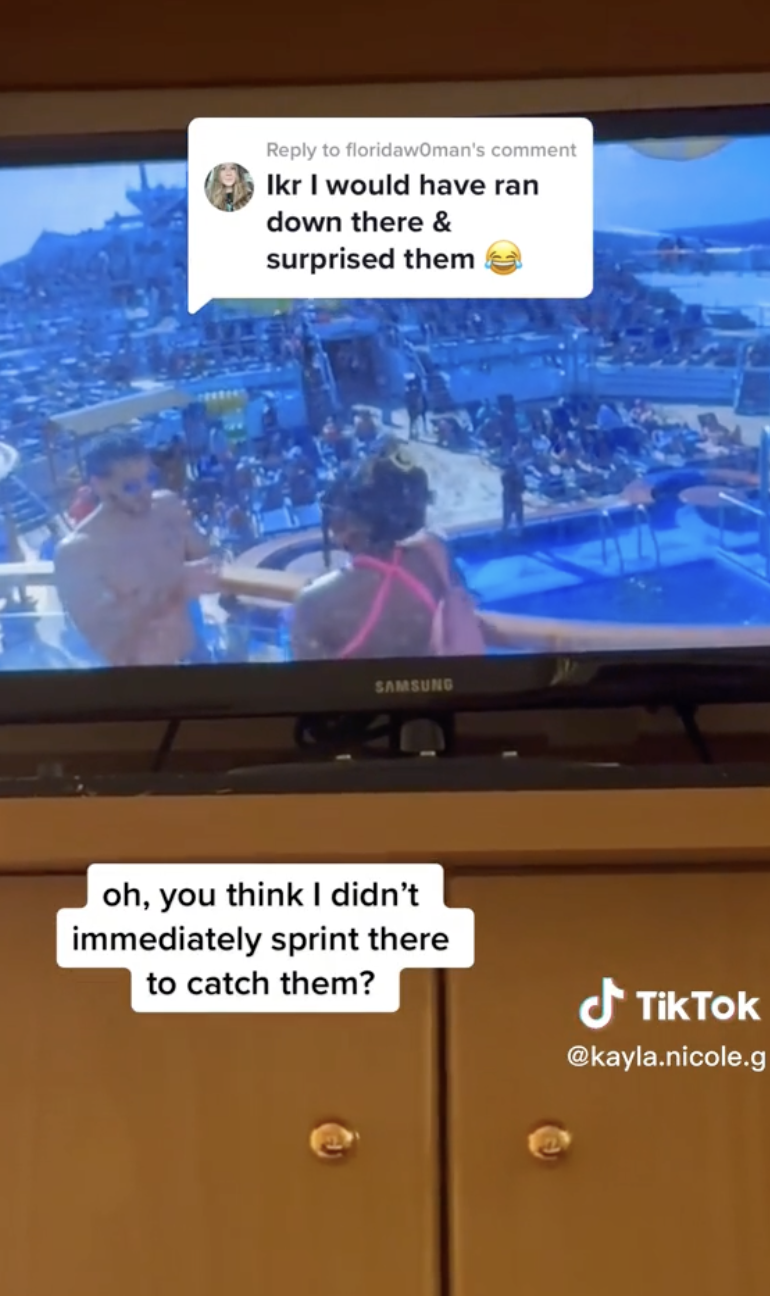 The cruise ship's live feed shows Kayla Gardner's boyfriend sharing his number with an unknown woman on the deck. | Source: tiktok.com/@kayla.nicole.g
The Woman's Reaction
The viral video also captured Gardner's heart-shattering reaction as she caught her partner cheating. "Stop, that's the girl. Oh, my God! This is not happening," yelled Gardner after seeing her boyfriend place his hands on the unknown woman's shoulder.
The short clip ended with the Disney World worker panicking and her friend gasping in the background. In a second video titled, "Cruise cheater pt 3 (sic)," posted in response to a commenter suggesting Gardner go down to the pool deck and surprise her boyfriend, more details were revealed.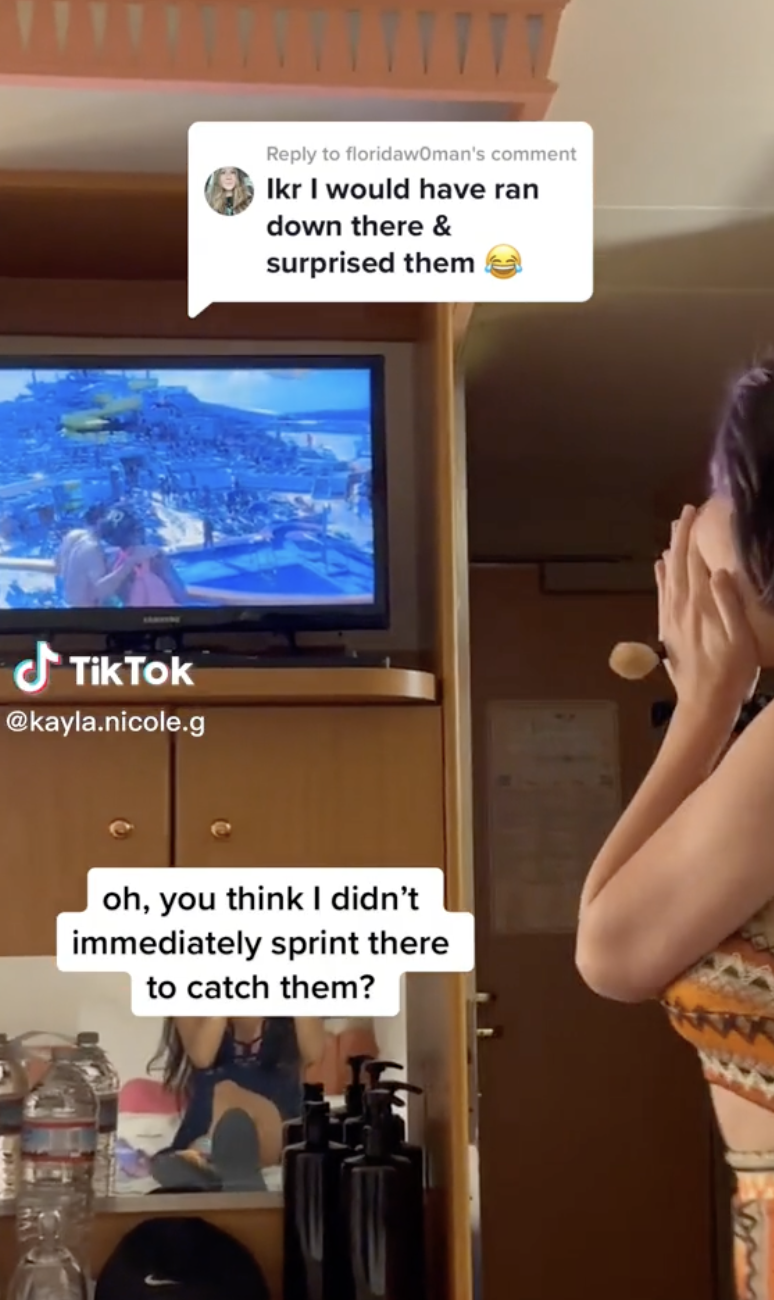 Kayla Gardner is shocked seeing her boyfriend cozying up with another woman on the ship's deck. | Source: tiktok.com/@kayla.nicole.g
The 911 Call
The clip showed the man pulling the woman closer so she could rest her head on his shoulder. Seeing them cozying up, Gardner lost her cool and ran straight to the door. However, she was stopped mid-way when her friend shouted that the man was giving his number to the woman.
By this time, the Disney employee was done holding back, and she immediately grabbed a walkie-talkie, alerting her other friends of a 911 emergency. With her eyes fixated on the screen, which showed the duo hugging, Gardner ordered her group to reach the upper deck as soon as possible.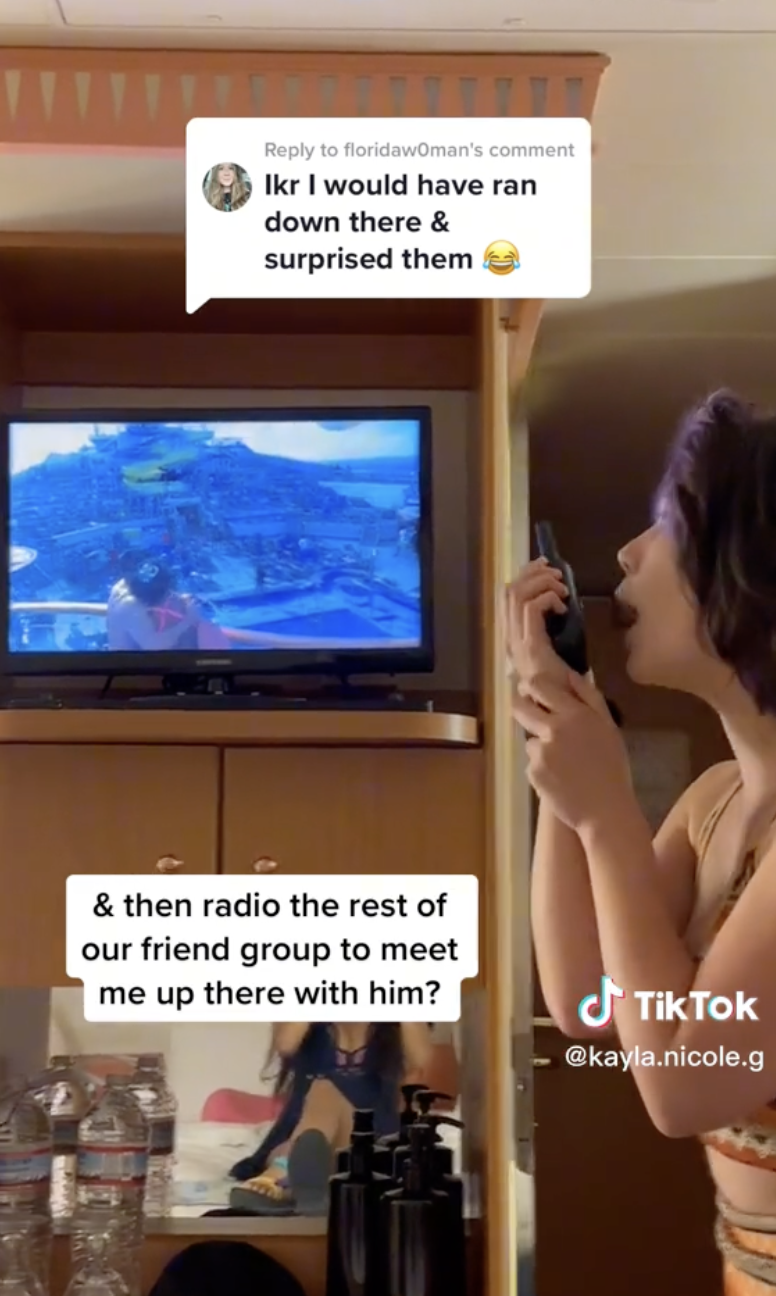 Kayla Gardner grabs a walkie-talkie, alerting her friends to reach the cruise ship's deck area. | Source: tiktok.com/@kayla.nicole.g
To the Rescue
In response to a commenter asking what happened to the cruise cheater and hoping Gardner threw him off board, the TikToker posted a fourth part of the saga. "Not tryna incriminate myself but (sic)," she wrote in the caption.
Per the clip, there was a fire on the ship, and a rescue boat with firefighters was seen sailing next to it. "Use your power of deductive reasoning to piece together what happened," added Gardner in the in-lay text.
The Aftermath & Bouncing Back
No clear details were revealed regarding what happened to the allegedly cheating boyfriend. Instead of posting confrontational footage, Gardner shared more videos shedding light on the aftermath and how she handled the whole situation off-camera.
In one clip, she threw her cheating partner's belongings from their apartment window while he stood outside, taking Gardner's full wrath. In another video, Gardner revealed she had ended her relationship for good and had entered singlehood again.
"Good evening, passengers, this is your captain Hot Girl Summer speaking," uttered Gardner in a walkie-talkie. "Thank you for joining us on the carnival cruise. As we begin to prepare for takeoff, please make sure your feelings are on airplane mode, and your ex is left on read. Thank you," she concluded.
In another video clip, Gardner noted that everyone's definition of "cheating" was different. However, for her, someone lying to be with another woman, snuggling and flirting with her, and exchanging their numbers fell into the category of cheating.
The Online Response
Gardner and her ex reportedly boarded Carnival Cruises, which shared a number of reasons for installing cameras on their ships. These included people's safety and security onboard and ensuring the correct people were on the ship through face recognition software.
Since being shared in late March 2023, Gardner's videos have collectively amassed around 30 million views and counting. In addition to driving the TikToker wild with rage, the viral clips drove the internet users into a frenzy.
Many people were stunned by the dramatic state of events and begged Gardner to share more details. Others empathized with her and were curious about what happened between her and her boyfriend afterward.
What do you think of this incredibly shocking story? Was the woman justified in ending things with her allegedly cheating boyfriend? Have you ever been on a cruise ship and seen something baffling on the live feed? Let us know your thoughts in the comments section on Facebook.