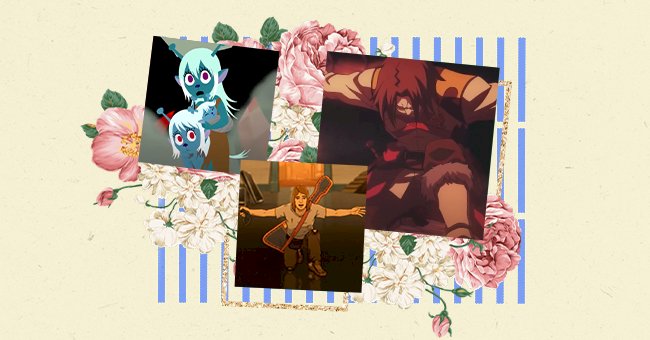 10 Adult Animations Series Like 'Invincible' To Watch
Amazon Prime's "Invincible" is seemingly all anyone is talking about these days, and for a good reason. The show is a faithful adaptation to comic book source material down to the mature language, action, and sensual imagery.
Adult animation is growing leaps and bounds. Unlike G-rated animations, adult animations explore aspects that are shocking, hilarious, and even imaginative, much like live-action drama series.
So you've been sucked in and are searching for more. Good news, for there are tons of series like "Invincible" that you can binge-watch this weekend. Scroll below for ten incredible adult animation series you can watch right now.
Love Death + Robots
While Invincible is more of a storyline, "Love Death + Robots" is a collection of animated short films drawn and filmed in various animation styles. This show really goes there, don't say we didn't warn you. However, it creates a perfect case science fiction animation that you might not be able to turn away from.
One-Punch Man
If you're an anime lover, this title may not surprise you. For those of us who may be total noobs to this, "One Punch Man" follows a superhero named Saitama who takes down his enemies with one mighty punch.
Saitama gained this power through doing a ton of push-ups. However, over time he gets bored of fighting, which surprises all the superheroes around him. Tune in for a good laugh even as it parody's animes while still being a solid anime.
Black Dynamite
This series is based on a 2009 film of a kungfu fighter whose mission is to stop drugs and crime after his brother's death. This classic animation has many guest voice appearances like Tyler, the creator, and takes a creative spin from the original film.
Undone
The technique of drawing over in animation will make you appreciate this series even more. The story follows Alma, who survives a car accident only to realize she gained a special gift - she can make time more fluid.
However, the gift becomes at once precious and dangerous for her. Using her new talent, she embarks on a journey to discover the truth behind her father's death even as he appears to her from beyond the grave.
Beavis and Butthead
Step into the '90s with this animated series. We follow "Beavis and Butthead," who sit on their couch for half of the series while exploring new music. The 90s themes are heavy here, so strap in some serious nostalgia.
Metalocalypse
"Metalocalypse" follows members of a popular metal band Dethklok, so influential that they have their economy. We see the five members who are hilariously branded as idiots trying to get through their day-to-day activities.
However, as the show unravels, we discover the members are placed in the middle of an ancient prophecy in a humorous twist. A bonus: the music in the series is so good that the creator released three of their incredible albums to jam to when you're not watching the show.
Futurama
If you didn't know, "Futurama" is an iconic animation that aired on TV for many years. The storyline follows a regular joe who wakes up thousands of years later after being frozen. In this new world, he makes friends with wacky scientists, aliens, and robots. It's quirky and a lot of fun.
Final Space
"Final Space" is not as predictable as you think. It's full of plot twists and unexpected endings due to the storyline of astronaut Gary whose on a journey to meet aliens and interdimensional beings.
However, the characters he encounters add layers to the show, for they each stand out. From the green blob who wants to destroy the universe and a mooncake, you will get the same wild universe similar to Invincible.
Samurai Jack
If you watched this series as a child, it's time for a rewatch. Samurai Jack was way more mature than many of its other counterparts in its writing and how it tackled themes. So much of this series is similar to "Invincible."
The show begins with Samurai Jack trying to go back to the past to undo the destruction of the evil Aku even as he remains stranded in the future. From season five, the show doubles down and embraces a mature feel alongside excellent illustrations.
Castlevania
Castlevania does justice to the video game it is based on. The animation is a dark medieval fantasy that follows the story of Trevor Belmont, a disgraced member of the Belmont clan trying to save Eastern Europe from Vlad Dracula Tepes.
We watch Belmont and his unique team encounter groups of dangerous monsters while navigating the lands of Wallachia. The story is action-packed, and the artwork is stunning. However, trigger warning it's violent; aside from that, this story is as addictive as can get.