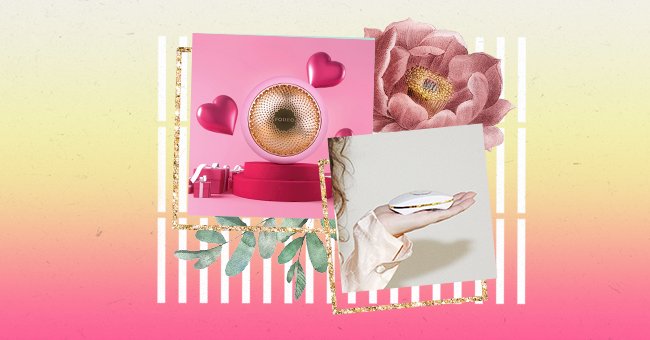 10 At-Home Skin-Care Devices Worth Investing In
Investing in skincare equipment is the best guarantee to obtain results that are as effective as in a beauty salon. It is also a much more natural, effective, and faster method.
Among all the facial care products, you will find different tools that are sure to make your face shine. Save yourself the costly trip of going to the beautician and bring the beauty studio to your home.
Some of these products work by tightening the skin, renewing skin cells, or stimulating blood circulation; they do so to achieve rejuvenated-looking skin.
1. Foreo Luna Mini 2
This is an enhanced sonic face brush with a fully customizable cleansing experience. In just one minute, the brush eliminates blemish-causing impurities while being extremely gentle on the skin. It can be used by all skin types and comes with an updated 3-zone design.
Use the thin bristles for sensitive and normal skin, thicker bristles for precision cleaning, and broader bristles on the reverse side for oily skin. It washes away 99.5% of dirt, oil, and other impurities to reveal glowing skin, and one full battery charge can last for up to 300 uses.
2. Dr. Dennis Gross Skincare Pro Facial Steamer
Bring the spa home with this professional steamer ideal for all skin types! It is especially great for those who have dehydrated skin and enlarged pores. It infuses skin with moisture, clarifies the complexion, and purifies the skin.
However, this is an ideal way to begin any at-home facial as the Pro Facial Steamer enhances any skincare regimen benefits. The skin is primed for exfoliation and product application, accelerating the absorption and effectiveness of products that follow.
3. Jillian Dempsey Gold Sculpting Bar
The 24K gold vibrating bar instantly makes your skin feel and appear toned, lifted, revived, and contoured. It is a luxe breakthrough bar that helps the skin look toned and lifted with each vibration.
Besides its vibrations that mimic a massage's effects, it is also an ideal pick for men and women who want instantly relaxing facial muscles to release tension.
4. BeautyBio GloPRO Microneedling Facial Regeneration Tool
This was the world's first patented at-home micro-needling tool launched in 2016, enabling you to get those luxury treatments within your own home, at a fraction of the original cost but with the same results.
Microneedling stimulates the skin's natural healing response, enhancing cellular turnover resulting in a visibly firmer, smoother, and younger-looking complexion.
5. Foreo UFO Smart Mask Treatment
This is a transcendent intelligent waterproof mask treatment designed for all skin types. The UFO combines advanced dermal technologies with Korean mask formulas for an indulgent facial treatment in seconds.
From the comfort of your home, you can experience the beauty of innovation and transform your complexion at the same time. The product uses your skin's natural reactions to cold and heat plus signature T-Sonic pulsations to make sure you get the best out of every mask treatment.
6. Revolution Skincare White Jade Roller
Are you feeling puffy? The white jade roller is generally used to combat puffiness. By rolling over your skin, you stimulate blood flow which aids in the absorption of serums and masks.
After cleansing, apply a few drops of your favorite serum, facial oil, or moisturizer to your face. Using the roller gently across your face, be sure to cover as much skin as you can.
7. CurrentBody LED Light Therapy Mask
Do you want visibly firmer and younger-looking skin? Then this is one product you should not sleep on. The mask delivers the correct dose of dual LED light directly to the skin.
It combines anti-aging red and near infra-red light therapy to improve fine lines, skin tone, wrinkles, texture and ultimately firms the skin. It clinically proves that it can reduce wrinkles by 35% in four weeks.
8. ZIIP Nano Current Facial Device
This was designed for simplicity and results that are simply out of this world. It promises to be more than a one-off facial as it exists as a go-to secret weapon that can address nearly every skincare need.
It boosts skin elasticity, lifts, plumps, sculpts, and illuminate at the same time. This is one tool that is said to be a gamechanger in the world of beauty. The benefits are excellent, and your skin will thank you for it.
9. Sarah Chapman Pro Pore Refiner
This is a three-step extraction device that delivers ultrasonic pore-cleansing for instantly clearer and brighter skin. The ultrasonic vibrations loosen congested pores from within the dermis while priming them for optimal extraction.
The suction is focused and purges oil and dirt from pores to dismiss blackheads instantly. After use, pores tend to appear smaller, and the skin's texture is smooth and radiant with a luminous glow.
10. NuFace Trinity Facial Toning Device
This is an FDA-cleared device that promises to deliver professional microcurrent results at home. Trinity helps improve facial contour, tone, & the look of fine lines and wrinkles. The facial trainer attachment (included) is the perfect first step to get you started.
It comes with its Hydrating Leave-On Gel Primer with Hyaluronic Acid, which attracts and retains moisture. This helps to plump and hydrate for softer, younger-looking, glowing skin.