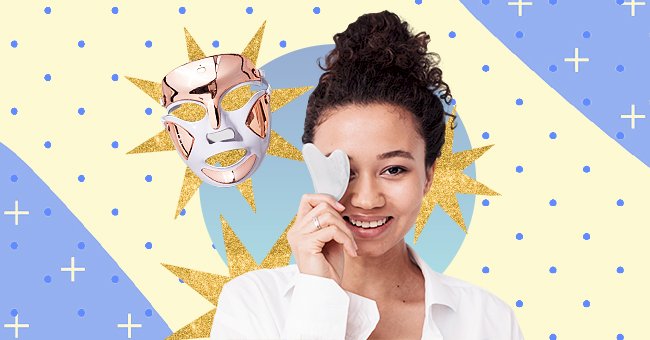 The Best Skincare Tools, Gadgets And Devices Of 2020
All the things that light up, buzz, and vibrate on your face make your skin look bomb. We're taking a look at some of the techy skincare innovations that are worth trying out.
One of the biggest trends expected is an increased interest in technological devices in the realm of skincare. And while we've seen this trend grow over the years, the pandemic has accelerated the need while we all take our beauty needs into our own hands.
You may have seen some of these tools around on the socials, and while admittedly, some of them may seem a bit gimmicky, there are a few that you may want to give a try if you're a beauty enthusiast.
Dr. Dennis Gross Skincare SpectraLite Faceware Pro
A major skin concern for many is the fine lines and appearance of wrinkles that naturally occur from, well, doing life. Firstly, there's absolutely no problem wearing the proof of life marks on your face because wrinkles are a normal part of the journey.
But if you're looking for an anti-aging tool that will also brighten a dull complexion, LED lights are growing in popularity for home use. To decrease acne flare-ups, use the blue light while the red stimulates collagen production and reduces hyperpigmentation. Halle Berry has also posted about this gadget before.
BeautyBio GloPro Microneedling Regeneration Tool
"Microneedling devices can help improve skin tone, texture, and even fine lines by creating microscopic, low-grade damage to the skin — meaning it takes advantage of the skin's ability to heal itself,"

says Joshua Zeichner, director of cosmetic and clinical research in dermatology at Mount Sinai Hospital in New York City.
While many of these tools and all may be intimidating, Beautybio's tools are designed to help you do it yourself, efficiently, and from the comfort of your home safely and efficiently
Dermaflash Dermapore Ultrasonic Pore Extractor and Serum Infuser
Reduce the appearance of pores to achieve the coveted glass skin look. This specific pore retexturizing tool provides two-in-one benefits.
Firstly, the sonic extractor gently withdraws those stubborn blackheads from your skin. It then helps your serum penetrate the skin by pushing it in.
Foreo UFO
"What happens when you put T-Sonic pulsations, LED light therapy, warming and cooling in one device?"

The instagram caption asks.
Cute and effective happen to be the words to describe these pretty little gadgets from Foreo. The UFO helps infuse active ingredients into your skin while promoting firm skin.
Yu Ling Jade Facial Roller
Combat facial puffiness, especially underneath the eyes, with this popular tool and also reduce redness with a quick icy treatment.
Pop this puppy into the freezer before use to optimize the benefits. Gently roll over your face and get the blood circulating.