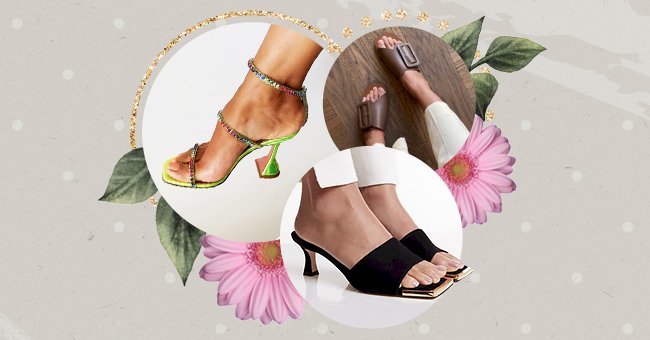 10 Best Sandals To Grab This Summer
Summer is close. Can we get some cheers? Now, while you shop around for lovely dresses to enjoy that vitamin D to the max, what of your shoes? We know your closed shoes will be tucked away, so it's time to give some thought to your summer footwear.
Of course, sandals are always the go-to for the summer. Not only do they provide much-needed comfort, but they are also super stylish and can pair seamlessly with all your summer fits. Besides, the options are endless.
From embellished, strappy, floppy, begin your search for your summer footwear right here. Okay, enough chat. It's time to revamp your shoe closet with these top ten sandals to rock on sunny summer days.
The Standout Square Toe Slide Sandal
Price: $139
You might have a hard time removing this pair; they are that addictive. These shoes have a classic design with a low heel making them the perfect pair to wear almost anywhere. Also, the metallic hardware adds a chicness that instantly elevates your outfits.
Paloma Slide Sandals
Price: $128
Slip-on sandals are a must-have during the summer season. These Paloma woven sandals will last you a lifetime as they are made from white leather. Also, the shoes come with a carved sole making them easier on the feet than the typical flat sole design.
Birkenstock Arizona
Price: $135
The return of comfortable footwear is back, and we are living for it. The cushioning of these Birkenstocks is impressive. Expect maximum comfort even while wearing them for hours on end. Plus, they are available in different colors, so pick what suits your mood.
Gilda Sunset Rainbow Ankle Strap Sandal
Price: $1,090
Your summer will never be the same again with a pair of these. Amina Muaddi has designed the perfect sandals to throw on when you require something out of the ordinary. Furthermore, the shoes make a bold statement with their jeweled accents.
Carina Canvas Wedge
Price: $155
Your summer closet cannot be complete without a pair of espadrilles. We love these Carina pairs because they are functional and are super flattering to any foot. Furthermore, they come in a gorgeous ivory color that easily pairs with a ton of outfits.
Havaianas Slim Flip Flops
Price: $25.99
These are hands down the best beach go-to sandals. They are crafted from rubber material and are consequently waterproof, meaning you can slip in out of water bodies without much harm to the shoes.
Ceci Khaki Brown Flat Sandals
Price: $350
If you're looking for a statement piece, this sandal is right up your alley. The sandal has an edgy cut which will look great with a sundress or wide-leg pants. Also, don't get us started on the oversized buckle because it will take your outfit to a whole new level.
Women's Victorie Mid-Heel Slide Sandals
Price: $118
This trendy pair will is to notch. The slides come with a transparent strap and a beautiful cork design that allow them to stand out. Also, the heel is low in length, so they are pretty easy to quickly slip into for some fun in the sun.
Mandie Strappy Sandal
Price: $55.30
Make your summer stand out with these yellow sandals. They have a modern square toe design with thin straps. This elegant pair will add some polish to your summer outfits. However, if yellow is not your color, several other neutral colors can be chosen.
Daphne Flat Metallic Leather Sandals
Price: $250
Your summer will never be the same once you feast your eyes on this metallic pair. The shoes come in a gorgeous golden color with a low heel so you can take your afternoon stroll in style. It also has an open-toe design; therefore, ladies, make sure to show off your pedicure.