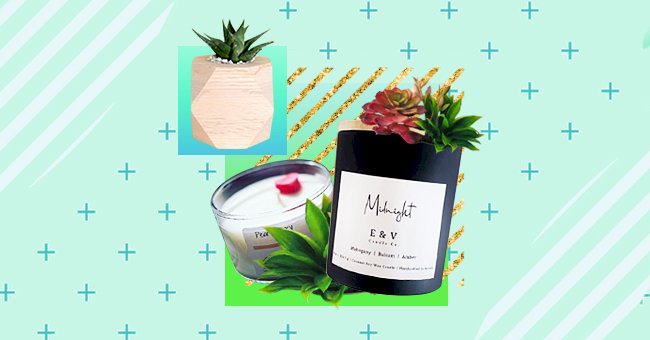 10 Candles We Love Made By Women Of Color
The world has finally accepted the first female, first South Asian, and first African American Vice President of the United States. So it is quite fitting to acknowledge more women of color for their creative talents, like these brilliant chandlers on Instagram.
Whether you're a fan of keeping things fancy or prefer simplistic and elegant decor ideas, candles can light up any occasion. They give a chic look to your bridal showers and the romantic touch you desire for a cozy, indoor couple dinner.
If you can't decide what gift to buy for your close friend or a special someone, a Valentine's Day themed candle might do the thing. Take a look at these ten lovely candles made by women of colors to make your events candle-icious.
1.Pear Berry
With that cute red heart on top and a pear berry fragrance, this soy wax candle made by Luminescents by Victoria qualifies as a great V-Day gift.
2.Cocoa Strawberry
Terra's handmade cocoa strawberry scented candles are included in the exclusive Valentine's Day collection, so you know what to do!
3.Luxury Scented
Kreative Candle Co's Kings & Queens luxury scented candles are set in the theme of love and guarantee to fill your surroundings with their magic aroma.
4.Rose Noir
Grove 11's home fragrance candle collection is exquisite, and their rose noir scented candles are alluring to overpower your senses just in time for fourteen February.
5.Ayuri Sunrise
Ayuri handcrafted candles are sustainably made and feature scents that are great for inducing positive and spiritual vibes.
6.Midnight Themed
E & V Candle Co's Midnight candle includes mahogany, balsam and amber scents and are great picks for home decor settings.
7.Cozy & Mellow
The fall collection from Edens Glow offers natural options like warm honey and bourbon and cedarwood and balsam.
8.Sunset
Brightly Candles craft theme-inspired candles. Their Sunset collection comes in six soothing scents, giving you an option to choose the one you love.
9.Pittsburgh Pillow Talk
This Pittsburgh-centered candle by ATL Vibes is infused with suburban touch reminiscent of the area and smells just like clean linen.
10.Tea & Coffee
You have to try these candles made by Ame Candle that smell just like mocha, tea and coffee. What a treat for tea and coffee lovers!