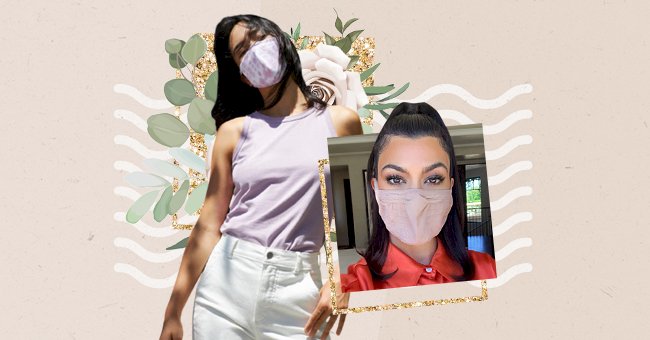 10 Celeb Face Masks That Won't Break The Bank
The COVID-19 pandemic has affected everyone, including the stars. They are just like us- in the way of wearing masks. Wearing masks has seen an unprecedented spike as many of us- stars included, do our part to put a stop to the novel coronavirus pandemic.
Yet, despite the bleak news, there is a small silver lining. Celebs are at the forefront in wearing fashionable masks. Moreover, the move has illustrated that mask-wearing is also a stylish endeavor.
One thing to note is that we do not all have celebrity-sized wallets. However, from small businesses to top brands, there are affordable ways you too can achieve celeb face mask style. Scroll below for some star-approved face masks that won't break the bank.
Skims
Price: $8
If you get a pair of these, please let us know because these hotcakes are always sold out. As seen on the gorgeous Kourtney Kardashian, this mask is a seamless, neutral mask that comes in five shades. Get on that waitlist now!
Ribbed Mocha Mask, Masqd
Price: $20
Bella Hadid. The face that launched a thousand… erm, masks? The supermodel stepped out in a ribbed mocha mask from Masqd, resulting in a ton of traffic to the website, and they began to sell out - fast. $20 to be a little closer to a Hadid? Um, yes?!
RhideshareMat Rhinestone Face Mask, Etsy
Price: $10
Megastar Ariana Grande got us with the bling. The songstress debuted a shiny rhinestone mask on her Instagram page that sent us looking for dupes. Try this RhideshareMat Rhinestone Face Mask from Etsy that's got that affordable glam.
Everlane The 100% Human Tie-Dye Face Masks (5-Pack)
Price: $25
Jennifer Lopez had us wishing for summer with her tie and dye masks. The star donned a blue tie and dye from Masqd and wore a pink tie and dye from another band later. As Masqd already made our list, how about you cop a cute tie and dye five-pack from Everlane?
For Days 5 Smiley Mask Pack
Price: $25
These reusable and masks caught our attention when Katie Holmes sported a pair. The masks are made from a double layer of cotton jersey with a small pocket to add a filter. Look how cute they are, though!
Maskc Zebra Face Masks 10-Pack
Price: $14.04
Irina Shayk opted for an animal print mask from another celeb go-to face mask brand Maskc. Shayk wore a zebra print mask from the brand's collection of trendy, funky masks. They always have sales, so get yourself some.
Amaia Adult Reusable Cotton Face Mask
Price: $17.90
We bring you another top seller. This floral piece from kids brand Amaia became a hot topic when the Duchess of Cambridge sported a pair. The adult mask sold out in 24 hours, and for that price, we see why.
Kristian Kouture Shop Reusable/Washable Cotton Protection Face Mask
Price: $15
Jennifer Hudson put her money where her mouth is when she sported this Kristian Kouture face mask. The Etsy-based brand makes handmade masks using three layers of breathable fabric with the inclusion of a filter pocket. Nifty!
Royal Jelly Harlem Adult Mask
Price: $15
Our fave Meghan Markle reminded us all to keep healthy with this face mask from Royal Harlem Jelly. The brand is run by a mother-daughter who sources its materials from African vendors and uses African-born tailors who produce products in the United States.
Millie Smile Mask
Price: $16
Last but not least is this mask designed by fair trade brand Rafi Nova and actress Millicent Simmonds. The custom transparent mask returns visual cues and facial expression. Moreover, the proceeds go to non-profit organizations that help the hard of hearing.