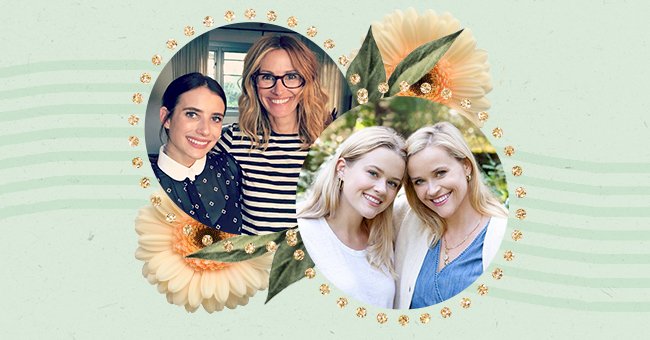 10 Celebs You Didn't Know Had Famous Families
You can't count the number of children of stars in Hollywood, and you may not know their identity. Sometimes a celebrity is a family matter. And sometimes, even those directly involved do not know.
It is often said that the world is small; this rule applies even to the world of show business. Some stars discovered they were related after genealogical research was published in the newspapers.
There are some celebrities we have fallen in love with for their performances without even knowing that their family members were also celebrities.
1. Julia Roberts And Emma Roberts
Yes, this kinship is quite well known but not to everyone. When you read the names of Julia Roberts and Emma Roberts together, did you jump in your chair shouting? You should know that Julia Roberts is the aunt of Emma Roberts.
2. Lily Allen And Alfie Allen
Do you remember Lily Allen's song from 2007 where she talks about her lazy brother Alfie? The brother in question is Alfie Allen, or the actor in Game of Thrones who played Prince Theon Greyjoy, Lord of the Iron Islands.
3. Kate Middleton, Elle, And Dakota Fanning
Dakota and Elle Fanning are sisters, and we know this, but the two famous actresses are also descendants of the royal family. In an Ancestry report by People magazine, the Fannings are connected to King Edward III, a descendant of Kate Middleton's mother. So that would make Dakota and Elle the Duchess of Cambridge's 21st cousins.
4. Justin Bieber, Avril Lavigne, And Ryan Gosling
Justin Bieber revealed that he discovered that he was related to Avril Lavigne and Ryan Gosling thanks to Ancestry. The website makes family trees where Justin turned out to be Gosling's eleventh cousin and twelfth cousin with Lavigne.
5. Jason Momoa And Zoë Kravitz
Zoë Kravitz is the stepdaughter of Jason Momoa. Jason married Lisa Bonet was married to Lenny Kravitz, who is Zoë's father. Jason Momoa and Lisa Bonet are one of Hollywood's most adored pairs.
6. Emily Blunt And Stanley Tucci
In this case, there are no direct but acquired family ties. Stanley was invited to Emily Blunt's wedding, and during the party, he met Emily's sister, Felicity, who became his wife in 2012. This means Stanley Tucci is now Emily Blunt's brother-in-law!
7. Tom And Colin Hanks
Tom Hanks certainly needs no introduction. The actor has been the protagonist of some of the most beautiful and popular films of all time: from Forrest Gump to Cast Away to The Da Vinci Code. His son Colin is also a multifaceted actor who has appeared in Mad Men, Fargo, and Life in Pieces.
8. Susan Sarandon And Eva Amurri
The resemblance between Susan Sarandon and her daughter Eva Amurri is not limited to physical appearance. The two women also have the same ideals: both are two environmental activists.
In addition to being in the same career, the two women also believe in the same principles! Eva Amurri was born from the relationship between Susan Sarandon and the Italian director Franco Amurri.
9. Vanessa Paradis And Lily-Rose Depp
Vanessa Paradis began her career as a singer to find success as a model and actress in the following years. In 1998 she met with Johnny Depp and had two children. Lily-Rose Depp inherited her mother's beauty and started working in the fashion world at 16 and soon became the Chanel muse.
10. Reese Witherspoon And Ava Phillippe
Reese Witherspoon and her daughter Ava Phillippe are a duo that is not as popular as other celebrity children. Ava is from her first marriage to actor Ryan Phillippe.