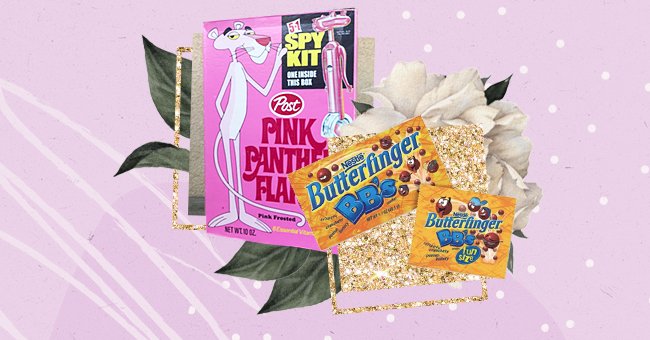 10 Discontinued Snacks We Still Crave
Snacks are the pastime pleasure foods we have that rock our world. Then one day, we realize that these snacks are no longer being made for our consumption, and in all honesty, this can hurt. We all love our snacks, and when one disappears too soon, we feel the gaping hole left in our snacking lives.
This phenomenon is more common than expected. Maybe it was a candy that made every movie a little bit better, or it could have been a chip that had the perfect blend of flavor and crunch. Every year, handfuls of our favorite snacks, drinks, and general food items silently disappear from grocery store shelves, leaving us confused and heartbroken.
Once gone, they're usually gone for good. But sometimes, they get a second chance. Yet, this doesn't seem fair. However, we are giving them one more chance at being seen and remembered. Which of these do you remember?
1. Doritos 3D
The Doritos 3D line of puffed Doritos introduced in the nineteen nineties was discontinued in the United States in the mid-two thousand. However, they still sold them in Mexico.
On December 21, 2020, the brand announced that Doritos 3D would be returning to shelves, and on December 28, Doritos was welcomed back. After twenty years, the snack returned with more flavors available in Chili Cheese Nacho and Spicy Ranch flavors.
2. 3 Musketeers Truffle Crisp Bar
Needed a lighter way to enjoy chocolate? The truffle crisp bar provided just that. The bars featured a layer of meringue with a light, whipped truffle on top, enrobed in milk chocolate. In a pack, you get two-pieces. This was a single-serve package for portion control or sharing.
Sadly, these were discontinued in two thousand and twelve because they were not popular enough. The bars by Mars delivered on their promise of a unique taste experience through twin bars rich enough to share, but you won't want to.
3. Butterfinger BBs
Nestlé introduced the Butterfinger BBs like candy in the '90s. They were known for their small marble shapes and were advertised by The Simpsons. The bar consists of a flaky, crisp orange-colored, peanut butter-flavored center coated in compound chocolate.
However, they were discontinued in 2006. In 2009, they brought the product back as Butterfinger Mini Bites which many swear does not taste the same.
4. Pink Panther Flakes
If you ever watched Pink Panther, then this will bring back nostalgic feelings. In 1972, Post Cereals co-sponsored The Pink Panther Show, and this cereal was created as a tie-in for that program in 1973.
The cereal consisted of bright, bubblegum-pink, sugar-coated corn flakes and was discontinued in 1980. Most people remember Pink Panther Flakes as being extraordinarily sweet-tasting.
5. Pizza Spins
Pizza Spins were introduced across the U.S. in July of 1968 and discontinued around 1975. Despite their seemingly short shelf life, they had created an enormous fan base of lovers who can't seem to get over the fact that they had been discontinued.
People loved the Pizza Spins because they contained many of the same ingredients found in an authentic big-boy pizza – parmesan cheese, tomatoes, pizza spices, and pepper – to give Pizza Spins an authentic Italian pizza taste.
6. Hunt's Snack Pack In Aluminum Cans
They introduced Hunt's Snack Packs in 1968 in single-serve aluminum/metal cans before switching to plastic cups in 1984 and clear plastic cups in 1990. They then marketed them as healthy treats for children.
The Hunt's Snack Pack is perhaps the most nostalgic food item in pop culture. No treat seems to trigger an emotional reaction like those little cups of creamy goodness. Somehow, though, it just doesn't taste the same without that aluminum. Don't you agree?
7. BarNone Candy Bars
In September 1987, Hershey introduced BarNone to tame the chocolate beasty in chocolate lovers. BarNone featured a cocoa wafer, chocolate creme, peanuts, and a milk chocolate coating.
As soon as Candy fans around the country found BarNone to be so delicious, it rose to become a favorite snack nationally. Fans loved how the chocolate notes, combined with the wafer's crispness and the peanuts' crunch. They discontinued the product in 1997and IconicCandy LLC resurrected it in 2019.
8. Creme Savers
Creme Savers was a candy made in 1998 by Nabisco. They are essentially a spinoff candy of Life Savers, but with creamy flavors and without the hole. They discontinued these in 2011.
These beauties indeed took us back to simpler times in life, like snacking on a few from Grandma's candy dish or stealing a few from your co-worker's candy dish while they were on a lunch break. Don't worry; we won't judge!
9. Jell-O 123
Jell-O 1-2-3 was a Jell-O gelatin product introduced in 1969 and discontinued in 1996. The product was one 4.3 ounce (121 g) powdered mix that, when correctly prepared, separated and solidified into three distinct layers: a creamy top, a mousse-like middle, and regular Jell-O bottom.
Even though the product and brand have many fans, there is no certainty that this will hit the shelves anytime soon again. Fingers crossed, though. Did you have a taste of this?
10. Cheetos Twisted Puffs
Thicker than the average puffs and made in spiral shapes, Cheetos Twisted existed from 2002 to 2012 before quietly disappearing. The brand promised 0 grams trans fat made with real cheese and all-natural oil.
The original Crunchy Cheetos was invented in 1948, and they are still being sold today, nearly 70 years later. Besides the original crunchy Cheetos, there are 21 other current flavors in North America, with even more variations worldwide.