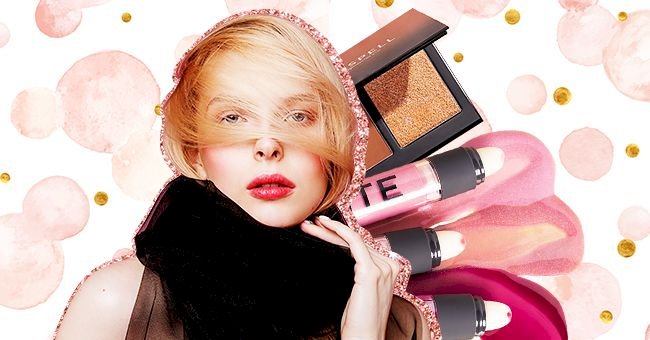 10 Fall Makeup Launches That Will Tempt You To Splurge
As the weather cools down, warm-hued makeup begins to make an appearance again. From stunning new eyeshadow palettes to organic lip balms, fall always brings exciting new releases.
Fall should be the favorite season for beauty enthusiasts. It usually marks a time to repurchase old cult favorites and experiment with new products on the market.
From revamping your skincare to suit the cooler weather to changing up your makeup looks to be more festive, 'tis the season for shopping. Here are ten recently released products that will tempt you to splurge.
1. Haus Laboratories Head Rush Blush + Highlighter Duo
Lady Gaga's Haus Laboratories is releasing its first complexion products. The Head Rush Blush + Highlighter Duo is the perfect addition to your fall makeup look.
The compact contains a matte blush and shimmery highlighter. It will be available in seven shade combinations perfect for a wide variety of skin tones.
2. Scott Barnes Mesmerizing Eye Shadow Palette
Scott Barnes, Jennifer Lopez's makeup artist, is all about creating glamorous makeup looks. He has mastered the art of flawless application.
Needless to say, his makeup brand is worth the hefty price tag. The brand recently launched the Mesmerizing Eye Shadow Palette that boasts a selection of six chrome-like metallic eye shadow shades as well as two black shades.
3. Bite Beauty Yaysayer Plumping Lip Gloss
Fall trends and the cooler weather calls for a good juicy lip gloss. Answering the call is the Bite Beauty Yaysayer Plumping Lip Glosses.
The antioxidant-rich lipgloss boasts a subtle plumping formula and sweet flavor. Infused with cinnamon oil and sodium Hyaluronate, the gloss promises to give you fuller, hydrated and nourished lips.
4. Rare Beauty by Selena Gomez Liquid Blush
Selena Gomez launched her brand in time for fall. One of the products from her line that caught our eye is the Soft Pinch Liquid Blush.
The weightless, long-lasting liquid blush blends and builds to give a soft, healthy flush. Best of all it is available in both matte and dewy finishes.
5. Dominique Cosmetics Soft Focus Demi Matte Lipstick
Influencer brand, Dominique Cosmetics has earned a reputation for offering high-quality products. For the holiday shopping season, they are offering a range of stunning nude lipsticks.
The new Soft Focus Demi Matte Lipstick range boasts six muted nude shades. The lipstick is a silky formula that crosses between matte and satin finishes seamlessly.
6. Hourglass Mini Ambient Lighting Edit — Sculpture Unlocked
A holiday staple that Hourglass brings to us every year is their limited-edition combos. For the third year, the brand is releasing a Mini Ambient Lighting Edit.
The Hourglass Mini Ambient Lighting Edit - Sculpture Unlocked boasts a stunning warm bronzer, blush, metallic strobe powder, and finishing powder. These powders can be used alone or together to create a flawless look.
7. Makeup by Mario Master Metals Eye Shadow Palette
Kim Kardashian's main makeup artist Mario Dedivanovic launched a line of cosmetics. Makeup by Mario is no doubt already on everyone's must-buy list.
Especially since he released a wide variety of eye products including the stunning Master Metals Eye Shadow Palette. With a formula that works in powder form and can be turned into a cream formula with some mixing medium, it is the perfect palette to add to any makeup kit.
8. Kosas Kosasport LipFuel Extra Strength
The innovative Kosas has created the ultimate wintertime lip balm. Combining the hydrating powers of hyaluronic acid and the anti-inflammatory effects of CBD, the Kosasport LipFuel Extra Strength promises to keep your pout supple.
The high-impact lip balm promises to protect against chapping. Not to mention it is soothing to lips that are already dry and damaged.
9. Yves Saint Laurent The Slim Glow Matte Lipstick
A true luxury purchase for this festive season is the Yves Saint Laurent The Slim Glow Matte Lipstick. The stunning new lipsticks aim to reinvent the shade "nude."
Offering creamy options that will work on a variety of skin tones, this is well worth the splurge. Not to mention, it will look stunning in your makeup collection.
10. Hourglass Confession Refillable Lipstick Duo - Sculpture