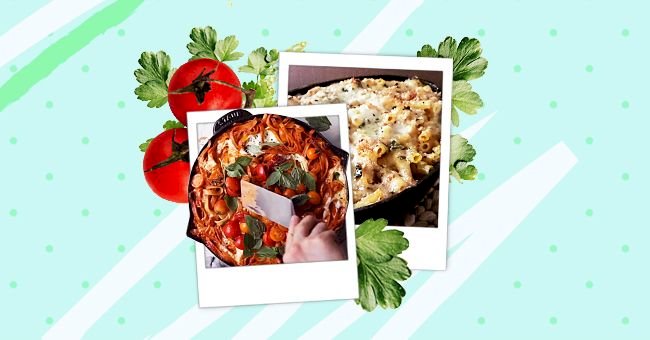 10 Family Dinner Recipes To Try In Lockdown 2.0
Deciding what to make for dinner is the one question that can drive us crazy, especially with every family member's unique recipe request. For the moms who are juggling work, kids and cooking and don't know what to do, we have the perfect solution for you.
Family dinner moments can be either very exciting or super annoying because keeping everyone happy is practically impossible. But if there's anything we have learnt from the pandemic period, it's to put on our creative hat and get a little artsy in the kitchen.
When you have something different to serve every night, there is no chance that your family won't approve of it. And in case you're still doubtful, have a look at these ten scrumptious and delicious dinner recipes that are worth trying in lockdown 2.0.
1.Cauliflower Mac & Cheese
This is an exciting new twist to your conventional mac and cheese, and a great way of feeding those healthy veggies to your kids. You can follow the same steps, but remember to add some sauteed cauliflower, and combine it with pasta dipped in creamy sauce.
2.White Chicken Chili
Who says your chili recipes need to look flaming red all the time? Prepare a white sauce by mixing mashed beans and cream (you can even add cheese), and add the chicken until it soaks up all the rich flavors. Decorate with cucumbers, coriander and lemons.
3.Broccoli Chicken Casserole
Prepare this appetizing recipe with shredded chicken nicely cooked until it becomes juicy and tender. You can add roasted broccoli for a healthy and scrumptious treat of healthy flavor, and coat it in creamy sauce to provide a rich texture.
4.Chinese Chicken Salad
You can never go wrong with chinese food, because it can be prepared quickly and tastes like heaven. This healthy and palatable salad has everything in one platter - chicken, vegetables, oranges and wontons on top for the extra crispy flavor.
5.Rosemary Chicken
Roasted chicken recipes are pretty common and you might have even tried one several times. However, this one includes cooking chicken with rosemary for that much needed rich flavor boost. Don't forget to dish out with some potatoes and your favorite veggies on the side.
6.Creamy Tomato Basil Pasta Bake
This 30-minute recipe can be prepared with fettuccine tossed nicely in tomato sauce and layered in a skillet. Remember to add lots of cheese on top, followed by red tomatoes and basil. This quick, one-pot recipe has our heart.
7.Juicy Lucy Burgers
These appetizing burgers are infused with molten, cascading cheese for that creamy twist to your stuffed BBQ recipes. You can add more layers of ketchup, mayo and place some tomatoes and cucumbers to prepare a full hamburger.
8.Classic Ziti
Pastas come in all shapes and sizes, and it's hard to decide which one is better than the other. However, if you're a fan of ziti, then try this classic baked ziti prepared with rich meat sauce and creamy layers of cheese. So much for comfort food.
9.Italian Chicken
This one pot italian chicken recipe is prepared with thigh pieces nicely cooked with rich veggies and a creamy tomato sauce. Don't forget to add some basil, garlic and oregano for that splash of subtle flavor and a new take on your seasoning.
10.Butternut Squash Mac & Cheese
With a hint of butternut squash added to your pasta sauce, you can delight in the delightful taste this rich new ingredient will give to your mac and cheese. You can garnish with sage leaves or add in more cheese for that extra creamy layering, and the yummy recipe is ready to serve.