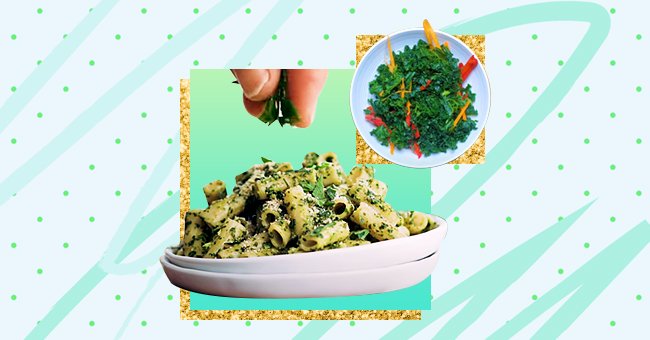 Recipes That Prove That Kale Is Delicious
It's time to give your boring menu a healthy twist by including kale in your daily diet. Because this leafy green veggie is enriched with tons of nutrients and tastes so delicious, you'll fall in love with it.
We are amid the second wave of lockdown, which calls for prioritizing our health while also satisfying our appetite. And if there's one ingredient that will cover all our budget, taste, and health needs, it's none other than kale.
You can mix it in soups and even consume it raw in salads, and that's not all because the options are endless. Here are five finger lickin' amazing recipes that prove kale is a yummy addition to our menus.
1.Kale Pesto
Kale Pesto is a healthy and scrumptious recipe to add to our daily menus. Pick your favorite nuts and toss them in a pan with a little oil until they become roasted. Bring a bowl of water to boil and add kale to it until it gets limp.
Drain the kale and dry it on a paper towel. Finally, gather the nuts, kale, Parmesan, remaining oil, garlic, lemon juice, and salt and pepper to taste. Put all the ingredients in the blender and prepare a smooth puree.
2.Kale Mac And Cheese
Take a pan and melt butter in it on medium flame, add flour and milk to it, and wish continually. Then add some cheese, salt, and nutmeg to it. In a separate pan, saute onions, garlic, kale, and hot pepper flakes in a little oil.
Mix these sauteed ingredients with the cheese sauce and add boiled pasta to it. Take a baking dish, transfer the entire mixture to it, and bake for half an hour or until the color turns a light golden brown. Your yummy Kale Mac and Cheese is ready.
3.Chicken Kale Salad
You can prepare many different salads using kale and add it to spice up your typical salad recipes. Grill your chicken or bake it until it's fully cooked and tender. Take a blender and add roasted peanuts, vinegar, oil, honey, water, and jalapenos.
You can prepare any of your favorite dressings for this salad. Gently squeeze the kale between your hands to make it soft. Add the other salad ingredients as per your liking, pour the dressing on top and your Chicken Kale Salad is ready to eat.
4.Kale Smoothie
You can even prepare an energizing and refreshing smoothie with kale. All you have to do is blend pear, kale, spinach, cinnamon, coconut oil, and water, and add agave to enhance the taste. You can also add seasonal fruits to the same recipe.
5.Kale Chips
If your craving for chips is getting out of control, switch your starchy potatoes with healthy kale. Take kale leaves and chop them into smaller pieces. Toss the kale with olive oil in a bowl and add seasonings to heighten the flavor.
Nicely arrange the seasoned kale leaves on a baking sheet lined with a little olive oil. Bake the chips for not more than fifteen minutes or until they turn brown. Let them cool a little, and enjoy your crispy Kale Chips.