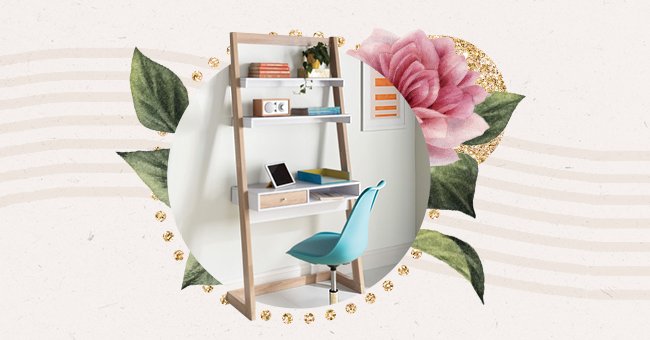 10 Floating Desks Worth Buying For Small Apartments
A small apartment presents several challenges for its occupants. Where do you put all your items? How and where do you entertain your guests? Where do you set up your home office? This is where the floating desk comes into play.
The concept of a floating desk that can double as something else has become more and more mainstream. The floating desk increases the amount of space available and is sometimes more affordable than traditional desks.
Floating desks come in different sizes and designs, so the amount of space saved depends on the design. Before making a purchase, it is best to evaluate your room.
1. Stacked Between Shelves
No space is wasted at home. Having your workspace in between two nicely decorated shelves also adds aesthetics to your home. Hang some wall art, and you are good to go.
One of the most remarkable modern ideas that are very popular for workspaces is a floating desk with matching floating shelves over it. Such a combo looks very stylish and laconic.
2. Ladder Up
Give your office or living room a stylish and functional workspace with this sleek desk. Combine shelving and desk with this ladder bookcase is mind-blowing. This modern ladder shelf is one of a kind.
It can be used as a simple ladder shelf or as an original space-saving desk. It is a modern and very versatile shelf that enhances any environment. Perfect for presenting ornaments and decorations or even simply as a bookcase.
3. Fold Away
The folding table wall design can be unhooked from its chains and put down for storage. It automatically becomes a second table when you have guests around.
It can be used as a table, desk, bench, workbench, or used in the study, bedroom, kitchen, living room, laundry, bar, coffee shop, and so on. Regardless of where it is used, it is the perfect choice for home or business use.
4. Double The Function
When trying to manage your space, every angle or surface becomes useful for something other than its intended purpose, and that's why the floating theatre presents the perfect opportunity to become a desk.
Keep it clutter-free when you are not playing games, and connect your laptop to start working. You can also connect your laptop to the TV if you need a bigger screen to work with.
5. MASH Studios By LAX Series
Everyone wants a multipurpose desk, and a desk with shelves fit the bill. The LAX series is composed of built-in shelves, and the choice of walnut wood makes your office space pop.
It also has a sleek sliding panel that allows you to change which shelf you'd like to keep covered. This means you can work and still store items safely and quickly.
6. The Maze
The aesthetics of this shelf is beautiful. The wall brackets used to hold it in place are something too long for. Why opt for a single shelf when you can create a maze?
The preciseness of mathematics inspires it. You can mount the unique triangle-shaped brackets in four different ways. Hence the brackets are called Pythagoras brackets.
7. Minimalistic Vibes
You can mount this wall-mounted desk on the wall at the desired height. You can also use it anywhere you need additional workspace around the house.
It is simply elegant yet a functional design and suitable for any environment. The desk flat folds to show off a space-saving design.
8. In-Between Spaces
Most people need an office area to work on their projects. But in a small apartment, you don't necessarily have enough space for an office, especially if you only use it once or twice a week.
But with a wall-mounted desk, you can use the space in your apartment to create an office area. Make it a foldable wall desk to get maximum space benefits. Great idea for saving space in a studio!
9. All Contained
No container or book holding case goes to waste. Use these to organize your workspace for an inspiring and fresh-looking feel. Having an organized workspace helps you think better and remain focused all day long.
The containers and accessories for the desk give the finishing touch that makes it functional and beautiful. This is a workspace that you would love to come back to.
10. White Take
Still, on the minimalist vibes, nothing screams purity like white walls, desk, and everything. With a workstation like this, you can keep track of everything you are working on by tossing them in the side trolley.
If you are the type of person who arranges all their paperwork and has tons of to-do lists and post-it notes all over your workstation, then install a board where you can stick your notes.