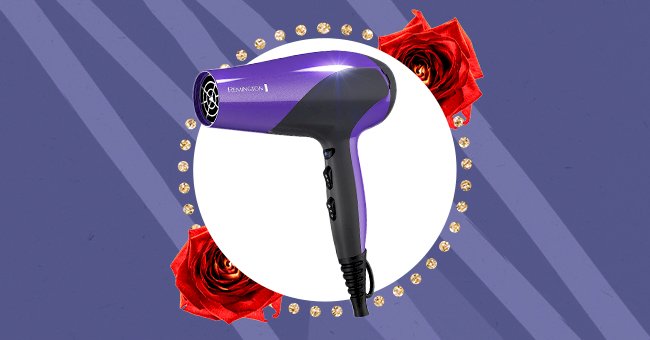 10 Hair Dryers Under $60 Worth Buying
Not all hair dryers are created equal, and our hands automatically reach for the most expensive ones, thinking they might promise the best results. But it is possible to get salon-styled hair at home by investing in an affordable option that is light on your pocket and promises excellent performance.
Finding a suitable blow dryer can be a daunting experience, and some of us tend to get overwhelmed when presented with numerous options. Every hair dryer has its unique specifications, so it is imperative to know what sort of output you're looking for.
Generally speaking, a brilliant hairdryer has a ceramic make to reduce damage, negative ions to minimize static, and different heat modes to give you a perfect blowout. Explore our pick of ten hair dryers under $60 that will perk up your hair without weighing down on your budget.
1.Remington Protection Hair Dryer
Price: $17.84
This purple magic machine helps ensure damage protection and provides swift drying with fewer tangles. Remington Hair Dryer is lightweight and comes with an easy-to-hold grip to make your blow-drying smooth and enjoyable.
2.Revlon 1875W Compact Hair Dryer
Price: $10.97
Revlon Hair Dryer is compact and an ideal fit for carrying around in your bag for travel purposes. It is also lightweight and features tourmaline ionic technology to provide hassle-free and fast drying.
3.Revlon One-Step Hair Dryer & Styler
Price: $33.99
Nobody likes reaching out for their brush or holding one in their hand while balancing a dryer. But with Revlon Dryer & Styler, you can dry, smooth, and style your hair effortlessly to restore its salon-style gorgeous look.
4.Conair 1875W 3-In-1 Styling Hair Dryer
Price: $19.99
Conair 3-In-1 Hair Dryer comes with three attachments to ace your styling goals. It features a detangling comb to defrizz hair, a styling comb for straight styles, and a bristle brush attachment for volume and waves. The 2 heat/speed settings and the cool shot button help lock the style into place.
5.Revlon 1875W Infrared Heat Hair Dryer
Price: $22.74
This Revlon Hair Dryer is infused with infrared heat technology, which speeds up drying and styling while keeping your hair's natural moisture, softness, and shine intact. It also features tourmaline ionic technology to reduce tangles and enhance the blowout experience.
6.Conair 1600 Watt Wall-Mounted Hair Dryer
Price: $27.99
This Wall Mount Hair Dryer runs on 1600 watts drying power and comes with an LED night light function. It is also easy to mount on the wall and can be securely held in place on most surfaces. It comes with 2 heat/speed settings to provide smooth and effortless blow-drying.
7.Infinity Pro By Conair 1875 Watt Hair Dryer
Price: $24.94
Infinity Pro Hair Dryer comes with ceramic technology and frizz-fighting conditioning ions to reduce damage and enhance hair's natural shine. It also features a concentrator nozzle that provides uniform airflow for smooth, sleek, and faster drying.
8.Jinri 1875 Watt Professional Salon Hair Dryer
Price: $41.99
Jinri Salon Hair Dryer is powered by 1875 Watts and comes with multiple heat and speed modes for swift drying. It is infused with tourmaline ionic and infrared heat technology that helps detangle the hair, locks in moisture, and restores natural softness and shine.
9.BaBylissPro Nano Titanium Travel Dryer
Price: $32.99
BaBylissPro Nano Titanium is a travel-friendly, compact and lightweight dryer that will satisfy your styling needs on the go. It is powered by nano titanium and ionic technology that provide faster and frizz-free drying.
10.Wazor Infrared Ceramic Ionic Blow Dryer
Price: $34.99
This sleek and stylish red-toned blow dryer is powered by infrared drying technology that provides uniform drying without stripping away natural moisture content. Wazor Blow Dryer also features tourmaline ceramic technology for fast, damage-free, smooth drying.