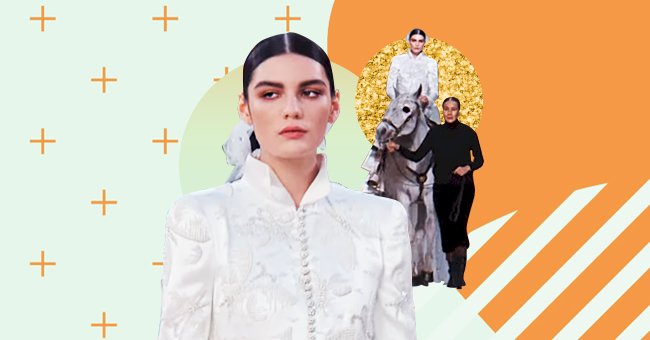 10 Head Turning Bridal Gown Trends from Spring/Summer 2021 Haute Couture Collections
From Schiaprelli's silk taffeta displays and Fendi's mosaic and marble-themed dress, to gold tint silhouettes by Valentino and vibrant hues by Giorgio Prive - the Haute Couture Wedding gowns for 2021 come in all shapes and designs.
The coronavirus pandemic may have followed us into the new year, but it cannot ruin any more plans for the fashion world. The Haute Couture Fashion Week happened virtually to showcase its Spring/Summer 2021 collection, featuring several renowned brands.
The live streaming of the Fashion Week presented a variety of options that we will be seeing on red carpet events and parties this year. It's time to take a closer look at the top ten bridal gown trends from the Spring/Summer Haute Couture that will most likely dominate our wedding events in 2021.
1.Chanel Floral Dress
White wedding dresses are the classic pick for brides, and Chanel is here to prove it. With its short-body dress adorned with white daisies and a long, flowing skirt atop to complement the look, you will fall in love with this floral-inspired dress.
2.Chanel Ecru Satin Crêpe Dress
Here comes the traditional touch to a custom-designed bridal dress, featuring the classic white color. The Chanel Ecru Satin Crepe full length and full sleeves wedding dress features intricate embroidery and is decorated with rhinestone and pearl butterflies.
3.Valentino Flowing Gown
Valentino's Spring/Summer 2021 collection presents a diverse wardrobe, which invites us to rethink our traditional wedding dress look. With gold-painted faces and long, flowing gowns, there are endless options to choose from if you want to aim for a different bridal attire.
4.Giorgio Prive Ball Gown
Ball gowns will never go out of style, and Giorgio Armani Prive is here to prove it. Bright-colored, flowing silhouettes will always be the rage in the wedding arena, and this off-the-shoulder blue gown can qualify as a gorgeous pick.
5.Fendi's Sculpture Dress
Fendi's take on bridal wear was inspired by timeless and divine art for the brides who want to opt for something creative. The sculpture print dress, adorned with mosaic and marble theme, and paired with complementary accessories can be a great option.
6.Alexandre Vauthier Sequin Dress
Sequin dresses, jackets and gowns are top picks for parties, concerts and apparently, even weddings. This silver colored sequin dress by Alexandre Vauthier is a stunning departure from the conventional white wedding dress.
7.Schiaprelli Silk Taffeta Dress
For the brides who cannot let go of their love and obsession with the color white, Schiaparelli has something fun to offer. The silk crepe, paired with a silk taffeta will surely turn heads and ring in the wedding shenanigans perfectly.
8.Giambattista Valli's Silk Taffeta Gown
Giambattista Valli pays special attention to the complete bridal look, including the dress and hair. Decorating the hair with silk ribbons and flowers, coupled with full length silk gowns with taffeta mounds are capable of making any wedding a grand affair.
9.Viktor & Rolf's Ball Skirt & Top
Viktor & Rolf Spring/Summer Haute Couture collection comprised stunning ensembles, featuring ball skirts and bandeau tops adorned with flowers and crystal brooches. The sequin ribbons, Victorian-inspired blouses and fingerless long-length glove were also included to complete the look.
10.Dior Smoky Gray Tulle
Dior's collection at the Spring/Summer 2021 Haute Couture revolved around the theme of rebirth. The smoky gray tulle comes with a hood and is adorned with crystals, beads and fold threads - all of which give this bridal wear an ethereal look.