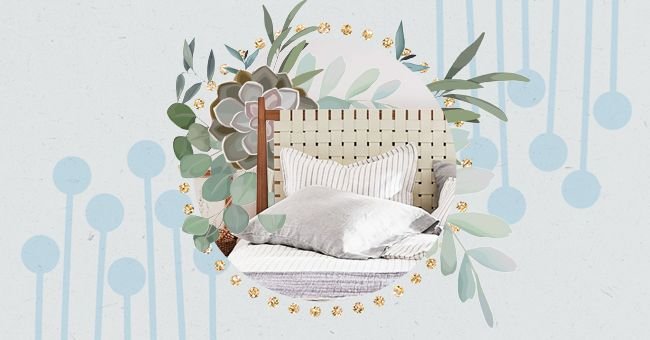 10 Headboard Designs To Spruce Up Your Bedroom
Few things beat the feeling of coming home to a space that feels beautiful and welcoming. And even if you're working from home, the feeling of closing your laptop and retiring to your inviting bedroom is relaxing.
"The bedroom is really becoming the ultimate sanctuary. We're going to see spaces that are more like hotel rooms, focused on luxury, sumptuous materials, and quality pieces that will last for a long time."

Jeanine Hays, designer and co-creator of AphroChic tells "Apartment Therapy."
Having a clean and decluttered space can do the trick as the first step to enjoying your room. Secondly, adding design elements, like a statement headboard, will elevate the entire room. Here are ten headboard designs to inspire you.
Simple White Headboard
There's a reason why the classics are the classics; they just work. Having a white headboard, depending on the rest of your room, can bring in a clean, modern element.
Extend Your Shelf Space
Use your headboard as a shelf space to display ornaments, books, photographs, plants and whatever other pretty things you'd like to add to your space.
Woven Leather
It is a lovely, modern piece of art to bring a chic, minimalist addition to your space if minimalism is your wave. It plays off nicely with the striped bed linen.
Plush Panel Headboard
This kind of velvety-textured headboard is trendy at the moment. It can add a luxe feel to your entire bedroom. You can also play with the length to extend beyond the ends of your bed.
Boho Style
Ditch the square headboard for something different. Suppose you want to add a bit of Bohemian style to your room, an attention-grabbing headboard like this one.
Bring In The Color
Big, bold colors and round shapes will certainly change everything in your room. Keep the circular motif running throughout the room a round bedside table and other round pieces.
Dark
Sure we tend to gravitate to bolder colors and whites because they can make the room feel more open and brighter. However, darks can go well, too, if you can add some contrast using pillows and light-colored ornaments.
Zig Zags
Just as much as introducing bold colors can be intimidating, so can using lines that aren't exactly vertical or horizontal. However, it can add an interesting play for the eyes.
Vintage
A pretty dusky pink and headboard paired with other pink accents in the room. This headboard also has that trendy, velvety texture.
Palmera Fan Headboard
Here's another bit of boho headboard inspiration. The Palmera fan headboard is a unique piece if you want something non-traditional for your headboard.