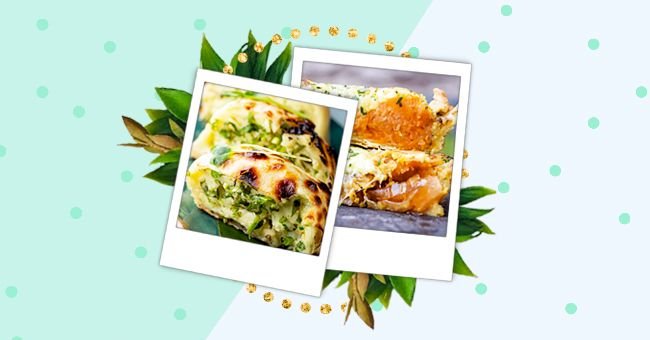 10 Instagram Pics That Made Us Instantly Hungry
Mouth-watering, lip-smacking, tastebud tantalizing food pictures that'll make you hungry. Don't say you haven't been warned.
Food is great. We love to eat, make it, and look at it (but mostly put it on faces of course). It's surprisingly easy to get lost staring at food pages online.
Now I'm not one to post porn, but... Here are ten dishes on Instagram that you can feast your eyes on. But only your eyes.
Pumpkin Tartlet
These pumpkin tartlets have you questioning if you can get through this list? They might make picky eaters and vegetable haters change their minds.
Cheesecake
The most perfectly decadent looking cheesecakes ever. Not to mention the generous helping of ooey berries all over the top.
Poke Bowl
Any day is a good day to have a poke bowl all up in your face and just nomnomnom. Poke Bowls also make a really great and filling lunch.
Mini Chilli Cheese Stuffed Kulchas
We can all agree that cheese on just about everything is the way to go, right? This mini chili cheese stuffed kulchas look oh so yum.
Soup
On cold days like these, where you'd rather be lazying on your sofa than anywhere else, nothing hits the spot quite like a warm, delicious bowl of soup.
Roast Chicken
A homie dish for an easy day at home. Roast chicken is one of those foods that really taste like Sundays hanging at home.
Waffles
Yum, yum yum! Sweet tooths everywhere just got a little tingle looking at these fluffy waffles topped with slices of banana.
A Burger
Burgers are extra delicious when they're extra messy, and saucy and you just can't be cute with it no matter how hard you try. There is a line, though.
Another Burger
Steak ? + Burger ? = HEAVEN!! ?❤️

The caption reads.
Yuzu Cake
Some yummy yet delicate looking that you almost don't want to eat it. Jokes. Who could possibly resist this lemon and raspberry yuzu cake?