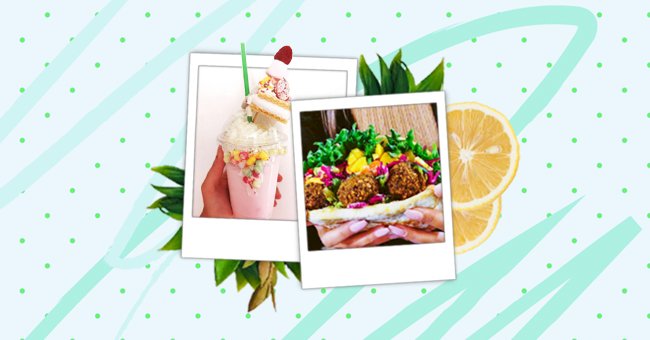 10 Instagrammable Street Foods That Are Absolutely Delicious
Anyone who has ever got a chance to try street food would understand what the hype is all about. For avid travelers or people in search of satisfying their taste buds, you will find a splash of rich flavors and several cuisines at an affordable price.
Regardless of the negative stigma surrounding street food in terms of hygiene and quality, people are still fond of it. While restaurants pride themselves in preparing delicacies, street vendors make read-to-eat food items served flaming with authentic flavors.
From fresh and indulging milkshakes to melting brownies, delicious pastas and finger lickin' amazing chicken, there's something for everyone. Next: take a look at these ten Instagrammable street food options that are so appetizing, you would want to try them right now.
1.Freakshake
If you like milkshakes, you'd love this exciting new take on the traditional milky drink. Happy freakshak-ing!
2.Caramel Brownie
This exploding brownie bomb contains salted caramel inside, with a hint of milk chocolate. So delightful!
3.Oat-So-Brownie
This oat-so-brownie is an appealing fusion of brownie, oat-flavored ice cream and oat biscuits. With a layering of caramel sauce on top, you cannot resist this sweet treat.
4.Chinese Tanghulu
This candy delight coming all the way from China is worth trying. It is made from pinnatifida fruit and is an absolute indulgence for street food lovers.
5.Pastalicious
Served hot and fresh with rich flavors and a creamy texture, ready-to-eat street pasta recipes are worth a shot.
6.Spicy Chicken
A platter of saucy chicken served with scrumptious veggies on the side is a heavenly combo you certainly don't want to miss.
7.Fries With A Twist
These cheesy french fries are served with grilled beef steak to make a complete wholesome meal.
8.Garden Roll
Light in calories but extremely healthy - these garden rolls served with peanut sauce offer rich and delightful flavors.
9.Tasty Tacos
Attention to all the taco lovers, this rich filling and golden tortillas are a pure treat. You know what to do.
10.Tempting Kebab Wrap
Kebabs are magic balls infused with a variety of rich and flaming hot flavors. And when they come wrapped with side veggies, it's an irresistible sight.