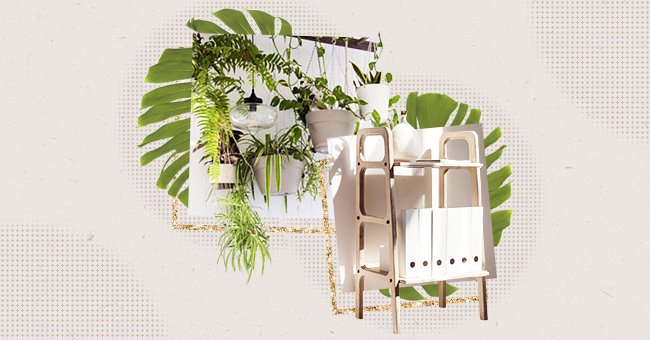 10 Items That Will Help Create Space In A Small Apartment
By choice or by necessity, those who find themselves having to furnish a small house undoubtedly have a challenging goal to achieve. Combining comfort, practicality, and aesthetics, taking up very little space, can be a real undertaking.
We all know the trouble of having too many things at home with nowhere to put it, so clutter builds up on whatever flat surface is available. This visual disorder can cause us to become stressed and disorganized.
Whether you live in a studio apartment, tiny house, or just don't have ample storage space; there is always a decor solution to your tight space woes!
1. Storage Bed
Buying a bed with storage is certainly a good idea to optimize the space under the bed. In addition to ensuring the comfort you need for sleeping, beds with storage allow you to take advantage of a space that remains typically unused to organize everything from sheets to clothes.
If you want personalized ideas that allow you to make better use of your room, contact a professional. They will take accurate measurements and construct something just perfect for the size of your room.
2. Ladder Pot Rack
Have an old wooden ladder that has seen better days? You can change it into a pot rack by hanging it horizontally from the ceiling and adding pot hooks. It can also serve as the base to hold your potted plants if you don't need them in the kitchen.
The best part is that you can do this yourself. All you need is an old sturdy ladder and the right tools from the store. For length, three to four rungs are perfect unless you have an extensive collection of pots and pans.
3. Tub Tray
Tub trays are fantastic things to make your bathing procedure more pleasant and relaxing. They allow for easy access to your favorite bath accessories and hold such things as candles, books, and glasses.
Besides, most of them are capable of holding towels when you aren't in the tub. Not to mention they make your self-care Instagram post ten times more aesthetic.
4. Cat House
If you have a cat, then this is an excellent and stylish cat house fit for two cats. It is a cozy place to play and sleep. It is also a great hiding place for more shy cats.
While the bottom consists of a hammock for your cat to chill, you can use the top also to keep other heavier items that will not fall and break as the cats move around.
5. Hexagonal Wall Shelf
Ideal for storage and staging, wall shelves are especially great for small dwellings as they save valuable space. You can use them to hold books, vases, and other small items that will not weigh them down drastically.
Besides their storage properties, they also add aesthetics to your space. They can be stacked in as many as your wall space can take.
6. Indoor Plant Stand
Finding just the right way to display your life-improving plants doesn't have to be a challenge, though. No matter what kind of plants you have, there is a perfect stand for your space that will keep your plant buddies thriving.
A plant stand is higher than an ordinary flower pot. Placing plants in a plant stand leaves space on the floor and between the stands. This way, you can put twice as many plants in one place!
7. Storage Shelf + Basket
If you have a storage shelf like this, you can shop for storage baskets that will add beauty to your room besides it being a storage space. The top of the shelf is not spared as it can double as a table or be used to keep other items as well.
8. Foldwork Valet
The foldwork valet is a crossbreed between a wall sculpture inspired by half-timbered constructions and a valet stand. It hangs on the wall, has a shelf for accessories, an arch for jackets, and a hanger you can fold out to provide more clothes.
9. Leather Wall Hooks
Leather straps are very durable. They are a great way to keep your home, office, or craft space organized and clean. You can use them in a wide variety of ways. You can use just one as a towel hanger in the kitchen or bathroom.
Use two of them spaced apart with a dowel, driftwood, or tree branch looped inside to hang more oversized items like towels, fabric storage, or even use as a curtain rod hanger.
10. Modern Bookcase
Bookshelves are the units that provide space to keep the books and add a style to space. They are the units that make the room a better place to live. You can also keep some expensive and decorative items in the book rack to add elegance to the room.
Bookshelves are the best furniture units to put the personality on display. They allow showcasing the items that reflect interests and hobbies.