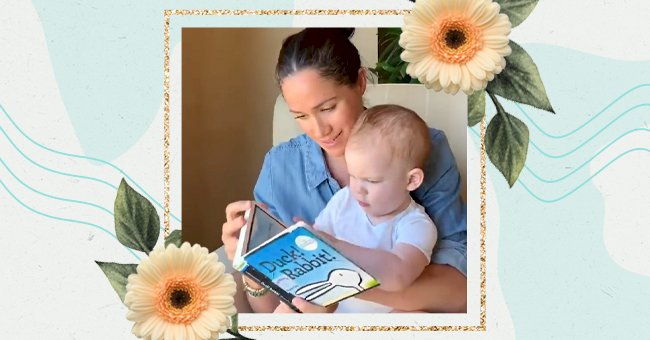 10 Kids Books With The Royal Family's Stamp Of Approval
Reading books is a fantastic way to enrich a child's mind and imagination, and it is entertaining. Children around the world love different stories and tales, including the children in the royal family.
Children's books are pieces of work that create memories that stay with a person forever. Over the past years, members of the royal family have been sharing the books they loved as children and passed them to their own.
Although the family has their classic favorites, they also have some newer picks for their children. To see ten children's books have the royal parent's and kids stamp of approval, take a look at our list below:
The Gruffalo By Julia Donaldson and Axel Scheffler
Prince William revealed 'The Gruffalo' was a hit in his household when he met the author and illustrator in 2018. The popular book follows a mouse who encounters many creators when he takes a walk in the woods.
Duck! Rabbit By Amy Krouse Rosenthal and Tom Lichtenheld
On their son's first birthday, Meghan Markle and Prince Harry shared a video of themselves reading to him. The book that featured in the sweet video was Amy Krouse Rosenthal and Tom Lichetenheld's 'Duck! Rabbit!'
Room On The Broom By Julia Donaldson and Axel Scheffler
The Kensington royals proved they were big fans of Julia Donaldson and Axel Scheffler's work once again in 2020. Prince William reacted to a child reading 'Room On The Broom' while visiting an ice cream parlor in Wales.
Guess How Much I Love You By Sam McBratney and Anita Jeram
Princess Eugenie shared that this book was her favorite during a reading for her mother's Youtube Channel. 'Guess How Much I Love You' is a book as sweet as the title sounds, making it the perfect book to end a night.
Is Your Mama A Llama? By Deborah Guarino and Steven Kellogg
During Prince Harry and Meghan Markle's reading of 'Duck! Rabbit!' viewers noticed Archie reaching for another book. Little Archie reached for 'Is Your Mama A Llama?' a cute rhyming classic with fun illustrations.
Winnie The Pooh By A.A Milne and Ernest H. Shepard
Prince Harry reportedly gifted his nephew, Prince Louis, the first edition of Winnie The Pooh for his christening. This classic book is one that many of us are familiar with and is passed down in many families.
The Bench By Meghan Markle and Christian Robinson
Meghan Markle added children's author' to her resume after penning down a book inspired by her husband and son. 'The Bench' explores the bond between a father and son through the mother's perspective.
Xtraordinary People By Kate Griggs
Princess Beatrice gave her stamp of approval for Kate Griggs's book after narrating it this March. The princess who struggled with her dyslexia as a child praised the book for uplifting other dyslexic children.
The Giving Tree By Shel Silverstein
In a 2016 interview, Meghan Markle revealed that she couldn't wait to read 'The Giving Tree' to her children. The book has many great lessons, but it is especially fantastic for teaching children about selflessness.
Hospital By The Hill By Chris Connaughton
Many children have lost parents and loved ones due to the pandemic, and this book addresses that. Prince Harry penned down a forward for this book that offers grieving children support and comfort.