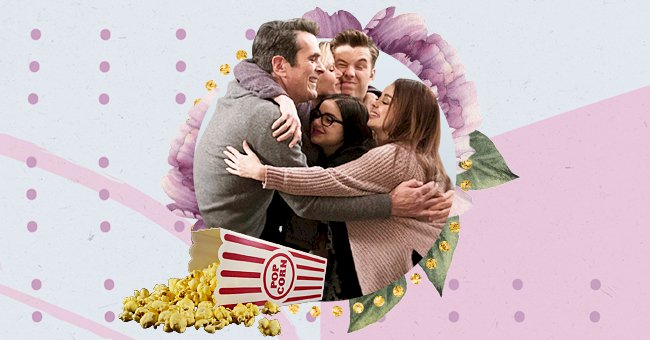 10 'Modern Family' Moments That Promise To Make You Giggle
It's been eleven years of laughs and relatable moments with "Modern Family." Though we've said our goodbyes, we can't help but look back at some of the moments that made us laugh.
Last year we came to the bitter end of what's been a decadently sweet ride with the Pritchards, the Dunpheys, and the Tuckers. We've got to watch the families grow and be entertained by their shenanigans.
The show has undoubtedly had a fantastic run over its eleven years, including three hundred and fifty-eight nominations and several Golden Globes and Emmy Awards. We're taking a delightful stroll down some of the memorable moments from "Modern Family" that had us laughing.
Gloria's Karaoke
While Gloria might love singing, she couldn't hold a not to save her life. In season four, a pregnant Gloria chooses to sing to the baby Jay, and Manny just can't take it.
Lilly Said A Bad Word
In season three, a young Lily curses in front of Cam and Mitch. Cam's first response is to burst into laughter impulsively. Consequently, Lily sees this as a way to make her dad happy, and when Cam cries at a wedding of a family friend, she does her utmost best to cheer daddy up. The guests were shook.
Fizbo The Clown
Cam's alter-ego and Mitch's absolute worse nightmare. We had our first encounter with Fizbo in season one, and he's had several other appearances throughout the sitcom.
Lily's Locked In The Car
Throughout the show, Mitch and Cam seem to lose "Lily," but in this episode, they mistakenly locked her in the car while picking up the dry cleaning.
Where is that Beep Coming From?
In this episode, there's a recurring beep that Phil can't find the source of, and it drives him up the wall. The beeping makes him question his manhood and goes on in the episode trying to prove that he is indeed a man.
Looking For Stella
Gloria's relationship with Jay's dog, Stella, is well, how can we put it, she hates Stella. In this episode, she loses the dog is and asks Cam to help find it. Cam couldn't be more fulfilled.
Phil Building A Treehouse
This episode has a young cameo from comedian Kevin Hart who plays Phil's long neighbor of eight years who Phil just met.
Valentine's Day
Claire and Phile decide to do a sexy role play for Valentine's Day as their alter-egos Clive Bixby and Juliana. The whole Valentine's episode from season 1 is hilarious, but these two are unforgettable.
Party Crasher
Gloria is due to give birth, but and like she says in the episode, "the baby was ready, but I was not." She resists giving birth by all means.
Halloween
Nobody does holidays like the Dunphys and the Pritchetts, especially with Halloween as Claire's ultimate holiday. She goes all out for the spooky day.