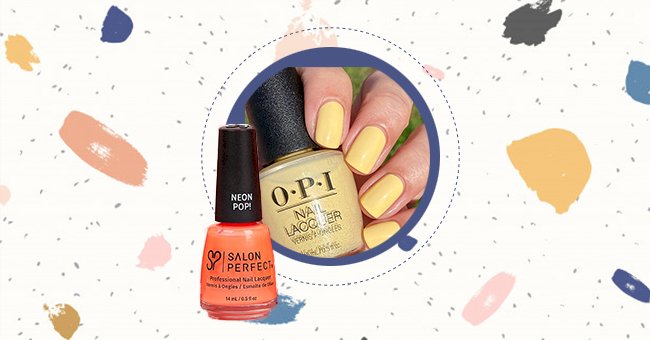 10 Nail Shades Made For Spring
Summer is right around the corner! Now is time to prepare your nails for spring. Nail addicts are on the lookout because we are about to take you on a journey that shows you the nail polish colors that should be at the top of your shelf.
Even if it seems like we have seen all kinds of nail polish trends, we keep coming across new nail designs that we want to try out right away. Especially in spring, when it is finally time to bring fresh colors and combine things into the wardrobe, we discover new ideas for manicures.
For spring this year, don't be stuck on pastels because there are plenty of colorful nail shades you would fall in love with. It's time to take your nail game to the next level with these ten nail shades we found for spring. They will satisfy both the soberest and sophisticated and the most lively and creative.
1. Gray
The allure that creates this nail polish color is the secret. Anyone who opts for a gray nail polish - whether light gray or dark gray - is not only trendy but also underlines a certain mystique.
The color can be combined in many ways and look very elegant. It is also one of the colors chosen as Pantone's colors of the year.
2. Fresh Pink
In keeping with spring and summer, we set fresh accents with pink. For the color to look classy and modern, the nails should ideally be short and oval. Pink might seem too girly for some but the right shade is fashion-forward.
When styling pink on your nails, the more vibrant the color, the more reserved the rest of the outfit should be. One thing is for sure, a pink manicure will brighten up your look!
3. Understatement For The Fingernails: Nude
Sometimes a slight understatement is not bad at all. With the choice of subtle, nude-colored nail polish, you fit perfectly into the delicate color palette that spring brings and underline your soft, feminine side.
Nude is various for different skin tones. You want to pick up one that matches your skin tone to not end up looking washed out.
4. Highlights: Metallic Nail Polish
Shimmering make-up and matching nail designs are still popular. No cosmetic line can do without iridescent nail polish. That's why you should elevate your manicure with a dash of metallics.
The shimmering particles in it bring visual depth and make the fingernails an eye-catcher. Every IT girl loves metallic because it can also function as a neutral polish but with shimmer.
5. Seductive Red
Red - its reputation precedes the color! Granted, red is a classic, but it should not be missing from the list of trendy nail polish colors for spring. They are neither too simple nor too flashy.
This color only works with a perfect manicure - flaky corners make this nail shade look cheap. Rather than settle for your usual red manicure, opt for nail art designs that bring life to your nails.
6. Black
Black in spring? Yes! Not only because Chanel or Rebecca Minkoff has already impressively proven that this is possible. We can all agree that dark nails work all year long.
The gloomy color is a welcome change from the nude shades of fall/winter and is incredibly chic on flawless hands. If you love gothic looks or not, black will always make a statement.
7. Classic Blue
Classic Blue is an intense and deep shade, which allows you to obtain a sophisticated but also original look, which stands out! The color can be broken up with other solid colors for aesthetics.
You can use it as the dominant color in a manicure that combines other complementary colors, such as yellow or orange. Blue is also a royal color that makes your nail look regal.
8. White
This is one color that makes a comeback every spring. It is the perfect shade to show off your skin tone and remains one of the most popular nail shades in this period. Being a neutral color, you can't go wrong with this on your nails.
From glossy to opaque, one shade that will rule the season is the pearl: thanks to its countless reflections enhanced in the sunlight. If you use gel for your nails, in spring, white is a color to try.
9. Coral
There is no way you want to breeze past spring without having to try the coral nail polish. It is also a shade that looks good on almost everyone. If you are not sure, opt for coral nail art to gradually introduce this shade to your look.
So keep an eye out for creative takes on the classic French manicure that uses vibrant shades of coral. You can accentuate the color with these shades, being a mix of red, pink, and orange.
10. Yellow
It's time to look onto the sunny side of life–at least, our nail polish can do that for us when we lose optimism. Yellow is a cheerful shade and one of Pantone's hues of the year. It is also a versatile and fun color.
Irrespective of your nail shape, yellow nail polish would look good on it. Pair it up with nude to tone it down, and if you are daring, you can pair it up with other vibrant shades to make a statement.