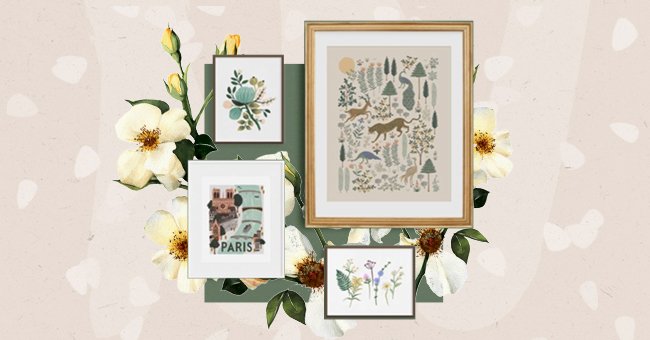 10 Places To Source Budget Friendly Wall Art
Too often in interior design, we think of wall art as an afterthought. This is what we get last after painting the walls, and all the furniture has been arranged. However, this should not be the case.
By not thinking about wall art, you are missing out on a fantastic design opportunity. When chosen carefully, wall art can furnish the entire room. Dare we say it, wall art is the most important in interior design.
However, if you're a little nervous about giving the wall art such a significant role in your design plans, don't worry. There are budget-friendly pieces you can buy to test the waters.
1. Etsy
Without a doubt, artists on Etsy love to experiment. This creates a beautiful opportunity to discover something that you find super exciting and unique.
Irrespective of the amount you have to spend, there is always something that will speak to you. You can own a one-of-a-kind work of art with a story behind it, and that's a special feeling.
2. Society6
Society6 is said to be home to a thriving community of independent artists globally with their unique designs. At Society6, everything is made to order, and they have so many styles to choose from to match your exact taste.
From beautiful original photography to minimalist wall art, you can find trending home decor styles, and thus you can make every room in your home feel uniquely you. By purchasing on their site, you're empowering creativity around the world.
3. Art.com
The brand exists so that you can have the art you love. This means they give you easy access to incredible art images with top-notch craftsmanship. They understand that when you find art you love, you'll end up loving your space more.
They also work with passion to bring you some of the world's largest art collections. Irrespective of your interest, décor style, inspiration – they are sure to have that piece you can't live without.
4. Walmart
At Walmart, they are committed to using their size and scale for good. Not just for their customers, or even their associates, suppliers, and their families, but also for the people in their communities and around the world that they will never meet.
They're proud to say that the work they do makes a real difference on the real issues that matter to everyone, and it also drives meaningful change in a way that no other company can.
5. Urban Outfitters
They are a passionate, creative, and entrepreneurial space where you can get all your lifestyle needs. Sometimes, you think about the clothes, but you can also acquire budget-friendly wall art pieces for your home.
The lifestyle retailer is dedicated to inspiring their customers through a unique combination of creativity, product, and cultural understanding.
6. Rifle Paper Co.
The brand has found a world that is full of bold colors, hand-painted florals, and whimsical characters. Their ultimate goal is to create quality products that bring beauty to every home daily.
Their vision may have started as a stationery company, but the couple are dedicated to adding color to your home to make your space as beautiful as you want it to be.
7. Minted
Minted has built its foundation on sourcing the very best in design and art from independent artists worldwide, from fine art to beautiful stationery.
Every piece sold on the site is hand-selected by their customers. They create design challenges and use crowdsourcing to find the very best in art and design, making their assortments fresh and always unique.
8. Saatchi Art
Saatchi Art claims to be the leading online gallery for art pieces worldwide. Their mission is to help you discover and buy from the best emerging artists globally.
Weekly, they release new curator-approved artworks in special collections. They also claim to pay their artists more on every sale than other galleries.
9. Apartment Therapy Bazaar
They are said to be in the business of creating happy, healthy homes! With their app, you can indulge in a world of art and shop on the go.
They have also grown to be a leading source of design inspiration and tips for people looking for real-life decor solutions through a fascinating look into how people from around the country live at home.
10. Artfinder
Founded by a Swedish art enthusiast in London, Artfinder promises you unique art pieces from around the globe on their online marketplace.
The site sorts its offerings by both style and medium, making it easy to browse their art pieces which the artist signs. Prices start at $25, and the site also has dedicated services for interior designers purchasing incredible artwork for their clients.