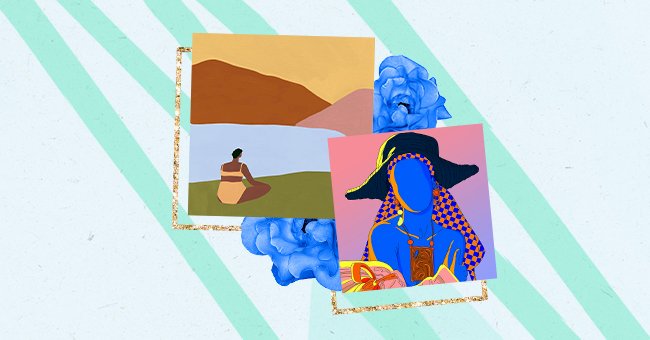 10 Wall Art Pieces From Black Artists To Add To Your Home
Inject some personal style into your space. Spruce up those blank walls with some wonderful works from Black illustrators, photographers, and painters.
Blank walls can get boring. Get art pieces from black artists to bring your space to life and add some elements of individuality reflected in your home.
You don't have to have been an art major or the most cultured individual to appreciate to well-considered colors on a print. Here are some wall art pieces you might like to have in your home.
Kenesha Sneed, 'Safe Space'
Kenesha Sneed is a multidisciplinary artist who makes art from ceramics, and textiles. This piece is a reflective, meditative piece that will bring a calm element, hanging on the wall of your home.
Kalypso Harvey, 'The Grass Is Greener'
This would make a great gift for a plant lover. The vivid green will go perfectly next to the growing greenery in your space.
Monica Ahanonu, 'Solange Met Gala'
Quality and iconic work from Monica Ahanonu. The artist also has several other works depicting other people like Rosa Parks and even Billie Eilish.
Aaron Ricketts, 'A Thirst That Can't Be Satisfied'
Set the tone for your home with a piece of modern, interprative art. Ricketts is a photographer and artist with a wide body of captivating art.
Blacksneakers, 'Mary Magdalene (FKA Twigs)'
Blacksneakers' work is a North Carolina–based illustrator and painter. This piece here is inspired by FKA Twigs' album "Magdalene."
Oriel Ceballos, 'Desert of the Real Ink'
This colorful painting is on sale right now. The artist, Orial Cabellos is based in New York City. If you happen to be in the city, you might bump into him selling his work, if not, you can still get it online.
Shaneé Benjamin, 'Bodies'
If you're finding this particular style familiar, that's because Shaneé Benjamin's works have been featured in several publications, including "Cosmopolitan."
Alicia Noelle Jay, 'Joseph's Coat for The Ocean Environment'
Alicia Noelle Jay creates aret pieces using watercolors and acrylics. Jay is based in Brooklyn and if you're interested in 'Joseph's Coat for The Ocean Environment', it's currently on sale.
Rachelle Baker, 'L. Boogie'
'L. Boogie' is a metal print inspired by the legenday musician Lauryn Hill. The material is durable and the colors on it are vivid.