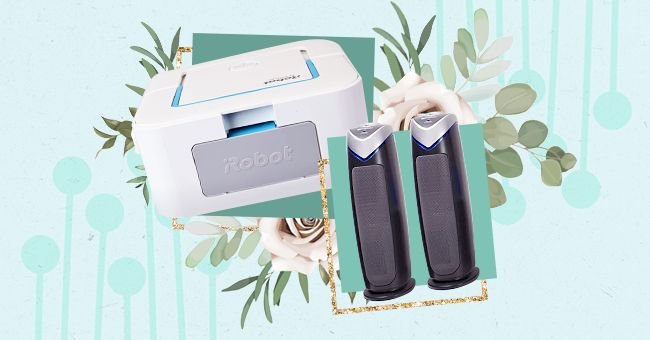 10 Satisfying & Worthwhile Cleaning Gadgets To Buy
If you are not a fan of expending time, energy, and patience on cleaning, you can invest in smart cleaning devices to do your work. From air purifiers and robot cleaners to electrical cleaning brushes and microwave cleaners, here are some smart cleaning gadgets that will alter your life for good.
Thanks to the coronavirus pandemic, many of us have started taking the cleaning process seriously. However, with our homes serving as multipurpose spaces for work, rest, and play, conventional cleaning methods can seem tiring and time-consuming.
There is considerable psychological-based evidence that links cleanliness to improved mental health, which might explain why some of us resort to washing dishes to release stress. Explore these ten gadgets that will transform the cleaning process and save you loads of time and effort.
1.Karcher Window Vac
Price: £39.99
Revolutionize the streaky glass cleaning process with this handy and easy-to-use electrical glass cleaner. With Karcher Window Vac, you can efficiently clean windows, tiles, mirrors, worktops, and other flat and smooth surfaces.
2.Super SonicScrubber Household All-Purpose Cleaning Brush
Price: $29.31
Those hard-to-reach nooks and corners in our kitchens, rooms, and bathrooms can give us many mental and physical ailments. But with the Super SonicScrubber Cleaning Brush, you will experience power cleaning like never before and also save time and energy.
3.Mini Owl Table Dust Vacuum Cleaner
Price: $11.99
For the tables and desks that are always messy with biscuits, crumbs, and dust, get this portable mini owl vacuum cleaner. It comes with a strong suction power and can even be used as a decorative item on your workstation.
4.iRobot Braava Robot Mop
Price: $178
We all know what a hassle it is to mop your floors, bathroom tiles and make sure they are always spick and span. With this mini robot mop, all you have to do is press one button, and it will do all the cleaning, including the difficult-to-reach spots around kitchen sinks, room corners, and toilets.
5.GermGuardian Air Purifier
Price: $84.99
Sparkling floors and dust-free furniture are everyone's weaknesses, but what about cleaning the air you breathe? With this 4-in-1 air purifier with a HEPA filter, you can get rid of dust, allergens, and airborne germs up to 99.97%. Such precision, much wow.
6.Topist Angry Mama Microwave Cleaner
Price: $9.99
Delaying your microwave cleaning can prove hazardous for all the repetitive cooking and food heating you do daily. Topist Angry Mama Cleaner is a simple tool that you can fill with water, vinegar, lemon juice and then heat in the oven for 5-8 minutes. Tada, your microwave is shiny clean.
7.Flash Speed Mop
Price: £18.19
Mopping is no child's play, especially when you have to carry around heavy buckets of water and wet mops all around the house. But the Flash Speed Mop requires just a pre-soaked mopping cloth, no getting down on your knees, and no re-dipping and wringing out.
8.OXO Good Grips Dish Squeegee
Price: £12.19
Who doesn't love the releasing experience of foaming and scrubbing the dishes? However, some stains can be stubborn and might trigger our anger, and that's where this dish squeegee will have your back. It has a soft, non-slip grip and a curved surface to clean bowls, plates, countertops, and sinks.
9.Flush N Sparkle Fluid Master Toilet Bowl Cleaning System
Price: $14.21 Blue Cleaning Kit
Mopping is a million times better than scrubbing your toilet with your hands. Simply install the Fluid Master self-cleaning system into the flush valve's overflow tube, and it will keep your toilet clean for up to 3 months, after which you can replace it with a new cartridge. Say goodbye to bleaching solutions for good.
10.SimpleHuman Liner Rim Dual Bucket Rectangular Recycling Step Trash Can With Liner Pocket
Price: $199.99
It might seem like a pricey option but think about all the fuss overflowing trash cans end up creating. And dumping them is another daunting task. This simplehuman trash bin comes with compartments, unbreakable pedals, and inner liners to keep your trash organized and make dumping easier.