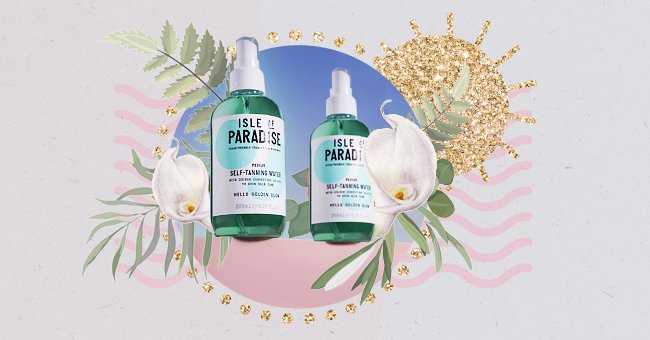 10 Self Tanners To Give Yourself A Summer Glow
It's been a couple of months since our last summer day, and tans have officially faded. Embracing the lighter skin tone may be liberating, but sometimes you just want to look like a bronze goddess.
Summer is months away, there's no jetting off to a sunnier destination, and honestly, we're barely leaving the house. These elements make a recipe for skin that would make Edward Cullen jealous if he saw it.
Sun tanning beds are basically skin cancer machines, so the only hope is self-tanning lotions. If this is your first rodeo, take a look through our list of ten self-tanners that will give you your sunkissed glow.
Isle of Paradise Self Tanning Water
This color-correcting product comes in an easy-to-use spray bottle for seamless and even application. Your tan will appear after four to six hours of using it, and you can expect a brighter glow to the skin.
St. Tropez Tanning Essentials Gradual Tan Watermelon Infusion Body Lotion
Slow and steady wins the race with this lightweight watermelon-infused tanning body lotion. There's nothing worse than an instantly noticeable fake tan, so fake it til you make it with this gradual tanner.
Beauty By Earth Self Tanner
This product is cruelty-free, made with natural ingredients, looks natural, and is long-lasting. What more could you ask for? Let's not forget to mention the rave Amazon reviews on this excellent formula.
Coola Organic Sunless Tan Luminizing Body Serum
Say goodbye to thick tanning lotions and say hello to this lightweight tanning serum by Coola. Your skin will also feel moisturized, so you can enjoy your fresh bronzed skin knowing that the product nourishes it.
St. Tropez Self Tan Express Bronzing Mousse
We present to you a tinted self-tanner in the form of a hydrating gel. You'll know exactly how much to put on by gauging the color of the gel on your skin, and you can get an effortless glow just in time for brunch.
James Read Tan Click & Glow
You won't be subjected to awkward tan lines any longer with this fuss-free tanning pen. Carry it to the beach, to the pool, or even to your at-home Instagram shoots to make sure you've covered any missed spots.
Tarte Cosmetics Brazilliance 2HR Express Deep Foaming Self-Tanner
Did you forget that you have a socially distanced engagement party to go to in a day? Try this foaming self-tanner that develops in just two hours, so you can see how it turns out sooner rather than later.
Supergoop! Healthy Glow Sunless Tan SPF 40
This subtle self-tanning mist will enhance your skin's inner glow rather than tint your skin. The plus side is, it also protects your skin from sun damage, so you can look good while staying safe from harmful UV rays.
Tan-Luxe The Face Illuminating Self-Tan Drops
Your face will never look like a perfectly awkward slice of toast again with this face tanning product. Put the self-tanning lotion away and trust in these drops for your money maker and never look strange again.
Coco & Eve Sunny Honey Bali Bronzing Foam
You can easily look like a Brazilian bronze bombshell with this lightweight and easy-to-spread mousse. This product also plumps and hydrates the skin, so you are bikini ready right after your fake tan.