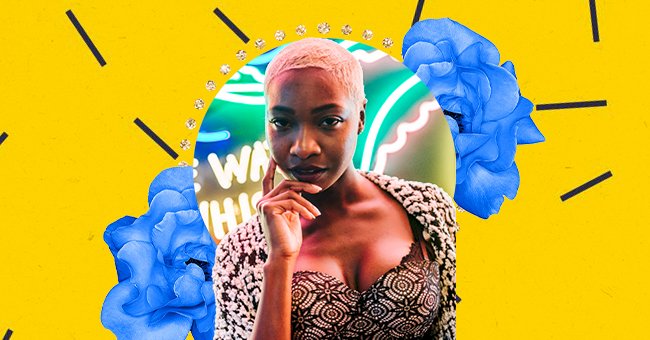 10 Short Natural Hairstyles To Try To Spice Up Your Look
It is a massive misconception that long hair is the only way to achieve versatility when styling. If you have short hair, more so, textured natural hair, you might easily find yourself wearing the same style day in and day out.
However, from buzz to shoulder-length cuts, there are a ton of styling options you can play around with. If you don't trust us, have a look at Tiffany Hadish, who underwent a big chop and is often flaunting new and fun styles.
Suppose you have just begun a natural hair journey, bid goodbye to lifeless hairstyles. Proudly rock your adorable baby curls with some inspiration. If you don't know where to start, scroll below to consider these ten short natural hairstyles to rock this season.
Very Short Slicked-Down Pixie
This super sleek style will elevate your look in seconds. A Very Short Slicked-Down Pixie is exceptionally daring and can be styled with or without shine, depending on your preferences. But remember, maintenance is vital, so wrap your hair in a silk scarf as you get your beauty sleep.
Royal Accessories
Accessories change up any look, and Janelle Monae is the queen of royal accessories. Choose flashy headbands, bobby pins, or hats to glam up cropped locks. Do not be afraid to pick the most extravagant to elevate your royal status.
Classic Cornrows
Cornrows are not only for your school girl years. You can rock this classic style well into your adulting years and on various hair lengths too. Make it cute by shaping your baby hairs and top of your look with gorgeous statement earrings.
Pastel Buzzcut
Undergoing the big chop means you're ready for change. Therefore, why not add your favorite pastel color to enhance this bold look? Try this trendy pastel buzzcut. A bonus: it's low maintenance.
Short Tapered Cut
Tapered cuts are great for versatile looks. With the sides and the back having a shorter cut than the middle, you can have fun styling the middle as desired. Also, you can taper the side for a more exciting look and create bouncy curls for more volume.
Finger Coils
Say goodbye to constant salon visits, for you can easily achieve this style at home. We love this look because not many tools are required. You only need two things - conditioner and your fingers. This style lasts for days, meaning you won't have to re-do it every day.
Finger Waves
Hands up if you've only just found that finger waves are achievable on textured curly hair. This sultry haircut is not exclusive to chemically straightened hair or texturized hair so give it a try. Grab your gel, styling mousse, and comb to create waves using an s shape.
Slicked Back Fro
If you're tired of wearing your usual afro day in day out, you need to try this style. Slick back the perimeter of your natural hair using a hairband. For added drama, incorporate baby hairs and swoops and swirls for a more exciting look.
Fauxhawk
No matter the length of your hair, you can still rock this style. From teeny weeny afros to lengthier styles, you're bound to look amazing with a fauxhawk. Therefore, gather your bobby pins and holding gel to rock this bold look.
Afro with Side Flat Twists
Frankly, braiding is not everyone's strong suit. Flat twists only require two strands and are easy to achieve. Besides, they don't need a ton of effort when taking them down. Therefore, if you have an afro, add a couple of flat twists to your look with some statement accessories to spice it up.