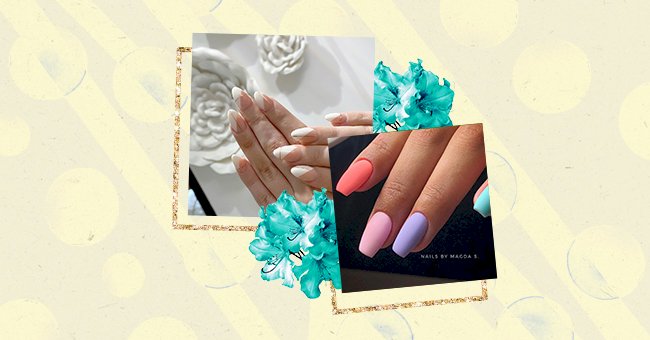 10 Spring Nail Art Trends For Every Nail Length
Time is tirelessly approaching when we hide fur coats, coats, jackets, hats, and scarves in a wardrobe. With the coming of spring, fashionistas with great enthusiasm have begun to choose new spring looks for themselves.
The manicure of spring is colorful and sparkling but also soft and minimal. The trends to wear on the nails are versatile and suitable for those who love the most brilliant and whimsical looks and even those who prefer refined and essential manicures.
The nail art is minimal and simple, with geometric decorations executed to art and with precision. Still, there is no shortage of romantic and chic floral decorations and colored French to give a touch of vitality to the spring manicure.
1. Graphics With Negative Space
If you're a little more advanced than the average nail art beginner, then you can quickly graduate to this intricate graphic design. You'll need a solid amount of trusty striping nail tape to create a pattern and a statement-making nail color to finish the setup.
The key to perfecting the understated design is color choice. Neutrals and light shades are great if they're your style, but otherwise, a bolder, rich polish is the best way to show off the bare space and clean lines.
2. Metallic Dots
It's incredible how nail art fanatics develop elaborate and impressive nail trends for such a small canvas. And you may be a fan of these embellished, bright nails, but minimalist nail art has proved the less is more theory time and again.
The latest minimalist nail trend to have swept over social media is none other than metallic dot nail art. It's simple, sophisticated, stylish and we are totally in love with it.
3. Multicolor Nails
One of the few plus sides of lockdown is all the extra time to be creative, which could explain the influx of different-colored nails and mismatched nail ideas popping up on our Instagram Explore page.
No matter why there's no denying an eclectic approach to manis is the first official nail trend of 2021. Next time you want to try a new nail design, check out these trending multicolor nails. Why not try all these colors?
4. Floral Nails
Floral nail art is usually reserved for the warmer months; opting for some right now feels unexpected—even edgy, depending on the kind of design you go for since there are more ways to wear flowers on your nails than ever.
Whatever your preference—and skill level—there are many ideas that will last you from now through springtime and beyond.
5. Evil Eye Accents
Find yourself in need of some extra protection these days? Good News: Evil eye nail is trending this season, and we're welcoming all the positive vibes. Get ready to bring on the good fortune to your nails.
Spotted on celebrity manicurists and influencers' hands, the protective evil eye emblem is typically depicted as a cobalt blue circle containing a white ring, followed by a blue ring and a black pupil.
6. Black And White
If you are looking for a relaxed new style, why not try the ever-popular black and white nail art. Black and white styles are elegant and timeless, and they will never go out of style. They are the kind of nail art that stands at attention and demands you to take notice.
These are styles that you can use in a casual atmosphere as well as a professional one. You may have thought that black and white styles are boring, but they don't have to be that way. There are many fantastic ways of implementing this nail art into your life.
7. Swirl
In terms of manicures, the trend is more towards minimalism or, on the contrary, to the natural nails is something most women want to get back to. However, this spring, we are about to shake things up with new manicure codes to adorn our nails.
This manicure trend invites us to draw wavy lines on the nails. These abstract waves are often designed on nails that appear to have been left bare but previously varnished in reality using a nude color.
8. Slanted French
French manicure is a classic nail art design that never goes out of style. It is the safest option for those who aren't big on experimenting and always look super chic and stunning. The slanted French is a take on the classic white tips, but instead of following the nail's natural C-curve, it's slanted into a deeper arch on one side of the nail.
People love the slanted french for being a creative version of the classic and because it creates the illusion of longer nails and increases the manicure wear-time.
9. Skittle Nails
When choosing nail colors, there are no rules, and you don't have to pick just one. While classic neutrals and deep reds will always be in style, manicures these days are about embracing the mentality that anything goes.
The perfect reflection of this new nail attitude is the skittle nail trend, which has been all over social media as of late. Put simply; skittle nails are wearing different colors on different nails. So just like with a bag of skittles, this trend embraces all colors of the rainbow, and then some.
10. Pastel Tips
The rainbow trend is a springtime twist on traditional French tips, which reigned supreme in the late nineties. Instead of stark white polish, nail obsessives opt for pastel shades in their favorite colors.
They dress each tip in a different shade but keeping the rest of the nail bare. The result? An understated, ultra-wearable, multicolored manicure – and it's not that difficult to do at home. Sometimes a pastel pop is all you need, and if you can't decide on just one shade, a muted rainbow is always a winner.