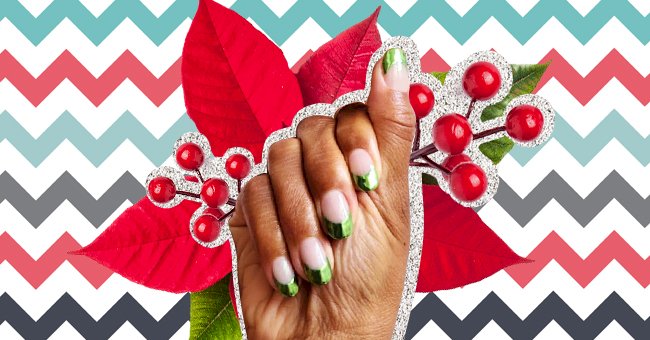 10 Stunning Christmas Nail Designs To Try This Year
It's getting more festive as the days pass, and we are starting to get into the jolly spirit. Although we still have Thanksgiving coming up, it's never too early to start preparing for Christmas cheer.
Many women use different forms of style and fashion to express themselves daily. Some of us may not be that decorative but love to go for a festive-themed nail set when the right time comes around.
Whether it's a chic themed abstract set or a full-on Rudolph nail art situation, jolly nails are the way to go. Take a look at some of the best Christmas themed nail designs to inspire your next trip to the salon.
Elegant Emerald And Gold Set
This gorgeous nail set is perfect for the sophisticated woman who isn't immune to holiday cheer. These regal shades and abstract designs don't look too themed but gracefully match the Christmas aesthetic.
Cranberry Sauce Inspired Nails
This seasonal side inspired nail set is the perfect look to go for as early as November. You can rock this marbled red and shiny look from Thanksgiving to pay homage to the delicious berry sauce side.
Tinsel Tips
Try adding a gold leaf to your nail art for a pristine and dainty tinsel decoration effect. This expensive-looking nail set will impress everyone who catches a glimpse at the cocktail party-ready embellishments.
Green Grinch Fingers
These green chromatic tips look like an excellent adaptation of a metallic green bauble. The sexy set also looks like what the Grinch's new girlfriend would get in time for the most beautiful time of the year.
Christmas String Lights
There is always that one girl who is more festive than most, and this nail set was made for her. The intricate Christmas light design has several gems and glitter, just like any real Christmas accessory.
Growing Gradient
This Christmas tree color inspired nail set is straightforward to achieve. To get this earthy look, paint your nails in different shades of green from dark to light or vice versa, and voila! You're ready to rock.
Cocktail Party Confetti
Turn heads at your office's Christmas cocktail party with this multicolored sequin nail look. The best thing about these nails is how perfect they are for a New Year's celebration, and you can keep them until then.
Winter Wonderland
This icy nail design offers a fresh departure from the usual Christmas related color theme. Add some sparkles to some blue and white nails and match the season's snowy weather this holiday.
Snow Queen
You can never go wrong with glitter on Christmas, and this blingy take on the chilly holiday is perfect. Add a white snowflake nail art design on a few fingers for a full snow queen effect on your hands.
Candy Girl
One of the best things about Christmas is the sweet treats that come with the joyful celebrations. Express your love for Christmas cookies and candy cane on your nails as perfectly painted nail art.