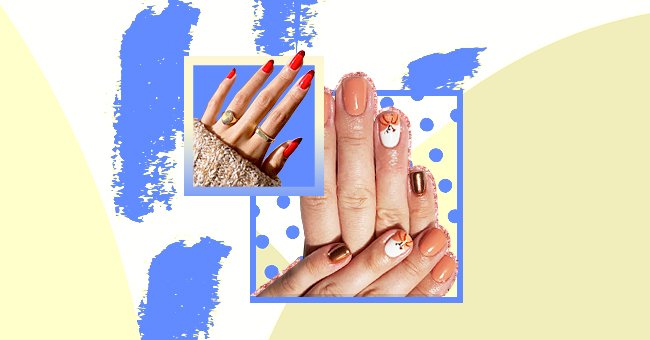 10 Stunning Nail Art & Color Ideas To Try This Thanksgiving
These manicure designs will look so pretty while you dig into your Thanksgiving meal. Your family won't be able to help but stare at how your nails stand out next to the mashed potatoes so well.
Mashed potatoes aren't the only thing being served this Thanksgiving. This holiday season, the category is nails! If you're looking for Thanksgiving nail inspiration, it's on its way, and you could be serving in an entirely different department.
Get inspired by some of these thanksgiving appropriate manicures. There's a creative design for any look; the classic, the quirky, the cute and the downright make your cousins jealous.
Butternut Bling
Get inspired by this beautiful fall color. Spice up an earthy yellow with some strategically placed razzle-dazzle to make your nails pop.
Retro Florals
Retro florals are ready to be fall's biggest nail trend this year, like these daisies on Dua Lipa. Can you imagine the orange background beside your sweet potato dish?
Burberry Nails
This classic check pattern is timeless and just screams "holiday season!". And if that's not motivation enough, this design transitions perfectly to winter too.
Abstract Patterns
These nails are fun and artsy, and just like a plate of leftovers, this abstract mani will be just as good the day after Thanksgiving. Make this your aesthetic for fall.
Red French
Fall Floral Thanksgiving Nails
Try out this beautiful fall foliage inspired manicure. The sparkly accent nail is incredibly stunning. You can use a nail stamping kit to achieve a clean finish on your design.
Copper Pumpkin Thanksgiving Nails
Really get into the Thanksgiving mood with this warm pumpkin nail design. The peach complements the copper so well.
Textured Turkey Thanksgiving Nails
Show off some creativity. Each nail in this overall look has a super unique and detailed design. Embellish with nail jewels for extra sparkle.
Tortoise Shell
The internet is currently in a frenzy over this manicure (Check out the hashtag). Stay on-trend and give this gorgeous look a go,
Lil' Turkeys
Go all the way with the Thanksgiving theme this holiday season. These quirky 3D nails are the perfect way to rep the holiday mascot.