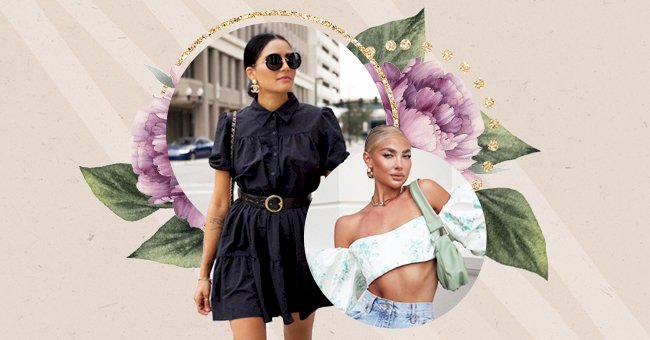 10 Stylish Puff Sleeves Outfits You Need
It is said. The puffed sleeves are well established. They have been part of the sartorial landscape since 2018 and have not yet gone out of fashion. Their longevity can be explained by the fact they have been able to reinvent themselves, and we find them in different styles.
It is possible to find puffed sleeves on sweaters, cardigans, dresses, shirts, and tops. As famous in the summer as they are in the winter, we love that they add texture and volume to clothing pieces that would otherwise be very simple.
To add a touch of sophistication to your outfit, go for a garment with puffed sleeves. Do not hesitate to explore the different styles and cuts.
1. Puff Sleeves
Play with volumes and adopt this season's trend. Straight out of the 80s, this is the easiest way to introduce puff sleeves to your wardrobe for a romantic look with spring scents.
You can mix puffy pieces with close-fitting clothes to balance the volumes, like a coated skinny or a suede pencil skirt. Keep your accessories to a minimum so as not to overshadow the centerpiece of your outfit.
2. Ruffle Sleeves
This season, ruffles are invited to your tops in a wise or eccentric version. A fashion detail that will not stop brightening up your looks and giving them allure and volume.
Whether you like XXL frills or more discreet, asymmetrical, vertical, or horizontal, they dress your neckline, your hips, shoulders, or sleeves for an ultra-chic look. From crop tops to oversized shirts, through fluid blouses, ruffles are featured on all your tops.
3. Leg Of Mutton
As its elegant name suggests, the leg of lamb reminds us of the hind leg of a sheep. This sleeve is puffed in the shoulder and quite tight towards the rest of the arm.
This is one sleeve that even designers have not been able to ignore since it came into the scenes in the 1820s. If you love drama, then you should opt for this sleeve.
4. Virago
A virago sleeve is a full, paned sleeve used in the early seventeenth century in western Europe. It was made from a series of cloth strips gathered into two puffs by a ribbon or cloth band just above the elbow.
The main sleeve strips were often embroidered. This type of sleeve was fashionable for women's clothing in the 1620s and '30s. If you want to stand out, then opt for this sleeve type.
5. Exaggerated Bishop
A typical bishop sleeve gathers at the hem to a fitting plain cuff band or an elastic cuff. However, the sleeve can sometimes be fitted at the armhole but gradually widening as it reaches the hem, where the fullness is contained with the cuff.
The typical bishop sleeve may already be a stand-out piece, but you can go the extra mile by opting for added fullness. Not only is the sleeve elegant, but it is also stylish and trendy.
6. Peasant
Even though they are often loose and soft, peasant sleeves may be short or long and casual. They are often combined with off-shoulder styles and have a raglan style seam.
You can add them to your crop tops, long tops, or even your dresses. The idea is to look girly and have fun as you dress up and step out at all times.
7. Faux Bow
Nothing screams girliness like a bow, and a bow that is translated into a sleeve is as stylish as stylish can be. Be sure to opt for fabrics that are not too stiff but also not too soft.
You can use as much fabric as you want to create extra volume. From tops to dresses, you can feature this sleeve type on any outfit. You can also make your look stand out by featuring it as a mono sleeve.
8. Extended Shoulders
Spice things up in your basics wardrobe with a sleeve featuring extended shoulders. You can opt for a long sleeve, elbow-length sleeve, or an awkward length between the elbow and the wrist.
Wear an extended shoulder top with fitted joggers and sneakers for a cool and relaxed look, or opt for your favorite jeans, handbag, and boots to complete the look this season.
9. Origami
Origami sleeves are based on the Japanese culture of folding paper. The art which has long been introduced to fashion is the perfect way to show off your style while still looking chic and elegant.
Here, the sleeve is transformed into what looks like a finished sculpture through folding and sculpting techniques. You can now wear it in short sleeves or long sleeves as you wish.
10. Off-The-Shoulder
What better way than an off-the-shoulder top or dress to show off your arms and your style with a puffed exaggerated sleeve? Showing off your shoulders is super sexy without being vulgar!
This sleeve also makes your entire outfit look glamorous. When opting for this style option, be sure to grab your sunscreen as you don't want to get sunburns later on.