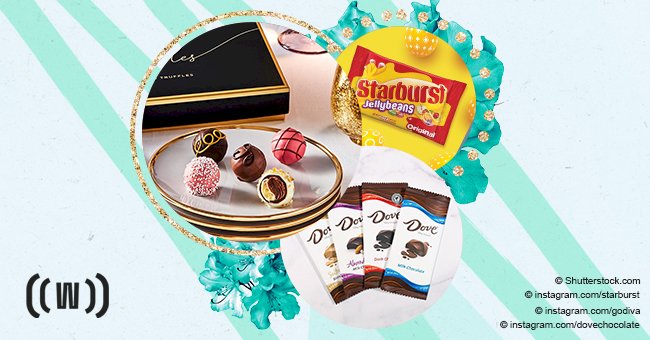 10 Sugar-Filled Easter Gift Ideas
The return of Mini Eggs to the shelves was warmly welcomed a few weeks ago. If these little chocolate eggs tell us that the worst of winter is behind us, they also manage to sprinkle the path to spring with joy.
Chocolate enthusiast, there are several options available to you this year to celebrate Easter. Indeed, many companies offer delivery services of sweets all as delicious as each other. We assure you that you are not dreaming!
These gifts can be delivered to your family, friends, or yourself (why not, you deserve it!). They promise to make everyone with a sweet tooth happy.
1. Dove Chocolate Bars
These are a pleasure in every bite. Coming in different flavors, you can make a hamper out of this and send it to your loved ones.
DOVE Chocolate and CARE are now partnering together to help empower women in Cote D'Ivoire, West Africa — one of the world's largest cocoa-growing countries — providing them opportunities to improve their lives and the lives of their families and communities.
2. M&M's Cookie Sandwich
Just in time for Easter, M&M's have released the chocolate and mint flavored cookie sandwiches, and they are perfect gift items for your sweet-loving friends and family members.
Each box comes with four sandwiches made with mint-flavored reduced fat ice cream, chocolate cookies, and an assortment of mini M&M's
3. STARBURST Jelly Beans
STARBURST jelly beans are the perfect Easter basket candy gifts for friends and family as they brighten up egg hunts. You can shop for these in their different flavors to add more color to your day.
This is everybody's favorite fruit-flavored jellybeans with a chewy texture. Use these colorful candies to create fun crafts and celebrate the season with the ones you love.
4. M&M's In A Bottle
What's better than having your regular M&M's? Having them in a bottle on the go is the best thing this Easter. You can personalize these to carry your Easter goodwill messages.
The clear bottle with gold foil and screw top comes with a stand that can be used to hold the bottle upside down and turn it into a serving flute.
5. Oreo Brookie-O
Milk's Favorite Cookie Dessert fans will celebrate this delightful, limited-edition pairing: chocolate OREO cookies filled with brownie, cookie dough, and original flavored triple-layered creme!
Whether you're enjoying the original OREO or a spin on the classic treat, this chocolate sandwich cookie is always dunkable. The combo of chocolate wafer cookies and creme makes any moment or occasion a little bit sweeter.
6. Godiva Assorted Truffles
This beautiful gourmet chocolate box is the ultimate gift for a dark chocolate connoisseur, and it's a decadent dessert idea for dinner parties, birthday celebrations, and other special occasions.
This delectable chocolate box is filled with twelve exquisite dark chocolate truffles in tantalizing flavors and intriguing textures. Savor sweet and spicy fillings, including fruits and caramels.
7. Cadbury Creme Egg
It's just not Easter until you've savored the unique milk chocolate shell and soft fondant center of a Cadbury Creme Egg. Treat yourself, and everyone you love with a classic Easter treat that will leave everyone hopping for joy.
Be sure to read the descriptions in case of allergies. Your loved ones will surely thank you for adding this to the pile of gifts you have purchased for them this Easter.
8. Tootsie Andes Crème De Menthe
As the number one after-dinner mint, Andes Crème de Menthe delivers a smooth blend of mint and chocolate flavors–the perfect post-meal treat.
The iconic, rectangular three-layered candy' green mint sandwiched between two thin cocoa-based layers' became instantly famous after its launch, and it has remained an American favorite ever since
9. Lindt Lindor White Chocolate Truffles
White chocolate has never been so creamy and indulgent. A delicate white chocolate shell enrobes an irresistibly smooth white chocolate center.
White Chocolate makes cupcakes even more delicious. Add a single truffle on top for an elegant and delicious flourish. Lindt chocolate embodies the passion and expert craftsmanship of its Lindt Master Swiss Chocolatiers. Lindt delivers a unique chocolate experience offering a distinctly smooth and rich, gourmet taste.
10. Hersheys Milk Chocolate Bar
Hershey's milk chocolate bars are the classic full-size chocolate candy bars you've always enjoyed. These chocolate candy bars are great for keeping in your kitchen pantry or desk drawer whenever you want a sweet treat.
This smooth milk chocolate is made with farm-fresh milk to deliver unmatched flavor. Hershey's milk chocolate bars are delicious on their own or melt them on graham crackers with toasted marshmallows to make s'mores.