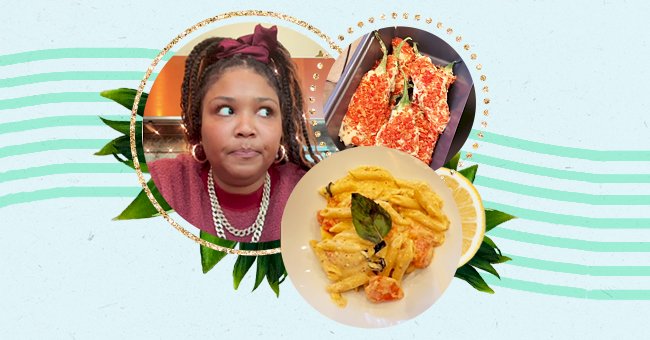 10 Times Lizzo's Recipes Made Her The Vegan Queen On TikTok
Besides her powerful vocals, popstar Lizzo is also a cooking enthusiast, and she is excellent at teaching us a thing or two about killing it in the vegan department. The star has been vegan for more than a year and is posting her recipes on Tik Tok.
From her takes on popular fast food to soul food, Lizzo shows us that being plant-based is fun and delicious. Frankly, she had us at soul food, not going to lie. Her vegan recipes, therefore, make her the vegan queen on Tik Tok.
With 12.4 million eager followers on Tik Tok, the pop star does not disappoint, serving us meal after enviable meal. So from her portfolio of viral vegan meals, here are ten times Lizzo proved her recipes make her the vegan Tik Tok queen.
The Time She Made A Vegan McDonald's 'Chicken' Nuggets
It's not every day that a plant-based popstar outdoes a huge fast-food chain. Lizzo managed to do so by whipping up a meal of plant-based nuggets, sprinkling some RedHot seasoning on them put them on a toasted bun with vegan mayo and iceberg lettuce.
The Time She Made Tik-Tok's Viral Pasta Dish
Lizzo confidently hit the mark with her vegan take on a viral Tik Tok dish. The star used a cocktail of savory ingredients to nail the recipe. You will need garlic, cherry tomatoes, vegan goat cheese (instead of feta), basil, and grapeseed oil. Our stomach was twitching!
The Time She Whipped Up Vegan Jamaican 'Beef' Patties
We love an experimental queen. Lizzo approached this Caribbean dish with a vegan twist. The star made a dough, seasoned her 'meat' with some RedHot, and made an avocado sauce as a dip. Bonus? Her video also gave us a sneak peek into her garden.
The Time She Baked Some Ice Cream Bread
We won't lie. We were pretty stunned when she made this bread. Lizzo took some Ben and Jerry vegan icecream with flour to create a paste. After, she greased a baking pan and popped it in the oven. The result was a fresh batch of golden ice cream bread.
The Time She Served Jackfruit Envy
Lizzo loves her Jackfruit. In her video, Lizzo explains that jackfruit is her meat. She peels the jackfruit 'meat' before boiling it for 45 minutes and immersing it in a syrup of sugar and hot water for later use in salads. Don't forget the seasoning.
The Time She Served Jackfruit - Enchiladas
See what we said about Jackfruit? In this other Jackfruit recipe, Lizzo pairs some green chilis from New Mexico with store-bought enchiladas. The recipe includes garlic, vegan cream, and cheese before it is baked. Guess what she had it with? A Jackfruit Margerita.
The Time She Had Us at Soulfood Vegan Cupcake
Think fried chicken, cornbread, and mashed potatoes in a muffin. But vegan and made by Lizzo. Yeah, we were just as stunned as you were at this soul food invention. But Lizzo whipped, fried, and mashed her vegan soul food cupcake to sweet, sweet perfection.
The Time She D.I.Y'd Vegan Jam
Fall may be over, but this recipe lives on forever. You need blueberries, cinnamon, brown and white sugar, and boil. Like Lizzo, plate it over some biscuits and vegan sausage next to your vogue cover. No, wait. The Vogue cover part may just be for Lizzo alone.
The Time She Celebrated Her Veganism
Even holidays were on Lizzo's to-do list - in terms of vegan recipes. The 32-year-old celebrated Thanksgiving by whipping up some mac and cheese, creamy mashed potatoes, Brussels sprouts, and a lovely roast. All vegan. A queen.
The Time She Schooled Us on A Vegan Taki Meal
Grab some jalapenos and stock up on this delicious meal made of Takis, vegan cheese, and dip. Some seasoning, and don't you dare forget the jackfruit. Once they are done, send a mukbang to all your friends after for some extra envy.