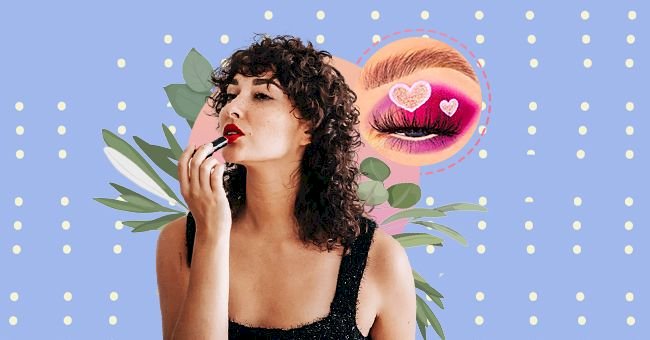 10 Valentine's Day Makeup Looks To Try This Year
If you're at a crossroads regarding what makeup looks to try this V-Day, perhaps some heart eyes would do. And for the folks who want to try something fun and different, throw in some glitter or simply rock your natural nude.
Every year, the much daunting question of how to dress up for Valentine's Day nags us to the point that we're left feeling utterly confused. With endless makeover options making rounds on social media, (Instagram takes the lead) not knowing which one will work out perfectly is another puzzling point.
However, there is one thing that's crystal clear - your eyes will need extra attention to look mesmerizing whether you wear a mask or ditch it. It's time to break out out of your lockdown paranoia and take a look at these ten V-Day makeup looks that will exceed your expectations, so much so that you might want to stick with them even after fourteen February.
1.Roaring Red
Whether you choose a red outfit to match along your red lip color or opt for a striking contrast, red is the constant for Valentine's Day. Which other color can make you look so sexy?
2.Heart Eyes
This one's for all the folks who want to dive deep into the true spirit of V-Day. Simply pop on some pink eyeshadow and scatter pretty red hearts all over it (you can even choose golden ones). We heart this look.
3.Pretty In Pink
For the people who disapprove of having hearts on their eyes, maybe a splash of pink might do the magic. You can opt for lighter, rosy tones or more vibrant and bold shades. Blending them both will reap brilliant results.
4.A Hint Of Gloss
Not everyone is a fan of matte or darker shades, so there's always room for adding in gloss. You can try a glossy lipstick for that tint of rosy glam on top, or pick a lip gloss that highlights your gorgeous pout.
5.Cat Eye
Cat eyes are the best, whether it's Valentine's Day or any other special occasion. Hone your eyeliner expertise and draw the most perfect wing ever. This look is even more splendid to try for your Galentine's Day celebration.
6.Voluminous Lashes
For the stunning eyes that can do all the talking, focusing on leveling up your lash game is very important. Get your hands on a lash lengthening and volume boosting mascara and play up your eyeshadow.
7.Glitter Gaze
Your glittery gaze will leave everyone in awe, but remember to contrast well. You can choose a nude eyeshadow and then take things up a notch by throwing in glitter around your eye contour.
8.Glow Glam
You may not be wearing a face covering all day, so focusing on your face contours is also required. You can choose a highlighter for that bronzed finish, but trying a silky foundation formula to achieve a glow boost can be a great option.
9.Natural In Nude
Nude is perfect for achieving the classy, stunning look. Try a shimmery shade and make sure to choose a long-lasting formula that gives maximum coverage.
10.Metallic Eyes
And here is a chance for you to pull your most breath-taking, chicest look ever. Throw in some metallic shades, (you can play around silver hues too) and you are ready to put your most sultry self forward for V-Day.