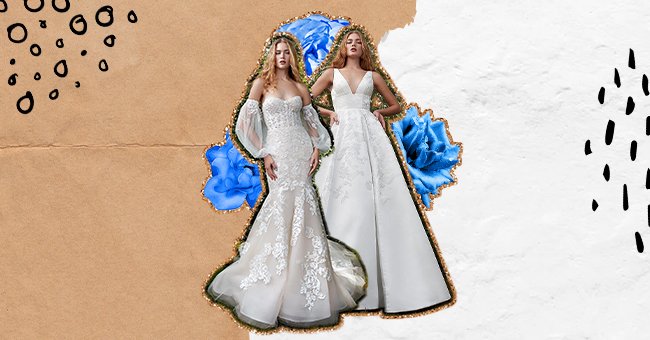 10 Wedding Dress Trends To Anticipate For 2022
Despite the decline in weddings in 2020, many couples are now set to tie the knot in 2021. Moreover, many are playing it safe and even scheduling their weddings for 2022. Whatever the case, it is evident that wedding traditions have changed for the foreseeable future.
In the same way, wedding trends have also adapted. Brides and designers, perhaps inspired by the uncertainty of the times, have charted new trends. Expect to see more statement pieces, fresh takes on traditional wedding dresses, and much more.
However, it appears that many still hold out hope for a safer future. While minimalism grew as a result of social distancing measures, maximalism may be the name of the game. Thus here are the ten wedding dress trends you can expect to see in, hopefully, a brighter 2022.
Capes
From Savannah Miller to Vivienne Westwood, shoulder capes were all the rage at Bridal Fashion Week for fall 2021. The trend may be a response from brides who found themselves holding their ceremony in a completely different season than they had expected.
Aside from that, this trend can be expected to persist until 2022. Seriously wh can resist a good cape. Designers are pulling out the stops with capes, bringing a soft and flowy feel to the style. Moreso, it's a great option for those who do not favor veils.
Backless Dresses
His next trend is the physical embodiment of business up front, party at the back. Designers opt for more modest displays at the front of wedding dresses and balance out the look with a brilliant flash of skin at the back.
Furthermore, designers are pushing the envelope with this trend because these backless dresses bring on a subtle seduction. Think deep dive with barely-there embellishments or hip skimming looks that will undoubtedly flaunt your gorgeous figure.
Mini-mony Dresses
Although this trend saw an uptick during 2021, it will not budge in 2022. Due to the pandemic, many couples were faced with the idea of a smaller wedding than they had previously hoped for.
The move saw lots of brides opt for simpler dresses, including jumpsuits. Additionally, expect to see a lot of clean lines, cool cuts, and alternative styles for these intimate gatherings. However, bigger dresses will be saved for a larger sequel ceremony.
Statement Sleeves
2022 will see a move away from traditional norms to contemporary formats where weddings are concerned. The trend has seen no better physical representation than on the unusual sleeves set to define weddings in the coming year.
These sleeves are not your usual. Expect dramatic puffs and balloons and a play on length and size. Moreover, sleeves are being used to update traditional dresses as they provide a detachable option. From boho to architectural construction, the choice is yours!
Maxi Bows
Another trend playing up the maximalism of 2022 is bows. These are not your neat hair tie bows. These are maxi bows are, and they are grand. Thus if you are looking to update your wedding dress after a cancellation, this may work for you.
Maxi bows add a playful touch to even the simplest of dresses. Moreso, they give dresses a touch of texture and drama. You might spot them adorned on backs, waistlines, and shoulders. Interested? Simply ask your wedding boutique to add one on.
Statement Necklines
Necklines are also getting an update in 2022. Wedding dress necklines will play between a sober look and a dramatic look. Therefore, sweetheart necklines may have to sit this one out. Think demure, 90s square necks, and plunging necklines.
The square necks are a standout for us as it perfectly illustrates the minimalism nostalgia. Designers also seem to think so, with many a square neckline appearing on Jenny Yoo's runways to Justin Alexander and Leanne Marshall.
Princess Volume
Hello, dramatic skirts. Retro ball gowns are back but without the frothiness of former years. Think modern with this trend. Princess wedding dresses are now higher in the waistline, making room for you to get dance steps in.
Moreso, ruffles are now taking the center stage where volume is concerned. Creativity and beauty ruled the runways with this look. These volumized skirts are also coming in a detachable option so you can be a little more comfortable at your reception.
Tea Length Dresses
Looking for simplicity but not quite at jumpsuit level yet? Tea-length dresses may be for you. This is another trend that came out from 2020s need for simplicity. These demure hemlines are perfect for enhancing a feminine silhouette.
Drawing up Audrey Hepburn images, the hemlines are mostly A-Line however, designers are switching up tradition. Tea-length dresses can now be seen in pencil skirts as well. Moreover, many are backless and strapless for a romantic look.
Sparkles Are In
Perhaps it was lockdown after lockdown that inspired this next look. Wedding dresses are getting a glittery upgrade in anticipation of a one-of-a-kind party. However, brides are taking this trend to the reception for a glitzy end to their special day.
In line with the sequel ceremony trend, brides could be opting for a simple gown at a smaller ceremony and choosing sparkly wedding dresses for a showstopping entrance at a party on a later date.
Transformative Pieces
We said that alternative pieces are in. 2020 has shown that versatility is the name of the game. From lockdown being placed and lifted on an interchangeable basis, designers are offering brides transformative pieces that can be worn any season.
Think of a tea-length skirt that can be worn with a cashmere sweater or a cami because these pieces' point is to ensure their longevity. Moreover, the trend leans into the sustainability movement, where no fabric is left to waste.