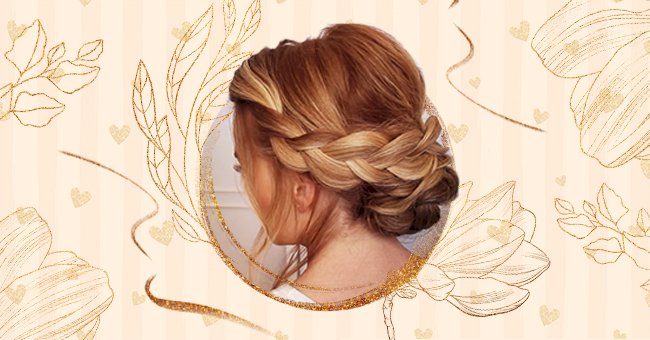 10 Wedding Hairstyles You Can DIY
In case you didn't know, hair straighteners and curling irons are not always the answer to a perfect hair-do. And because we have been a fan of experimentation since the past year or so, it's time to get your bobby pins, hair clips, and combs in line.
Everyone wants to look and feel good on their wedding day, from the bridal dress to the makeup and even the hairstyle. While adorning your hair with jewelry pieces and opting for heavy hairstyles is always an option, it can be fun to get a little creative and try something new for a change.
There are tons of tutorial videos and innovative hair-do options we can choose from, and some of them can be perfected in just a few minutes. Check out these amazing wedding hairstyles that you can easily do yourself, and get really good at by the time it's your turn to walk down the aisle.
1.Fishtail Braid
Fishtail braids are very easy to do, and the dutch ones seem to be quite popular. While you can follow a step-by-step tutorial guide for starters, there is a fairly easy way of going about a typical fishtail hairstyle.
Take some hair from the front and twist it all the way back, securing the ends together with a rubber band. Flip your hair inwards, take some hair strands from the sides and flip for a few more times. You can also blowdry your hair for a voluminous look and even adorn it with jewelry pieces.
2.Braided Updo
The soft braided hair updo can look great on short and long hair, and it's very easy to try. Comb your hair backwards and divide it into three equal partitions. Then style it into three simple braids, and keep them loose for a blown-out look.
Use bobby pins to pin your braids to each other in a way that they all end up into one braid. You can also opt for more braids as you get the hang of this hair-do, and styling with accessories is always an option.
3.French Twist Bun
For a French Roll, pull your hair back as if you're going to make a half ponytail. Roll your hair starting from the end and pin it up. Finally, go for a little hairspray to keep the hairdo in place. You can also leave out a hair flick or two for a more elegant look.
4.Top Knot Bun
To get your top knot right, start with a high ponytail and twist the tail until it becomes thicker using your fingers or a brush. Pull the tail back, pin it up and form a circle with your hair locks around the bun and use bobby pins to keep the hair in place.
5.Twisted French Braid
Start with loose curls, and make a partition in the upper back portion while twisting your hair and using bobby pins to keep it in place. Then take strands of hair from both sides and cross them in the center as you twist and pin them up.
Repeat the twisting for all your hair locks and gather your remaining hair into a braid, pinning it up with bobby fins. You can adorn your hairstyle with flowers, fancy pins and other hair accessories.
6.Wrapped Half-Up Style
For this elegant hairstyle, go for curling your hair to get some natural beachy waves. Twist your hair from the front until it feels thick. Then take hair sections from either side of your head, twist them and pin them up to opposite sides.
Once you have gathered all your hair, leave out some hair locks to look graceful. You can also choose hair accessories for styling or even try pearl clips for a stunning, classy bridal look.
7.Tuck And Cover French Braid
If you're a fan of headbands (Queen B from Gossip Girl is our absolute favorite) you would love this hairstyle. Wear a headband and make a loose French braid to cover the band with hair. Roll your remaining hair into smaller partitions and tuck it into the band, and adorn your hairdo with accessories.
8.Low Buns
Begin by dividing your hair into two equal parts, and then tie up your hair into a knot. Take strands of hair from the opposite directions and twist them around the knot until you have a bun. You can use bobby pins to keep the ends in place, and your low bun hairdo is perfectly done.
9.Low Chignon
Comb your hair nicely and take a hair section from the back, teasing it to add more texture. Repeat this step on hair locks from both sides of the head, and gently comb to smooth out the backcombing. Then pull your hair in a low ponytail using a rubber band.
Split your ponytail into half, starting at the base, and put your ponytail through the gap to create a topsy tail. Secure the end of your ponytail with another rubber band and put it into the remaining gap. Pin up the loose ends with a bobby pin, and leave out some flicks of hair for a natural look.
10.Waterfall Braid
Comb your hair and divide it into three sections from the side, braiding the hair. Then add more strands of hair to the braid step by step, and continue braiding till the end. Gently hold the braided end and pin it up towards the back, and your cascading waterfall braid is all done.