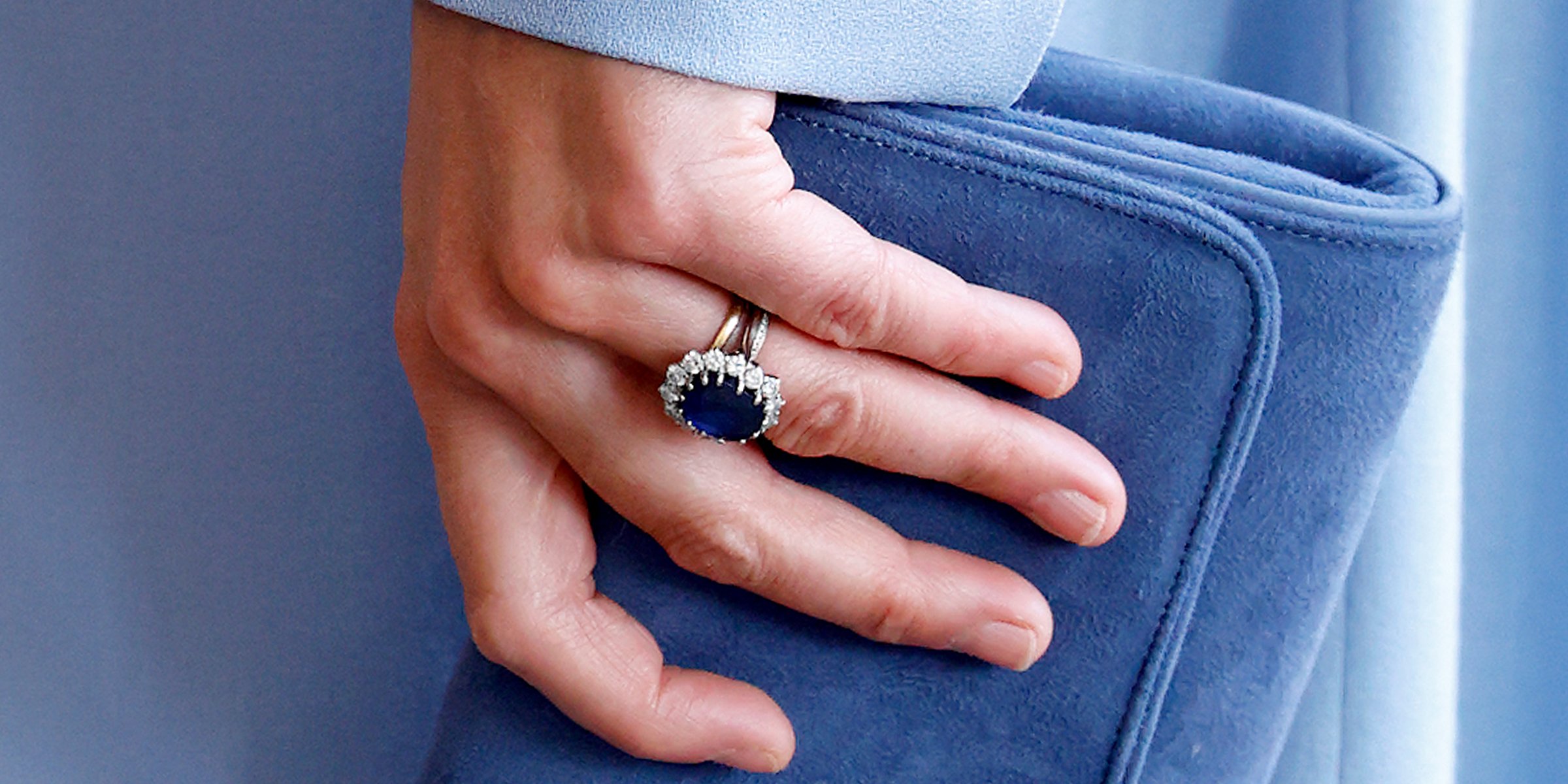 Close-up of an engagement ring | Source: Getty Images
13 of the World's Most Expensive Engagement Rings

Some of the world's most expensive engagement rings find themselves on the fingers of celebrities. This is because their partners have realized that nothing is too pretty or costly when you want to show your loved one how much she means to you.
For years, lovers have always expected engagement rings from their partners or have been the ones buying the engagement rings. However, more than others, celebrities expect an engagement ring of the highest value.
These celebrities never miss an opportunity to show the world their big rocks. Mariah Carey, Beyoncé Knowles, Serena Williams, and others are some of the stars who have received engagement rings worth millions of dollars.
Mariah Carey: $10 Million
In January 2016, Australian business tycoon James Packer asked American singer, songwriter, actress, and record producer Mariah Carey to marry him, and she said yes.
When he proposed, he gave her a 35-carat emerald-cut diamond ring. Unfortunately, their engagement lasted less than a year before they split.
Elizabeth Taylor: $8.8 Million
British-American actress Elizabeth Taylor was married eight times, but two of her marriages were to the Welsh actor Richard Burton. Her marriage with him gave her one of the world's most expensive engagement rings.
Technically, he did not give her an engagement ring but gave her a 33-carat Asscher-cut Krupp diamond after they had been married for four years. She turned the diamond into a band, making it an exceptional-quality showpiece.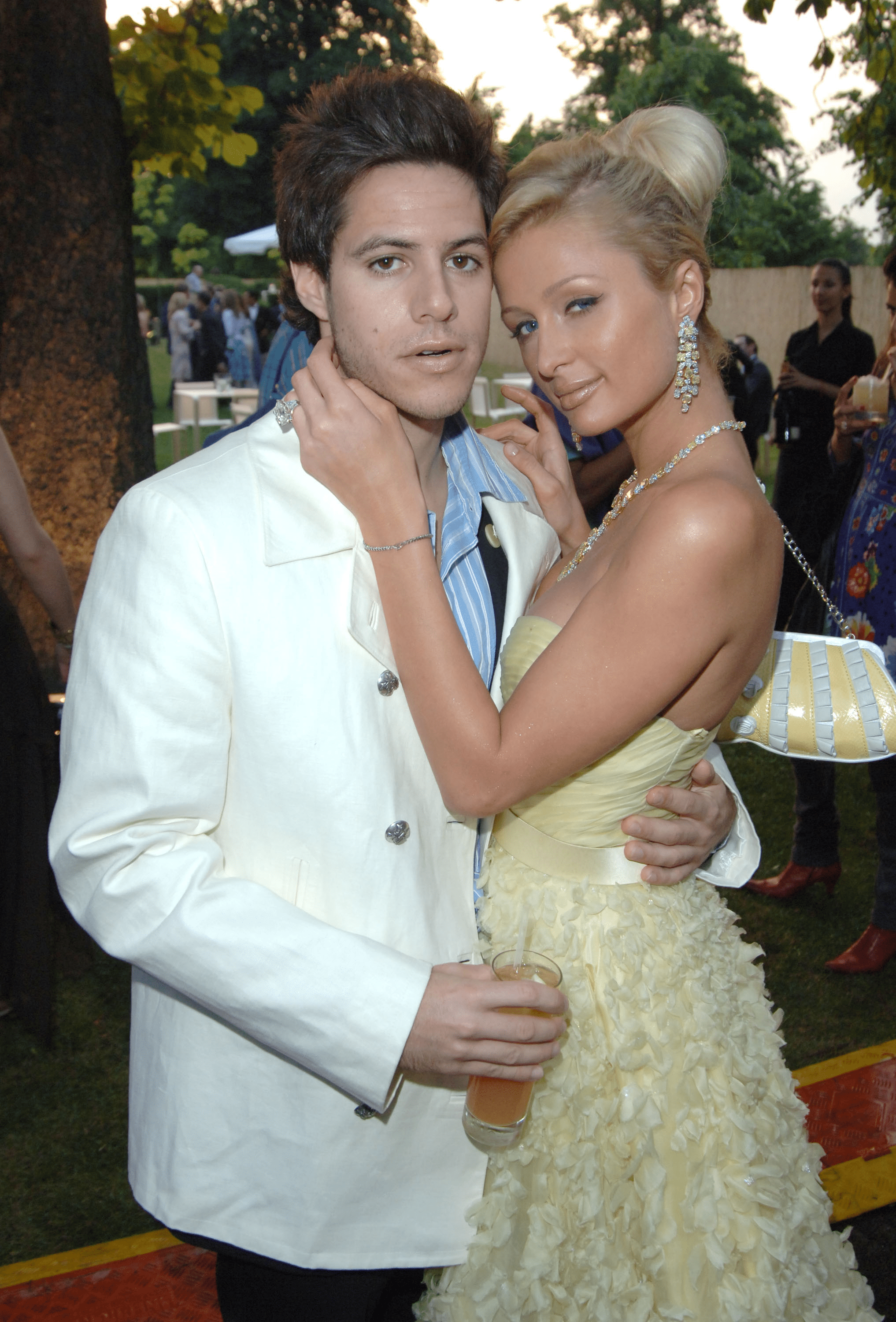 Paris Latsis and Paris Hilton at The Serpentine Gallery on June 30, 2005, in London | Source: Getty Images
Paris Hilton: $5 Million
Seven months after American media personality, model, actress, businesswoman, entertainer, and socialite Paris Hilton started dating Greek socialite, shipping heir, film producer, and ship owner Paris Latsis, the pair got engaged.
He reportedly gave her over 12 rings to choose from when he proposed. The socialite settled for a 24-carat canary yellow natural emerald cut diamond ring framed by smaller stones on a white band.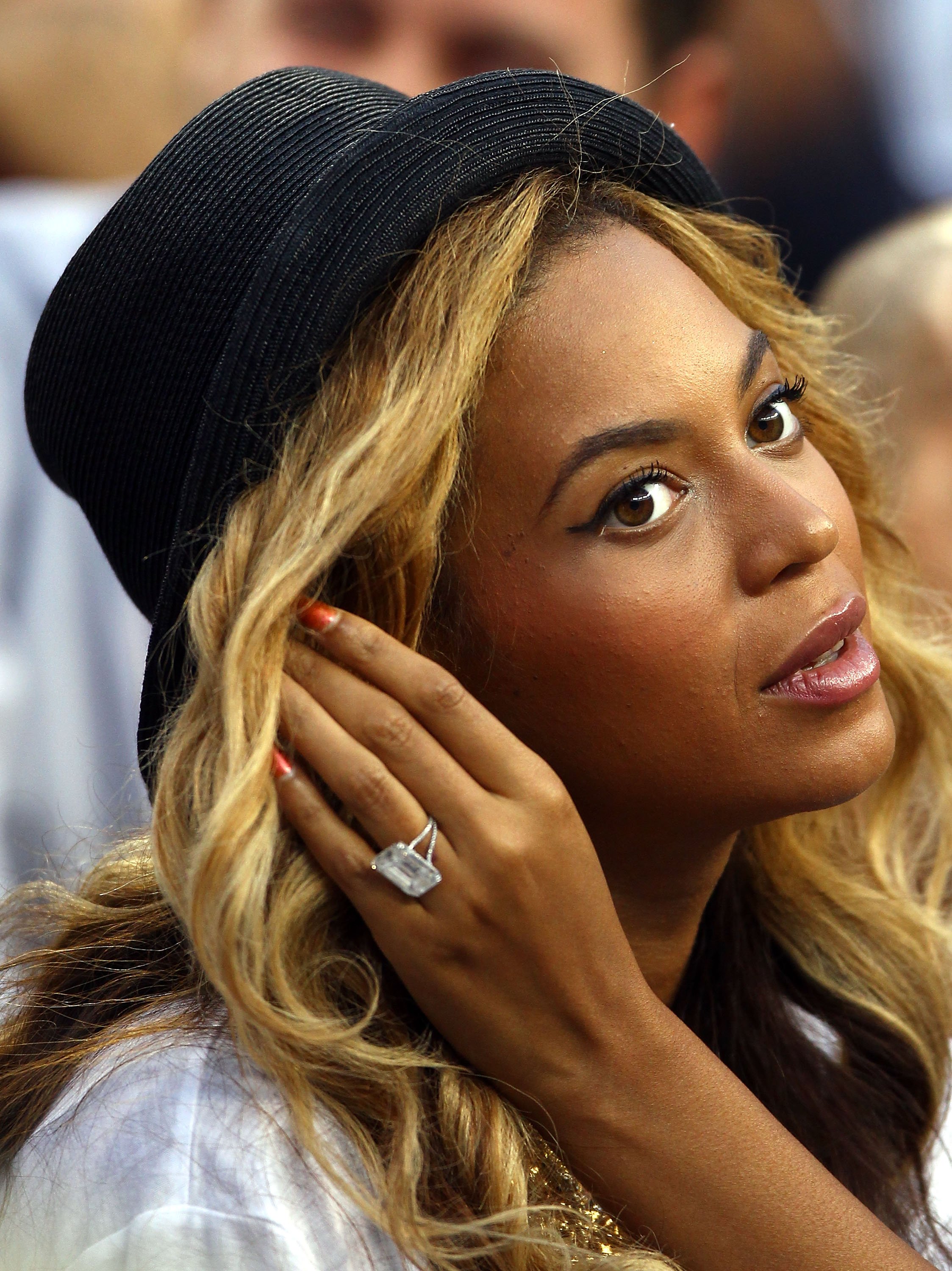 Beyoncé at a tennis game on September 12, 2011, in New York | Source: Getty Images
Beyoncé: $5 Million
In December 2007, American rapper, record producer, and entrepreneur Shawn Corey Carter known as Jay-Z, liked it and "put a ring on it" when he proposed to Beyoncé Knowles.
He declared his love for the singer, songwriter, and actress with an 18-carat emerald-cut solitaire by Lorraine Schwartz. A few months after the proposal, the couple tied the knot.
Jennifer Lopez: $5 Million
The American singer has been married several times. Also an actress and a dancer, she undoubtedly has a whole collection of engagement rings from several of her ex-partners.
Among her numerous engagement rings, the one that stands out the most is the one she received from former professional baseball Alex Rodriguez in 2019. It was an estimated 20-carat emerald-cut sparkler.
Grace Kelly: $4 Million
Grace Kelly was an American actress who went from being in Holywood to being a princess. Her status changed after she married the Prince of Monaco, Rainier Louis Henri Maxence Bertrand Grimaldi III, in 1956.
He gave her two rings for their engagement, one of which was a Cartier-made 10.48-carat emerald-cut ring. The ring, set in platinum, also featured two baguette-cut diamonds on its sides.
Kim Kardashian: $3 Million
In October 2013, rapper, songwriter, fashion designer, and record producer Kanye West proposed to media personality, socialite, and businesswoman Kim Kardashian.
He presented her with a Schwartz 15-carat flawless and perfect cushion-cut diamond set in a platinum band that featured a micro-pavé of diamonds.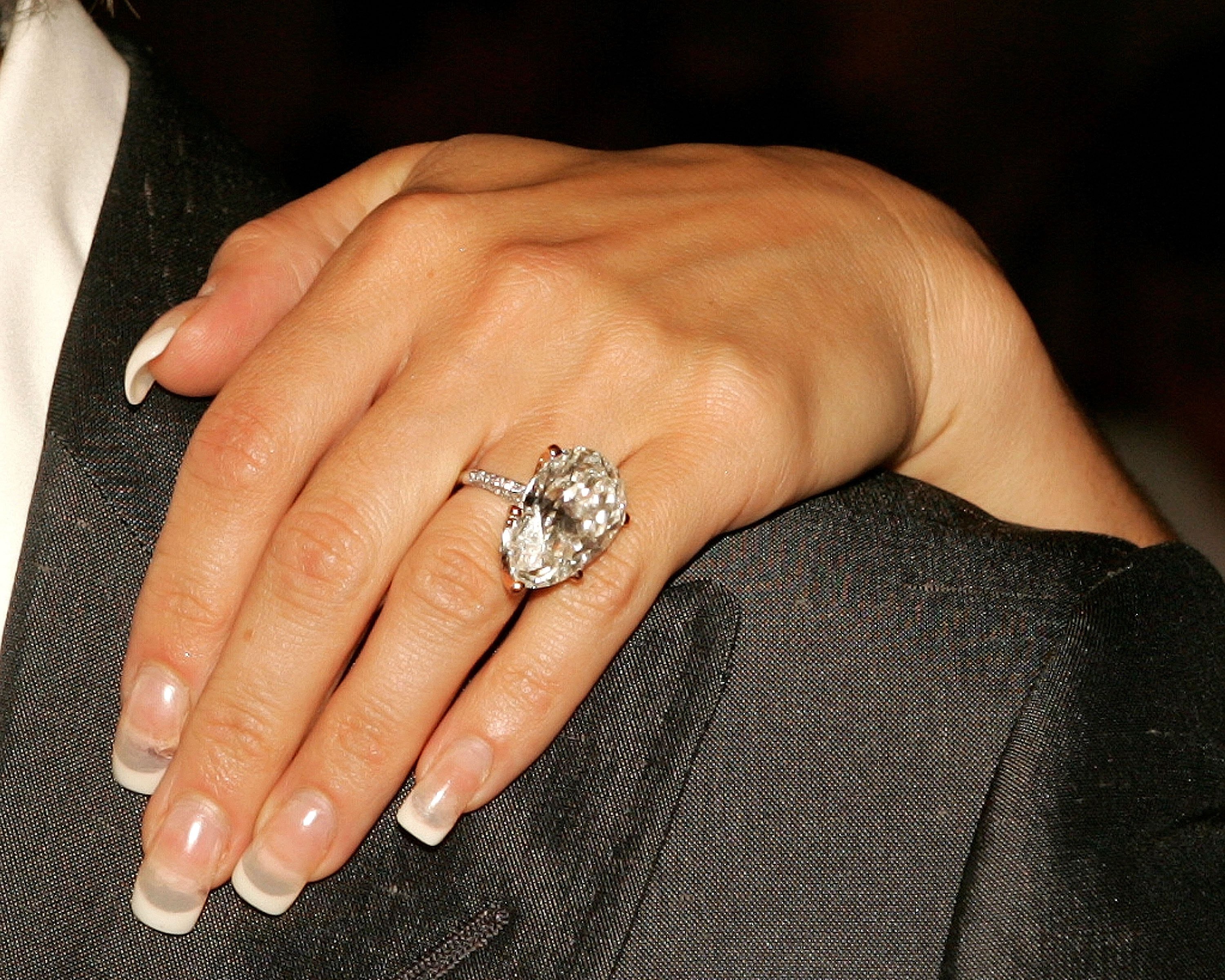 A close-up of Victoria Beckham's ring at "The David Beckham Academy" launch party on June 3, 2005, in Beverly Hills | Source: Getty Images
Victoria Beckham: $2.58 Million
English singer, fashion designer, and television personality Victoria Caroline Beckham née Adams has been married to her husband for over two decades.
During their long marriage, he has given her over 13 engagement rings. The most expensive of them is the 17-carat pear-cut ring set on a diamond-encrusted band, which he gave her in 2005.
Blake Lively: $2.5 Million
American actress Blake Lively and her Canadian-American actor husband, Ryan Reynolds, have been married since 2012. Their marriage took place within two years of their meeting.
The couple kept their relationship private, and the media did not know when he proposed. However, he did so with a Schwartz 12-carat flawless pink oval-cut diamond set on an encrusted band.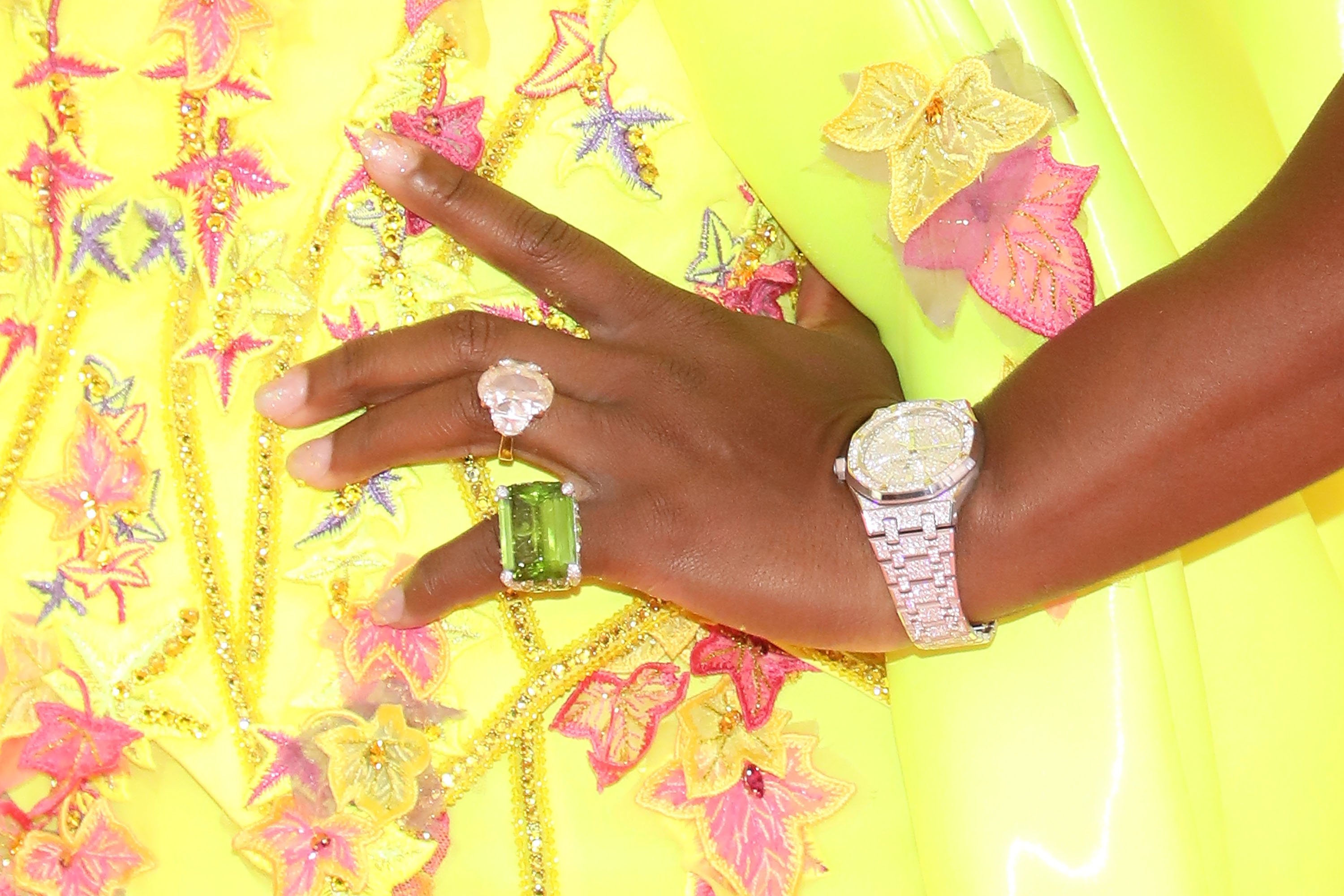 Serena Williams' ring at the 2019 Met Gala celebrating "Camp: Notes on Fashion" on May 6, 2019, in New York | Source: Getty Images
Serena Williams: $2 Million
In November 2016, American professional tennis player Serena Williams said yes to the Armenian American co-founder of Reddit, Alexis Ohanian, in Rome.
Although she did not show off her engagement ring until after their wedding in 2017, the wait was worthwhile. Her ring is a 12-carat diamond surrounded by two smaller semi-circle stones on the sides.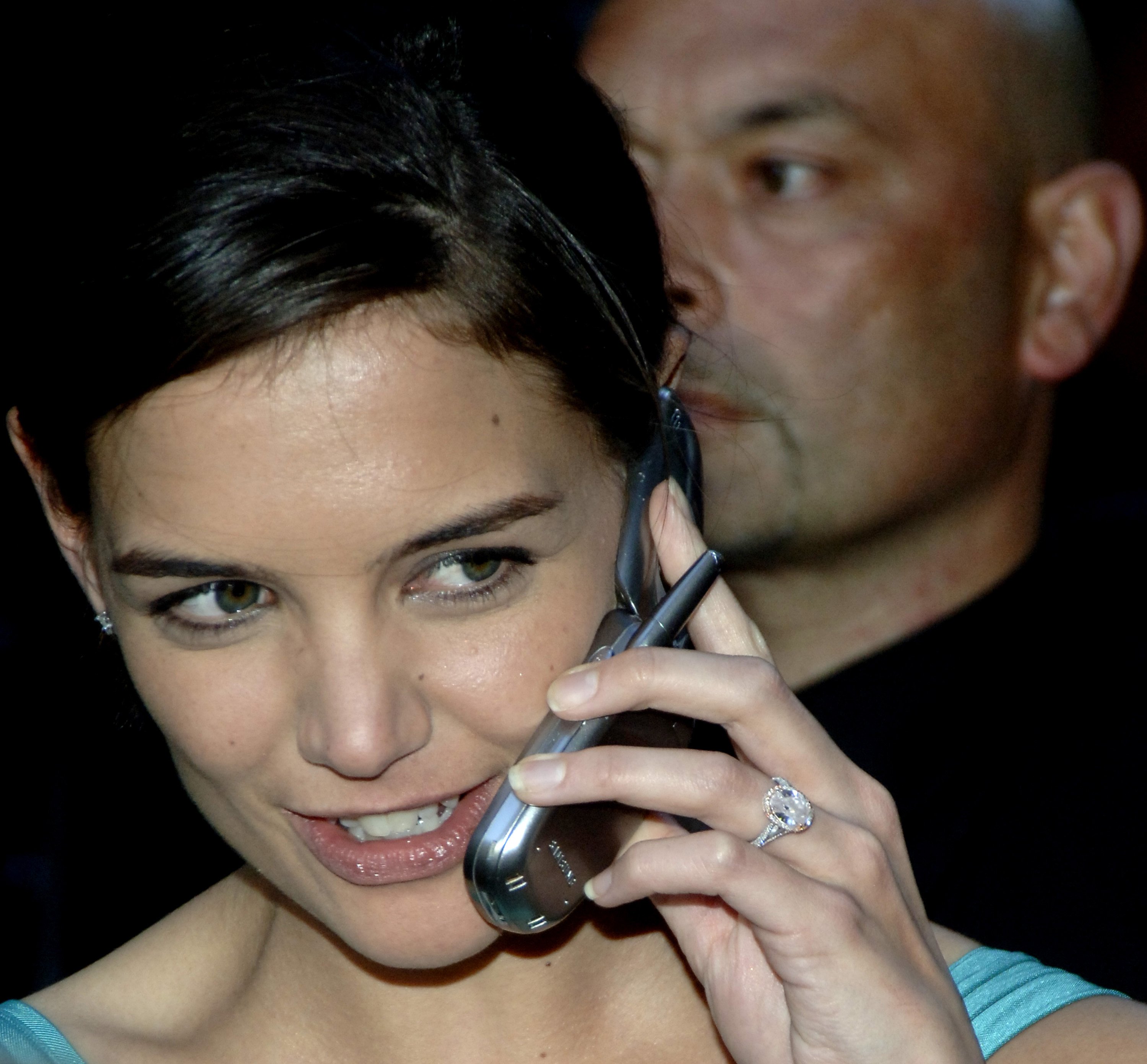 Katie Holmes at the premiere of "War of the Worlds" on June 23, 2005, in New York | Source: Getty Images
Katie Holmes: $1.5 Million
In June 2005, actor and producer Tom Cruise took his then-girlfriend actress Katie Holmes to the Eiffel Tower, where he proposed to her after a candlelit dinner.
He asked her to marry him with an Edwardian-cut oval center stone estimated to be a 5-carat diamond set on a platinum or white gold band.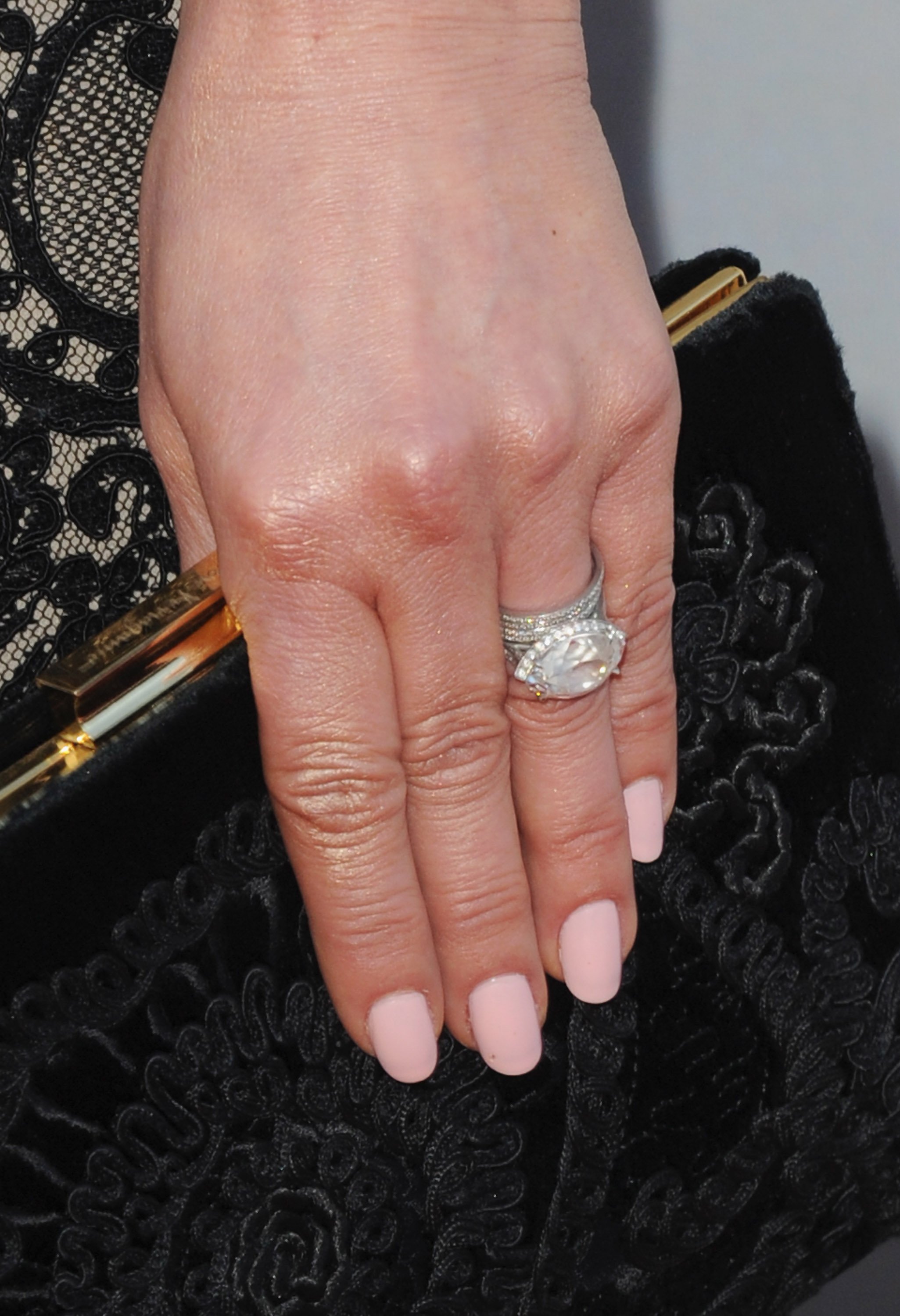 Catherine Zeta-Jones' ring at the 2014 AFI Life Achievement Award Gala Tribute on June 5, 2014, in Hollywood | Source: Getty Images
Catherine Zeta-Jones: $1 Million
Catherine Zeta-Jones married Michael Douglas in November 2000, although he had proposed to her in December 1999. They had one of the most expensive weddings when they married.
The actor and film producer gave her a vintage Fred Leighton ring for his proposal. It was a 10-carat, side-set marquise diamond with 28 smaller diamonds.
Kourtney Kardashian: $500,000 to $1 Million
While Kourtney Kardashian's ring is not the most expensive engagement ring in the world, it is one of the most costly engagement bands owned by celebrities.
In October 2021, the media personality and socialite got engaged to musician Travis Barker. After their engagement, she shared pictures on Instagram. He gave her an estimated 10-carat oval-shaped diamond set on a thin white-gold or platinum pavé band.