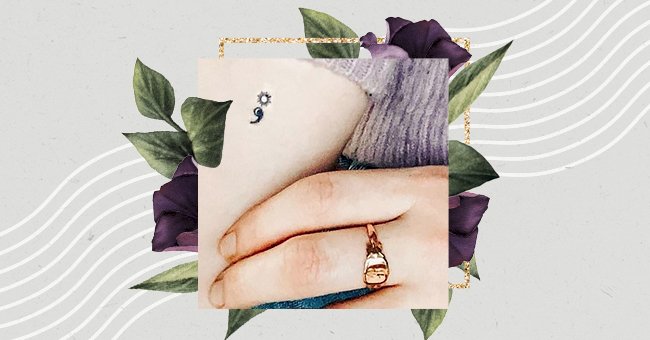 4 Tattoos That Help Spread Mental Health Awareness
From the things we like to things with much deeper meaning, getting a tattoo means we can keep something close to us forever! And if you struggle with your mental health, they can be a daily pick-me-up when you most need it!
Tattoos mark your body forever, and they can be a reminder of something important or even something you like. But many people who struggle with their mental health use tattoos to help through their struggle!
Because these struggles are often personal and silent, tattoos can help bring awareness to the struggle. Here are some mental health awareness tattoos and their meanings.
1. The Semicolon
The semicolon tattoo is a mental health awareness symbol. It doesn't always have to be permanent; many people get temporary ones to bring awareness to mental health.
The tattoo symbolizes that instead of something coming to an end, it's just a pause, bringing great awareness to suicide. It serves as a symbol of breaking the stigma around the topic of mental health!
The great thing about the semicolon tattoo is that it can go anywhere! It doesn't have to be a huge symbol. It can be small and intimate, and it fits perfectly between your fingers!
You can also incorporate the semicolon into another tattoo of something you're passionate about! The tattoo artist can design a unique tattoo incorporating your passion for music and your struggle!
2. Symbol Of Strength
You can choose a symbol that signifies strength to you! It can be anything that you find inspiring enough to keep you on the road to recovery!
For some, it can be a phoenix, dragon, dog, or even a flower. Draw your strength from your tattoo and feel inspired to continue in your journey of wellness!
3. Music And Poetry
Artists express their pain through their work, and musicians have made beautiful music and poetry through which they've channeled their pain. And these words can resonate with you and remind you that the bad times won't last forever!
4. Cover Up Scars
Those scars can be a reminder of your low points for people who have a history of self-harm. You can cover up the scars with a tattoo sleeve, and instead of seeing weakness, you can see a sign of strength!
There are so many symbols of strength that you can get tattooed, and they can do wonders for your mental health! So if you're looking for something to help you through your struggle, a semicolon is a good place to start!