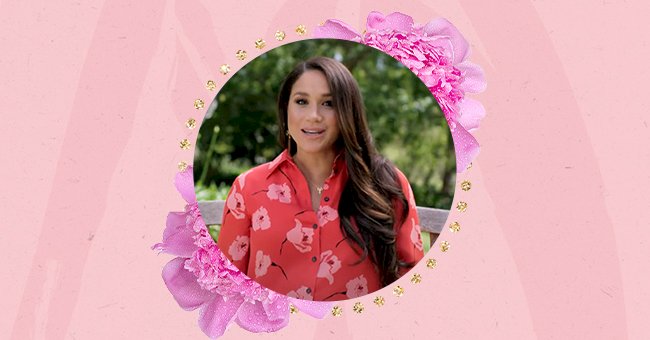 5 Alternatives For Meghan Markle's Vax Live Dress
Meghan Markle was a delight in a beautiful red dress during her online appearance at the Global Citizen Vax Live event on May 8, 2021. The expectant mom wore a flowery Carolina Herrera tied shirt dress with pale pink flowers on it as she delivered an important message for the event.
The Duchess spoke about gender equality in the face of the ongoing pandemic. To mirror her message, she also wore a gold chain fashioned into a charm of the female symbol with a raised fist in the middle.
Markle wore her in loose curls styled to the side and finished her look with muted makeup. For those looking to copy the look, this Carolina Herrera dress will set you back a little over $1000. However, here are a couple of dupes you can cop for a simply royal look.
Joules, Winslet Long Sleeve Woven Dress
The style and the print of this dress are perhaps closest to the Carolina Herrera dress the Duchess sports. It ties at the waist so that you can accentuate your figure. Moreover, it has pockets! Plus, it is available in a UK size 6 to 26.
Sika Designs, Haowa Dress
The Haowa Dress from Sika Designs adds more playfulness into the Duchess' look with a candy stripe print instead of the floral. Like the dress above, it also has a waist tie. However, the look is more structured and perfect is available in a UK size 6 to 18.
French Connection, Fayola Drape Midi Tea Dress
Another dupe is this Fayola Drape Midi Tea Dress from French Connection. Here the floral print is much smaller and is a perfect summery dress. Like Markle, this dress would look gorgeous with dainty jewelry for a delicate look.
Kai Collective, Red Tulip Dress
The Red Tulip Dress from Kai Collective goes bold with this floral dress. If you love the Duchess' floral dress but would love to go bold, opt for this sexy, off-shoulder number to sass it up. The sizes are available in a UK size 6 to 16.
Kemi Telford, Jaiye Orimi Pink Dress
Kemi Telford's Jaiye Orimi Pink Dress is a super floral pattern that features a floaty design perfect for summer. It's made of cotton and is uber comfy for a season in the sun. The sizes run in UK extra small to large.