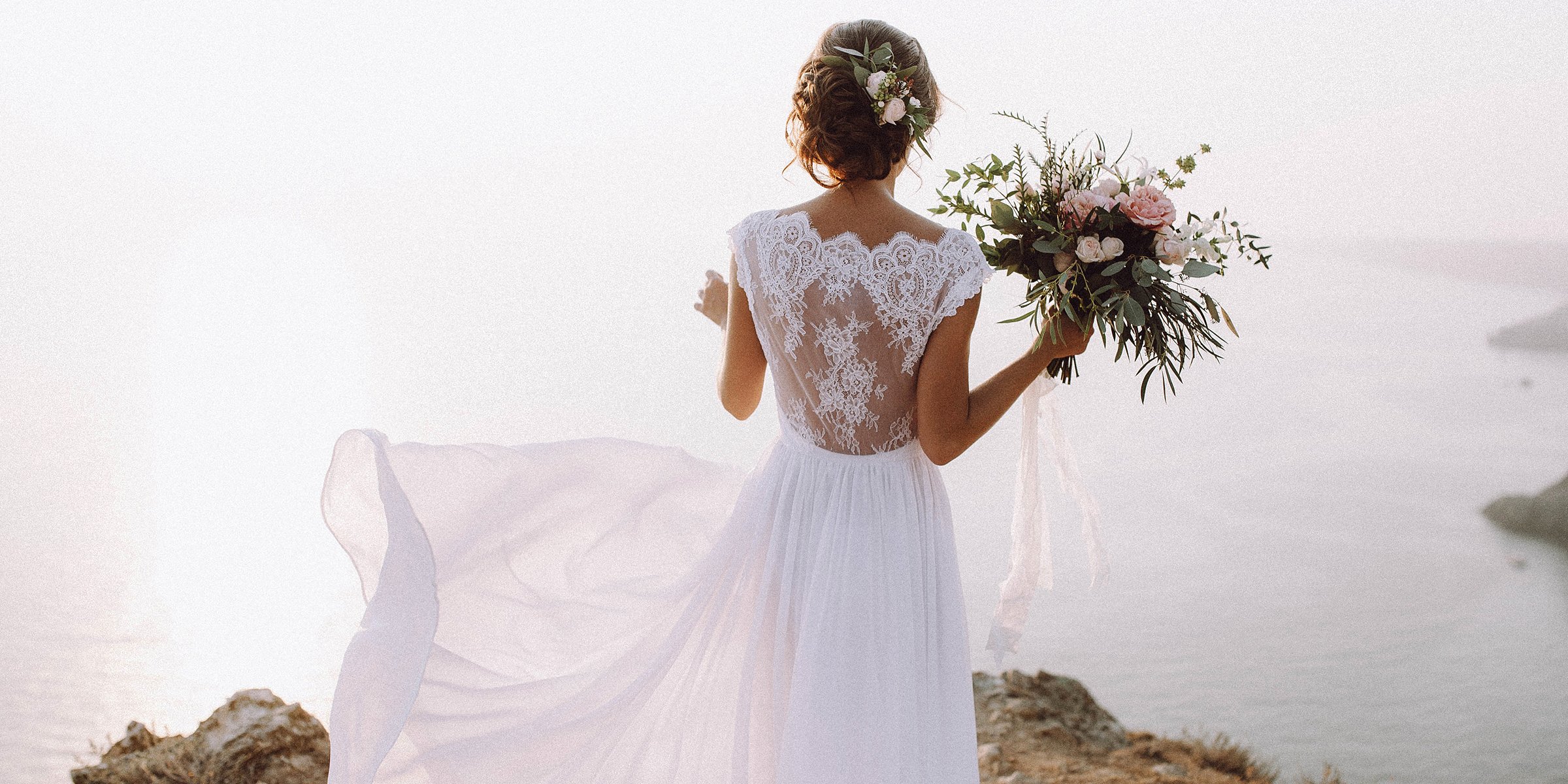 Woman in a wedding dress | Source: Shutterstock
5 Easy Tips on What to Do with a Wedding Dress after the Big Day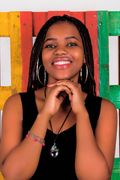 Weddings are beautiful, and it's a dream come true for many people. The one-day event usually entails a lot of things, and after the ceremony, most people get rid of the items they no longer need. But mastering tips on what to do with a wedding dress can come in handy.
Weddings are beautiful, but planning for one can be tedious, especially when brides have specific things they want on their A list, and one of them is the perfect gown. Choosing a wedding dress can be one of the special moments of a person's life, especially when doing it with your family and friends.
Wedding dresses have become a must-have in weddings, so whether you dream of a strapless or a fairy princess gown, it is essential to pick the best one for your big day.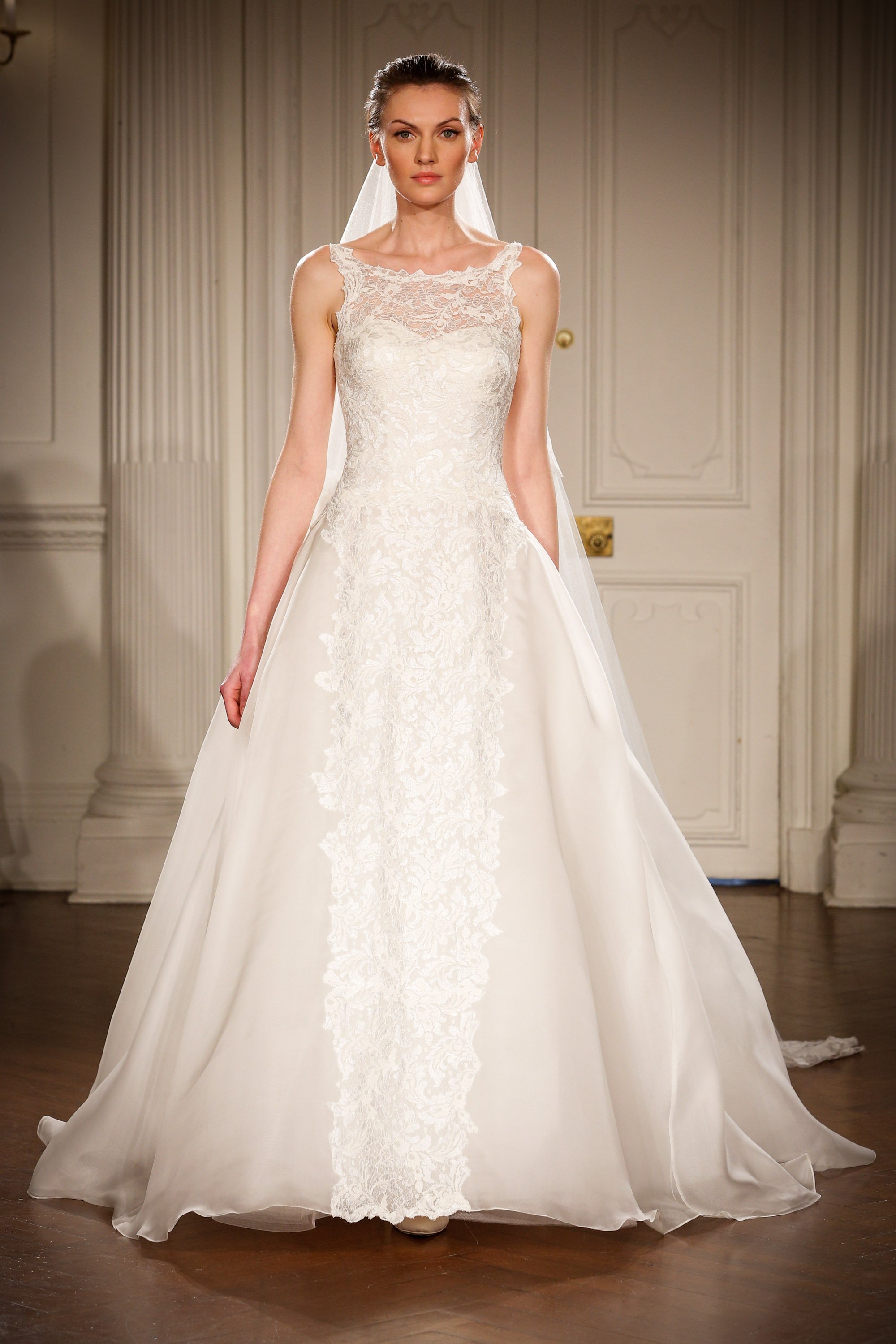 A model walks the runway in a wedding dress | Source: Getty Images
While choosing your wedding dress, it's crucial to remember what you will do with it when the ceremony ends. Will you dispose of it, sell, donate, or keep it for your loved one? Learn some easy tips on what to do with a wedding dress.
Preserve Your Wedding Dress
So you've spent so much money on your gown, and you don't know what to do with a wedding dress after the ceremony. Some people choose to sell or give away, and others get creative and turn their gowns into cocktail outfits or lingerie.
Some brides, however, get attached and hang onto their wedding dresses because they hold lifetime memories. If you happen to fall into that category, you can choose to preserve the iconic dress that represents so much happiness, love, and celebration.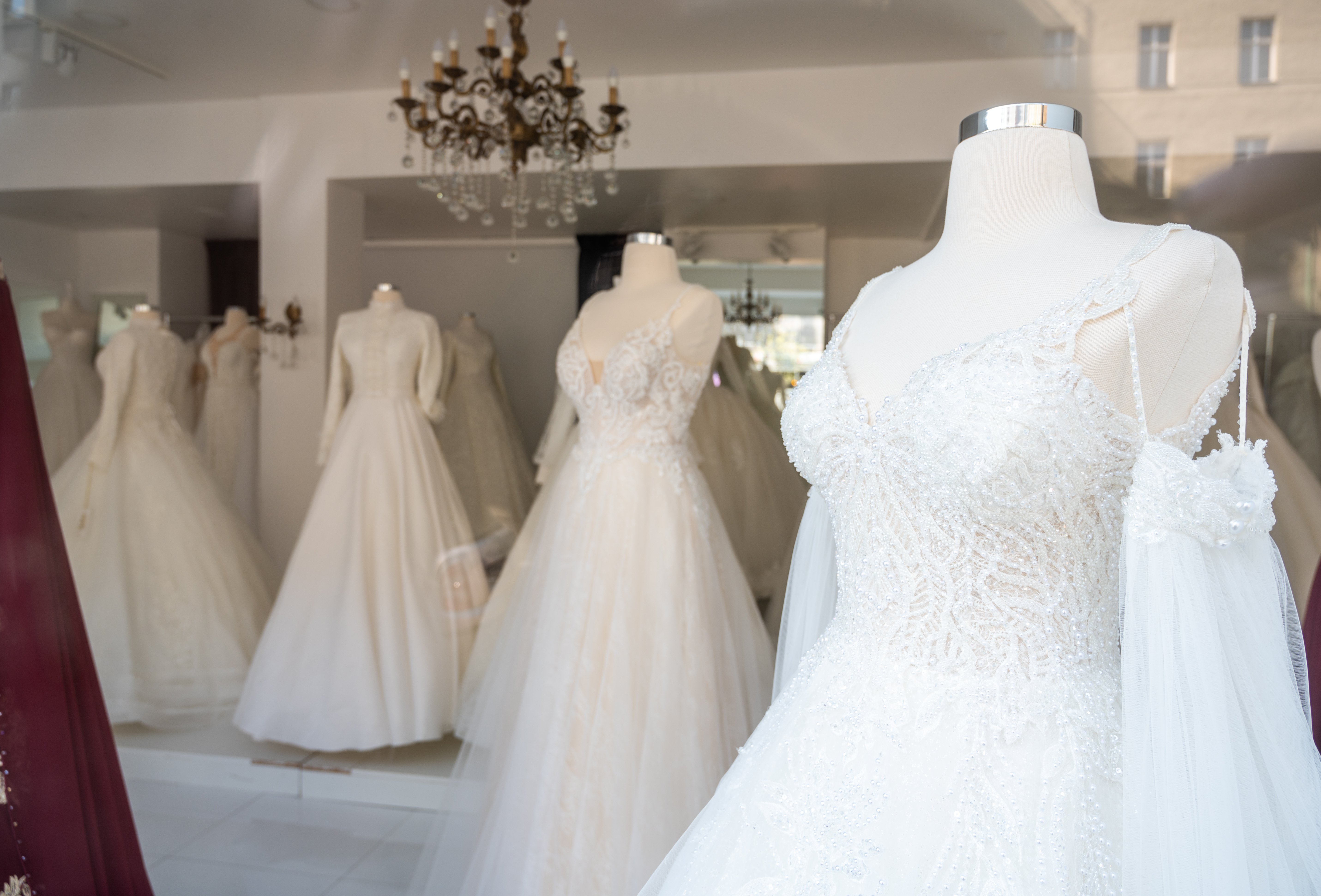 Display of wedding dresses in a shop | Source: Getty Images
After the ceremony, some brides get creative on what to do with a wedding dress.
But the key to making your dress last a lifetime is to know a few preservation tips, like storing your gown in a cool and dark place, using white gloves when handling the dress, and ensuring the preservation box is sealed and tight.
Repurpose Your Wedding Dress & Make Something Completely New
Another tip on what to do with a wedding dress is to repurpose it and create something new entirely. You can use your creativity and turn your dress into beautiful pieces of different things.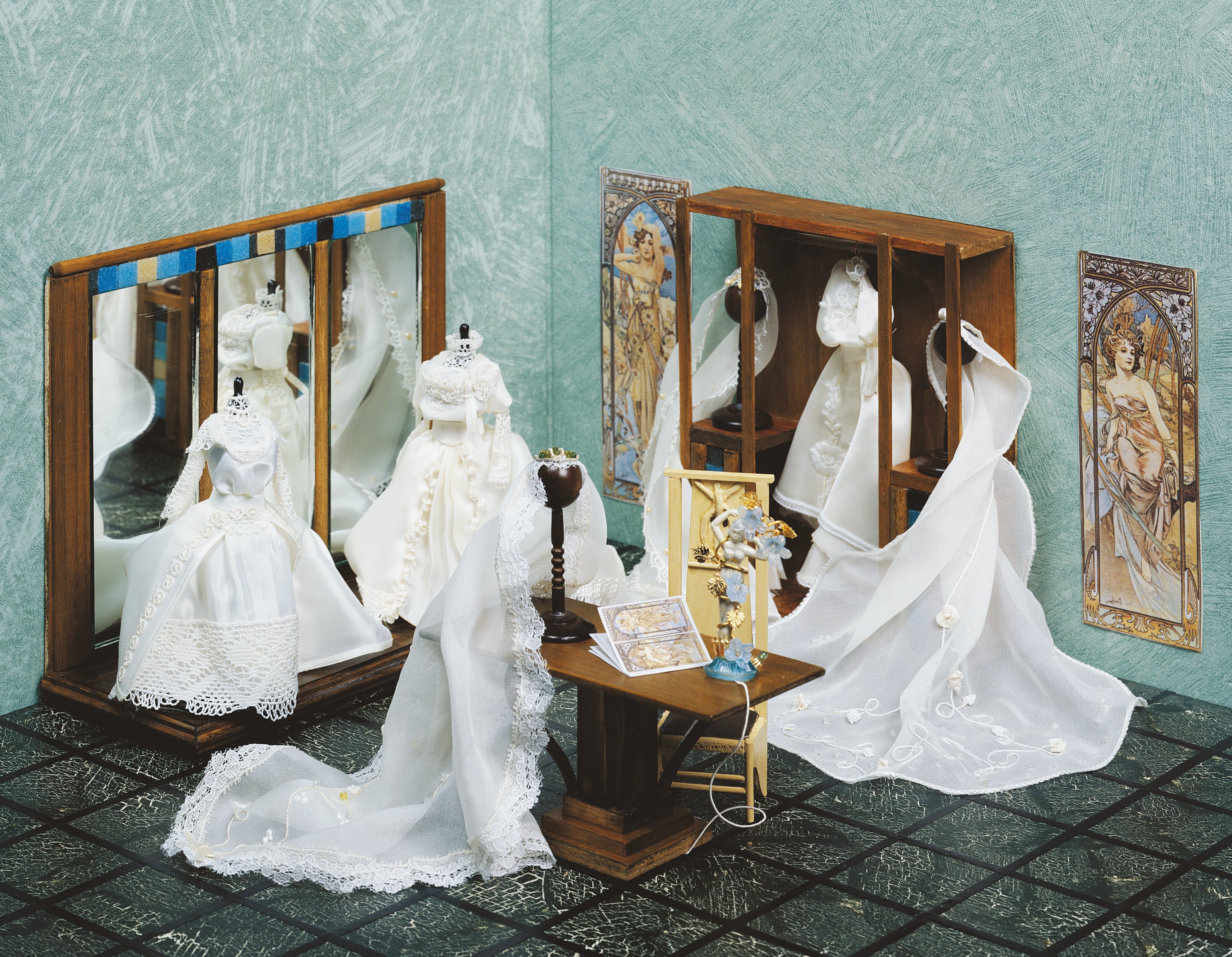 Bridal boutique shop | Source: Getty Images.
While it's so hard to wear a wedding dress again, when you repurpose it, it gives you endless options for creating stuff that you know you'll use regularly. For instance, you can turn part of your wedding dress into a tablecloth or pillowcase or recreate it into a dinner dress—the options are limitless.
Donate Your Wedding Gown for a Good Cause
If you have run out of options on what to do with a wedding dress, you can consider donating it. What you don't want someone else might need, and the best thing is many bridal charities will be happy to receive your gown.
Brides Across America is one of the charity organizations you can donate your gown. Every year, they gift 2,000 gowns to first responders and veterans. Another bridal charity organization includes Brides Against Breast Cancer, which resells wedding dresses and donates the proceeds to support breast cancer.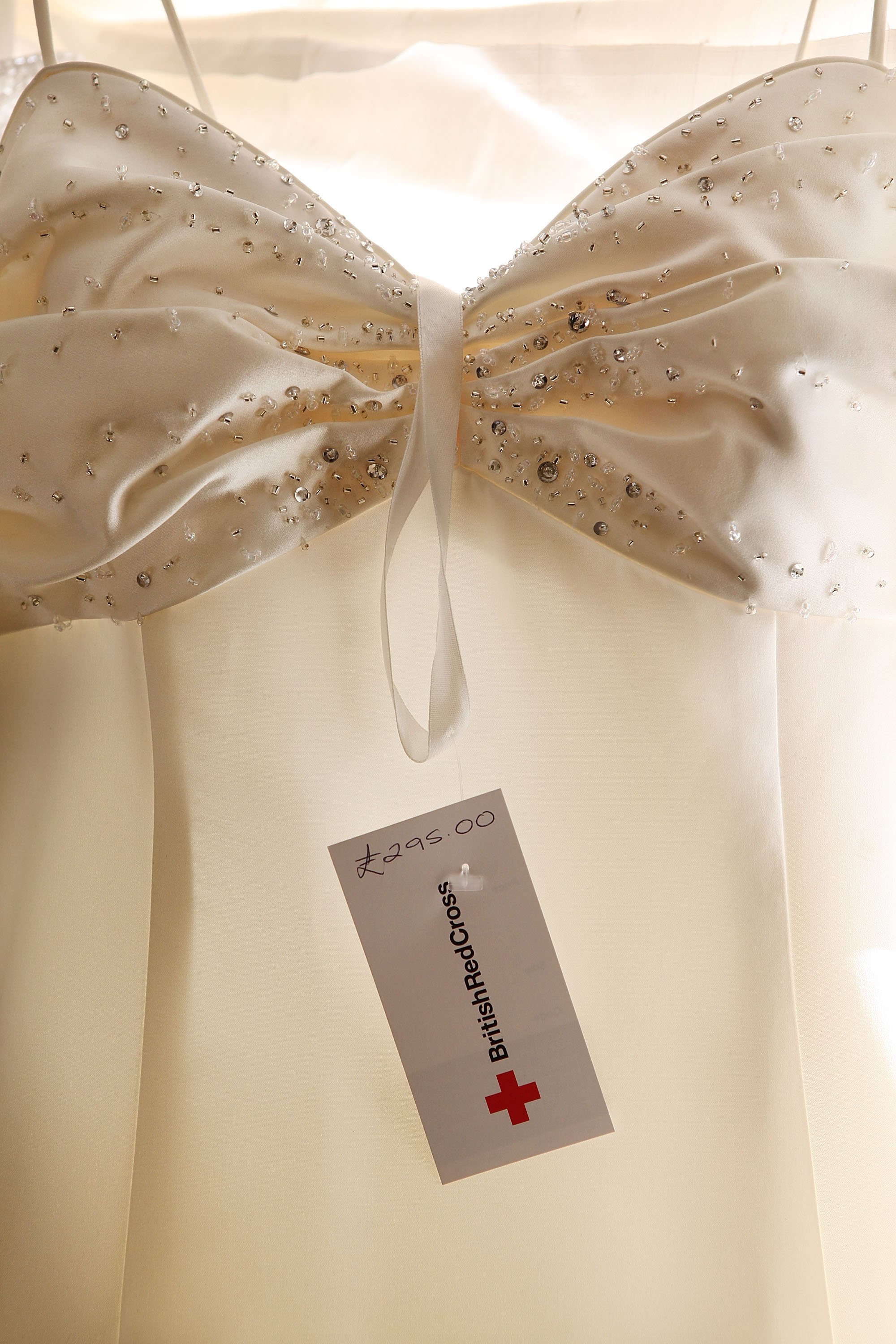 A second hand wedding dress at the Red Cross charity bridal shop on February 21, 2009, in Dorking, England. | Source: Getty Images
Sell Your Dress
Weddings are expensive; sometimes, people get into debt to celebrate their big day. But the good thing is after the ceremony; you can still make extra cash off some of your wedding items. An excellent way to get rid of a wedding dress is to sell it; there's always someone looking to get married but on a budget.
There are several websites where you can advertise your gown and find a buyer, such as Nearly Newlywed and PreOwnedWeddingDresses.com. Also, platforms like the Facebook marketplace and eBay can come in handy to help you find the perfect buyer.
Trash Your Dress
After the ceremony, some brides get creative on what to do with a wedding dress. They plan for photo shoots called "Trash the Dress" while it doesn't mean they ruin the gown completely, they get their pictures taken in a less formal setting. It could be when relaxing by the poolside or chilling at the beach.